When you're a business owner, you want maximum exposure and you might not have all the time and money for a big marketing campaign yet. That's where the power of landing in the Google Map Pack matters most.
Local businesses can rely on the magic of local SEO to supercharge their online presence, and the most significant way to do that is to grow your online reviews. But there are other aspects to your Google My Business listing that you need to focus on, too.
Online reviews provide information to prospective customers and Google about your business:
Credibility
Legitimacy
Stability
The more reviews you have, the more likely you are to be a business that's up and running (and genuine).
So, if you've heard of many people discussing the Google Map Pack, but you don't know what they're on about, read on.
What is the Google Map Pack?
The Google Map Pack is a colloquial term, used by marketers and the like, to describe the ultimate position in Google's search results. The first page.
This is where Google Maps shows up the Google search (even on mobile searches). This means your business name, business location and business description are all readily available to anyone on the search engine results pages.
When there is a local search, such as 'cafes in Liverpool, England' or something to do with the city of Liverpool, then the three top reviewed local businesses will show alongside Google Maps.
That's why it's called the Google Map Pack or, sometimes, the 3-Pack as Google Maps is right there on that first page with those three top businesses.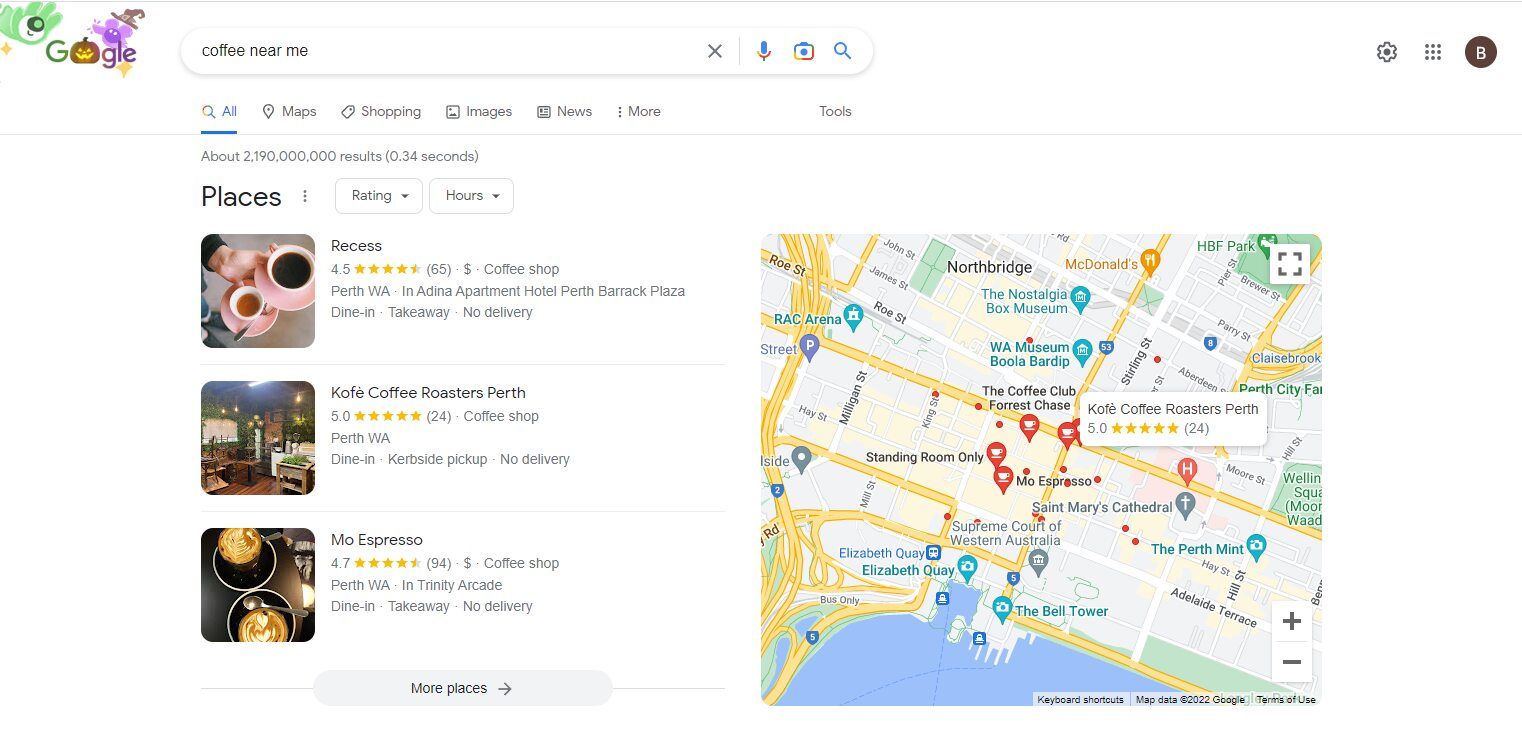 Your local business will show up in Google Maps just by having a business location that's relevant to the user's search, but it also depends on how optimised your Google My Business listing is (or if you even have one at all).
I've just started my business, can I end up in the Google Map Pack?
First things first, you need to have an online presence on Google to show up in the local search results.
This means setting up a Google My Business account and optimising your business listing. Google's local search results favour the businesses with the most up-t0-date and accurate information.
For example:
Update your business information regularly so your customers stay in the know (business information can be anything from operating hours/business hours to health status updates)
Have a unique business name (Google searches might get confused if there's another business name out there like yours - remember to be original)
Show the right business address (you'd be surprised at how many small businesses get this wrong)
For local SEO to work, Google Maps and Google search need information. That's sort of how local SEO works - it's about identifying what your business is, where your business is and whether you're credible and well-liked by Google local users.
To increase your chances of landing in the Google local Map Pack, you've got to nurture your Google Business Profile.
How do I increase my chances of landing in the Google Map Pack?
As you can imagine, Google local search results are highly populated with many local business listings, so you need your Google Maps listing to stand out.
Standing out on Google can mean a multitude of things, such as:
Review management: the ultimate hack!
Showing many photos on your Business Profile
Prioritising the UX on your website
Compelling copy to describe your business
Optimising your Business Profile (we have a whole guide on this here) with things like using the Google posts feature or completing the Questions and Answers section
Our favourite way to climb into the Google Map Pack is to focus on your review management as, not only does it boost your local search performance, it lets potential customers trust you from the get-go.
It's about showing up in front of more customers through the Google Map Pack, and then proving to them why you're the business to trust. Authentic social proof is the ultimate way to build trust from afar.
How do reviews boost your chances of landing in the Google Map Pack?
Online reviews are essential for visibility. Users are looking for a business' reviews before even considering purchasing from you.
Reviews establish trust and credibility (especially positive reviews), but they also play a role in landing in the Google Map Pack. How? We'll tell you.
The more reviews you have, the more indication you provide to Google that you're a legitimate and well-trusted business (if you have many positive reviews on Google, anyway). This means that Google will show the top three businesses in Google Maps, on the first page of the search results, as it wants to promote a trustworthy recommendation to local users.
You can attract more customers, increase revenue, and establish legitimacy with more Google reviews. It means that you've been informally vetted by your local community and therefore deserve to land in the Map Pack on Google Maps. It's local business SEO as it populates your information for local searches.
Positive feedback is epic exposure just by focusing on your review management!
Wrapping up
Local SEO is an impressive thing. You can have a boosted local presence just by nurturing your existing customer base, being proactive in asking for reviews and populating your Google My Business listing.
All relevant businesses will show up, eventually, on the search engine results page, but you want to land right on page number 1.
Don't sleep on the power of landing in the Google Map Pack through local SEO tactics. And, now you know exactly what this is, and how to get there, what are you waiting for?
Use Cloutly today to streamline your review management and start filling up your business listing with reviews now. If you don't ask for reviews, you won't get any! That's why you might need a nifty tool like ours to generate more reviews.
We'll see you in the Google Map Pack any day now.