Getting Google reviews is a great way to climb your way up the search engine, boost credibility and reach more new customers.
Reading customer reviews online helps new customers connect with you and trust your brand. Google business reviews help your local SEO on Google Maps, too.
The more reviews you have which are positive, the better your business looks. But, it's down to ethics and consequences. If you are looking at buying Google reviews, it means you're either not a reputable business or you just want lots of reviews, fast.
Well, can you buy Google reviews?
You can do anything, really. But, be warned. Even if you do buy Google reviews and they boost your SEO rankings for a time, you're very likely to be caught and penalised by Google (and you won't just be facing a damaged reputation).
Additionally, if the reviewer does not state that the review was written in exchange for payment, according to the FTC (Federal Trade Commission), then you could be hit with a hefty fine. Soliciting endorsements in exchange for money is extremely iffy - and if you're doing that, it gives serious 'scam-vibes'.
They are likely to be reported by Google, a fellow reviewer, a competitor, or even someone in your company.
Should you buy Google reviews?
No, you shouldn't. Don't trust sellers on Fiverr offering to send you 50 Google reviews for $50. These are low-quality reviews from spammy accounts, and as soon as one of them gets caught, the whole house of cards comes tumbling down.
Beyond buying reviews outright, bribing your customers also goes against Google's guidelines - they don't allow you to offer rewards in exchange for reviews and it's prohibited as a conflict of interest. Companies offering incentives such as a free dinner, an all-expense-paid trip or money for positive reviews on Google are ignoring a key fact: that their business is not generating genuine positive reviews of its own accord.
You really don't need to buy reviews. If you've got money to invest in boosting your reputation online, then you should be investing in reputation management tech. It's not only ethical, it will supercharge your review campaigns and have the 5-star reviews rolling in. Google can detect fake reviews so it's not even worth risking your:
You can earn Google reviews by putting your best foot forward, providing excellent service and focusing on review management. In fact, just read our guide here on our top 5 clever ways to ask for reviews.
If you buy positive Google reviews, they're fake
The issue with fake reviews on Google is that they'll likely be obviously fake. If someone has never tried your product or service, then they won't be able to write a genuine Google review.
Companies buy fake reviews - it happens. And, they're aware that they're fake of course. But, what that says about your business is that you're not credible (which is the whole point of reviews on Google). If you're settling for inauthentic customer feedback in the hopes of trying to reach your target audience, you'll likely fail.
How to boost your online reputation (without paying for it unethically)
Review management can feel like a mammoth task - but it doesn't need to be evading Google's guidelines. There are steps to take, and there's handy software that streamlines everything and boosts your reputation in no time.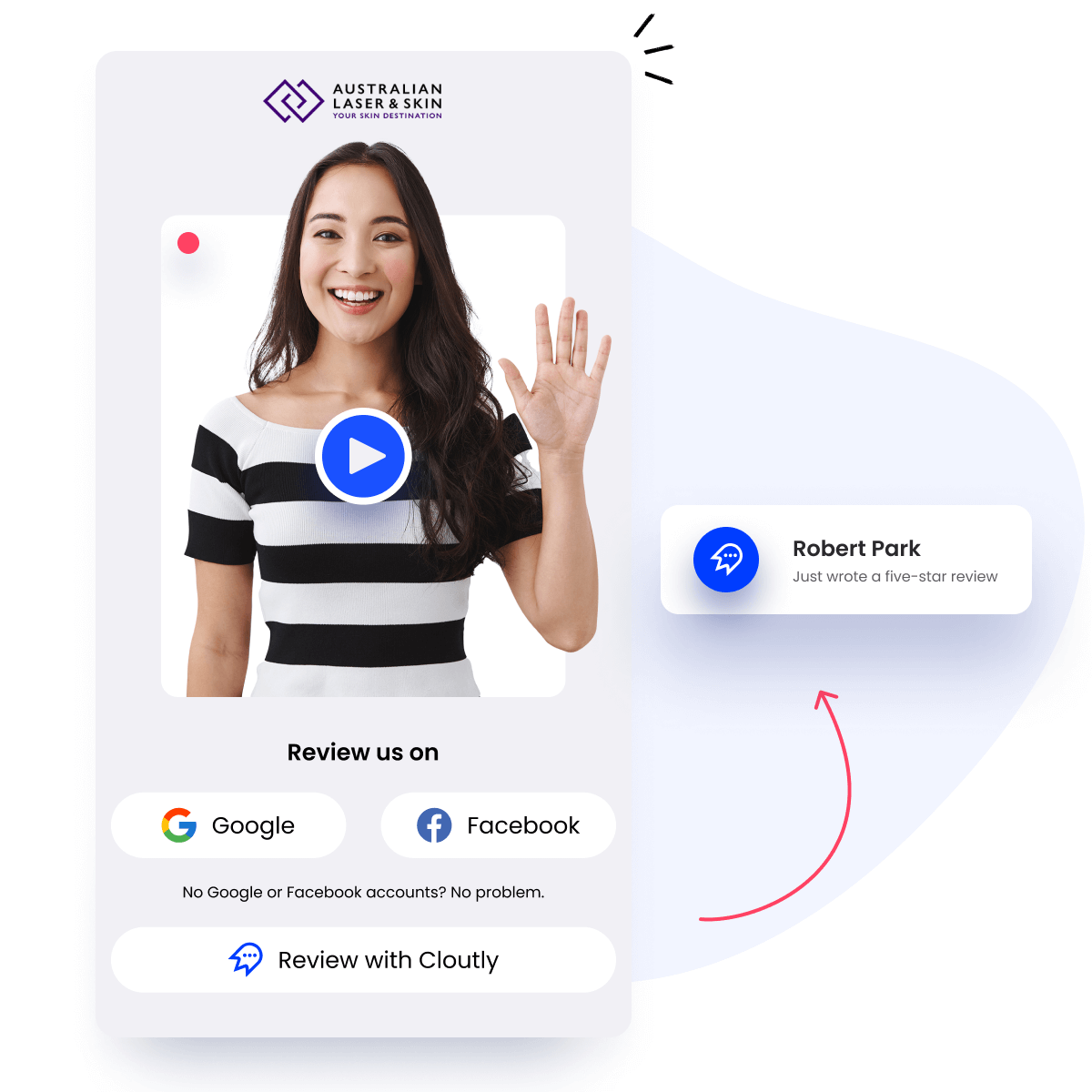 You're looking for positive feedback, so you need to make sure you're offering a great product or service first. Your review management will only take you so far. If you have a lacklustre business with no 'oomph' then your reviews will speak to that and give you an average score.
Try these 3 hacks if you want positive Google reviews that will have customers banging down the door of your business.
1) Ask for reviews
After you've set up your Google My Business listing, it's time to focus and ask for business reviews. It's as simple as that. You need to ask for reviews, and no, that doesn't mean you pay for them.
Usually, if your customer experience has been a good one, people will take the time to write a positive review on Google and other review sites you're listed on. You can even ask for a video testimonial.
Whilst you can't control whether you always get positive Google reviews, you can make sure you're methodical in asking your customers for them. It's best to ask:
Once they've made their purchase
A few hours after they've purchased from your business online or in-store
With a few reminders, people can forget! Just make sure they're personalised and gentle notifications to review you
With a review link so it's incredibly easy to review you.
If you use Cloutly, they don't even need to have an account on any of the review sites, including Google. They can set an account up with Cloutly and then write from there across even the most famous review platforms.
2) Respond to reviews
Regardless if you then receive negative reviews or positive Google reviews, they all need a response. Leaving a review unanswered can make the reviewer feel a bit like a tick-box and that their customer feedback was only there to satisfy the search engine results.
Consumers trust online reviews and you can show that your business cares by responding. Potential customers seek that personal touch that can come with an owner response.
For all your positive Google reviews:
Say thanks for taking the time to review
Invite back to your business
Be personal and human - sign off with your name and mention theirs in your response
For all your negative reviews on Google:
Again, say thanks - even if it's a bad review, the reviewer still took the time to address their concerns (and you can learn from them)
Take the conversation offline to sort the issue directly
Offer your apologies that the customer experience wasn't what you intended
3) Use tech to make it super simple, and supercharge your online reputation
5-star ratings are easier to reach if you up your review game with software. Monitoring, embedding, sharing, requesting and responding to reviews can give you a bit of a headache so it's nice to have a review companion with reputation management software.
Cloutly offers video review campaigns to optimise your social proof and make waves in your authentic marketing strategy.
Final thoughts
Google is a great review site - even if it's technically a search engine, and Google My Business should be a prominent focus for your business, but only in the legal way. Buying Google reviews isn't necessary.
Don't go up against the Federal Trade Commission. It's really not worth it when you can use a platform like Cloutly to drive 3x more reviews with engaging review campaigns.
More Google reviews mean more social proof, and evidence, that your business is worth speaking about - let's just hope they're positive Google business reviews.
Buying reviews isn't necessary, but investing in reputation management software is (if you want epic results, that is).