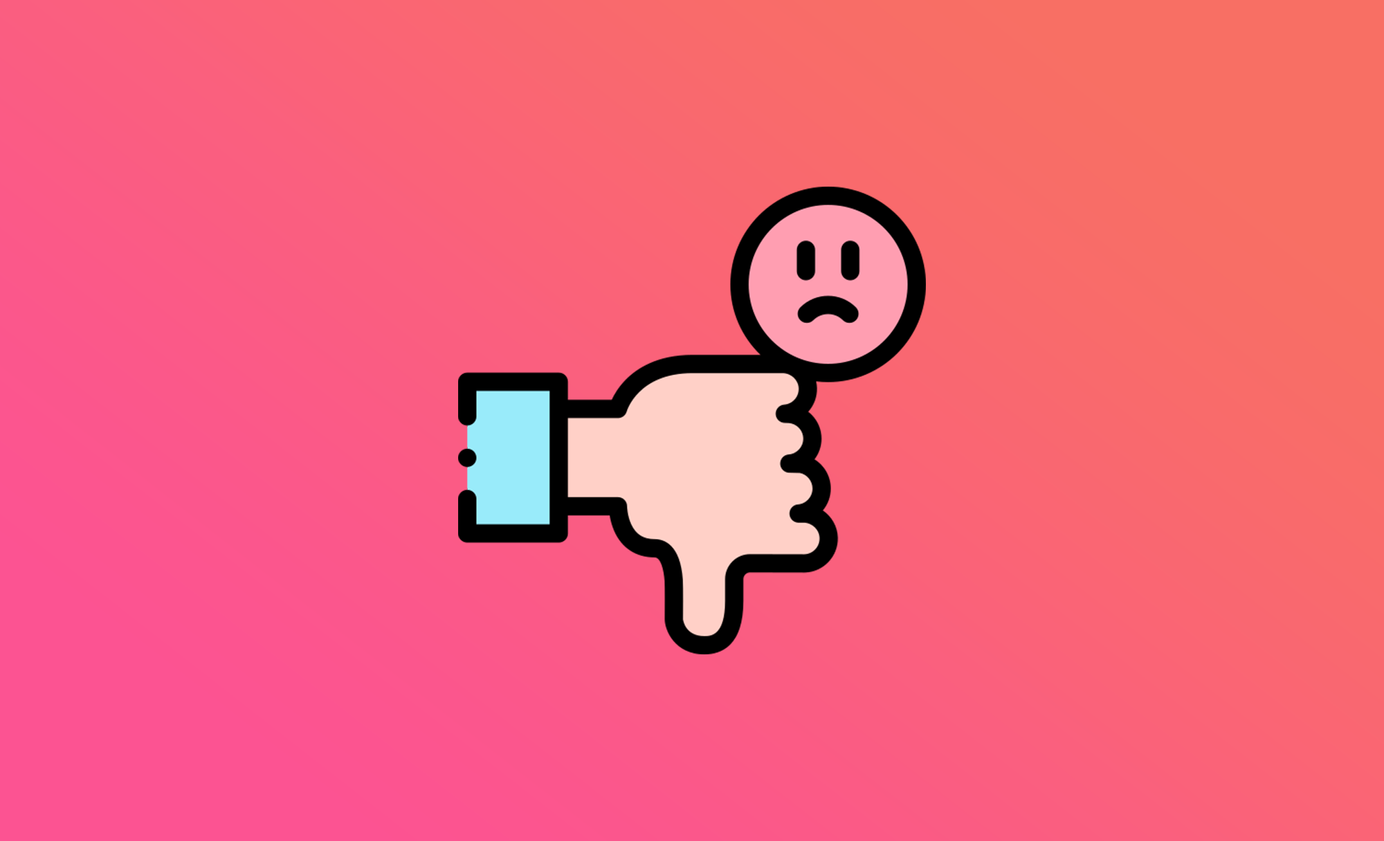 Yes, you can remove negative reviews from Google - here's how!
Removing negative reviews from Google can be a difficult process, but it's not impossible. Learn how to delete Google reviews in this concise guide.
Table of Contents
Updated September 2023
What changed? We updated the methods to delete a Google review and refreshed portions of this guide to be relevant, since Google My Business changed to Google Business Profiles
If you've had any measure of success in generating Google reviews, you've also asked yourself "How the heck do I remove Google reviews?!" We're here to help!
Deleting Google reviews can seem like a complicated and frustrating process, but thankfully it's not impossible (in fact, if you follow this guide, you'll be fully equipped to tackle your own negative review gripes).

Read on below to learn how to delete Google reviews.
Delete Google reviews? Why should I care?
News travels quickly today, and online reviews on sites like Google play an enormous and emerging role in influencing our buying behaviour. You'll almost certainly have looked for and read third party hotel reviews, scoured Amazon reviews, glanced over TripAdvisor and even opened up the Google Maps app yourself at some stage and made decisions based on them.

To buy, or not to buy... that is the question.
Review sites like your Google Business Profile (which used to be called Google My Business) are important because we - as consumers - value other people's opinions, and when we're unsure of something, we look to others for validation - especially online.
As a business owner, you care about what people think. Even a few negative reviews can hurt and often, you'll do anything to avoid them, but it's not all bad news. In fact, Northwestern University conducted a study that found most purchases were influenced by reviews with an average star rating between 4.2 and 4.5, meaning a review that falls between these means actually more trustworthy than a perfect 5 stars.
What should we interpret from the results? Well, perhaps simply that receiving a bad or mixed review here and there isn't necessarily something to be afraid of. In fact, instead of deleting the review, it could become your biggest opportunity to win the respect and business of new customers.
PS: Want a cheat sheet for getting a piece of defamatory content or bad review removed from Google? Download our checklist first.
Can you remove a bad review from Google?
*Yes, you can delete Google reviews (with an asterisk). If you feel that the review is fake or even defamatory, you can take steps to remove it.
It's not always straightforward and admittedly, the process (and review removal outcomes) can be a little murky. If you're in a situation where your brand's online reputation may be suffering and you need to remove Google reviews fast, it's important to continue to generate positive reviews at the same time, so future readers, browsers and buyers see a balanced perspective.
The best way to effectively delete a bad Google review (at least, in the eyes of your customers), is to drown it out in a sea of authentic, good reviews (especially if you've been hit with a few negative reviews in quick succession). If the situation is untenable, you can shut it down, too, as a last resort. Here's a link to our guide on removing your business location from Google.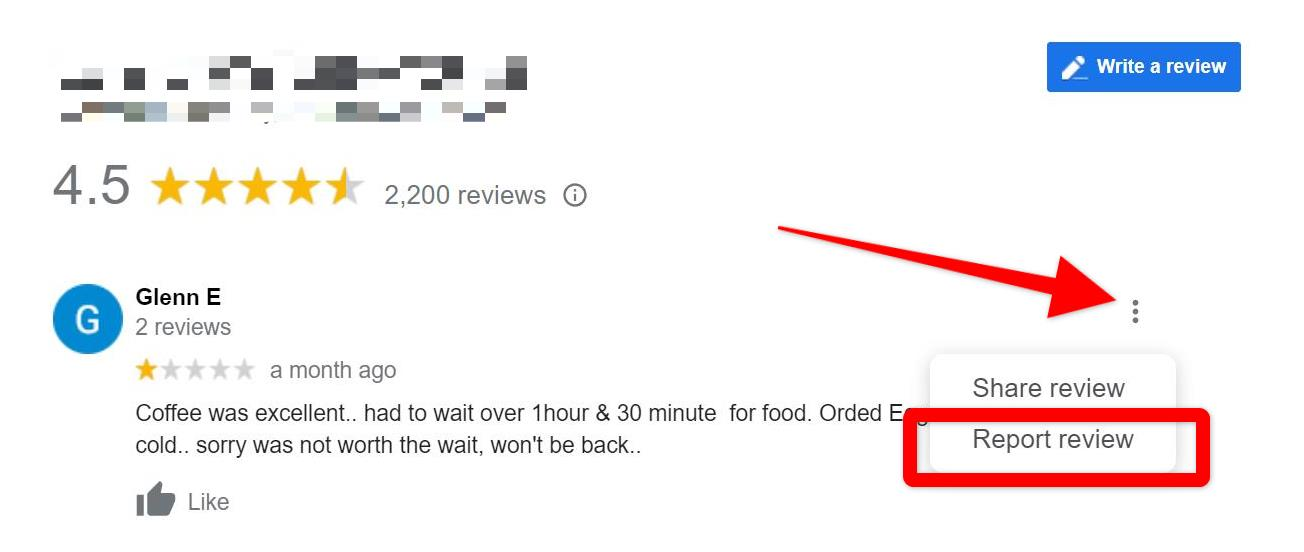 How to identify and report fake Google reviews
So you suspect a fake Google review has infiltrated your business's otherwise unblemished reputation? Fear not! Here's how to remove a Google review you suspect is fake:
Inspect the review: Take a good, hard look at the review in question. Look out for signs that it might be fake, such as vague comments, overly positive or negative language, or generic language that could apply to any business.

Flag it down: If the review seems fishy, you can flag it as inappropriate. Simply log into your Google Business Profile Manager, find the review in question, click on the three dots next to the review, and select "Report review"

Show your evidence: When you report the Google review, you may be asked to include any evidence that supports your claim that the review you're reporting is an innapropriate review (or outright fake). This might include screenshots or emails that show the review is fraudulent.

Wait for a response: After flagging the review, sit back and relax while Google investigates. They'll determine whether or not the review violates their policies. It typically takes up to 14 days for Google to review your request and verify if they will remove the review. If possible, ask other people and customers to report the review as well, which may draw more attention to the content and encourage Google to remove the review.

Appeal the decision: If Google doesn't agree with your claim that the review is fake, don't lose hope! You can appeal their decision by providing more evidence that supports your claim.

Then the next step is to report it to Google's small business support services and fill in the form as accurately and with as much detail as possible: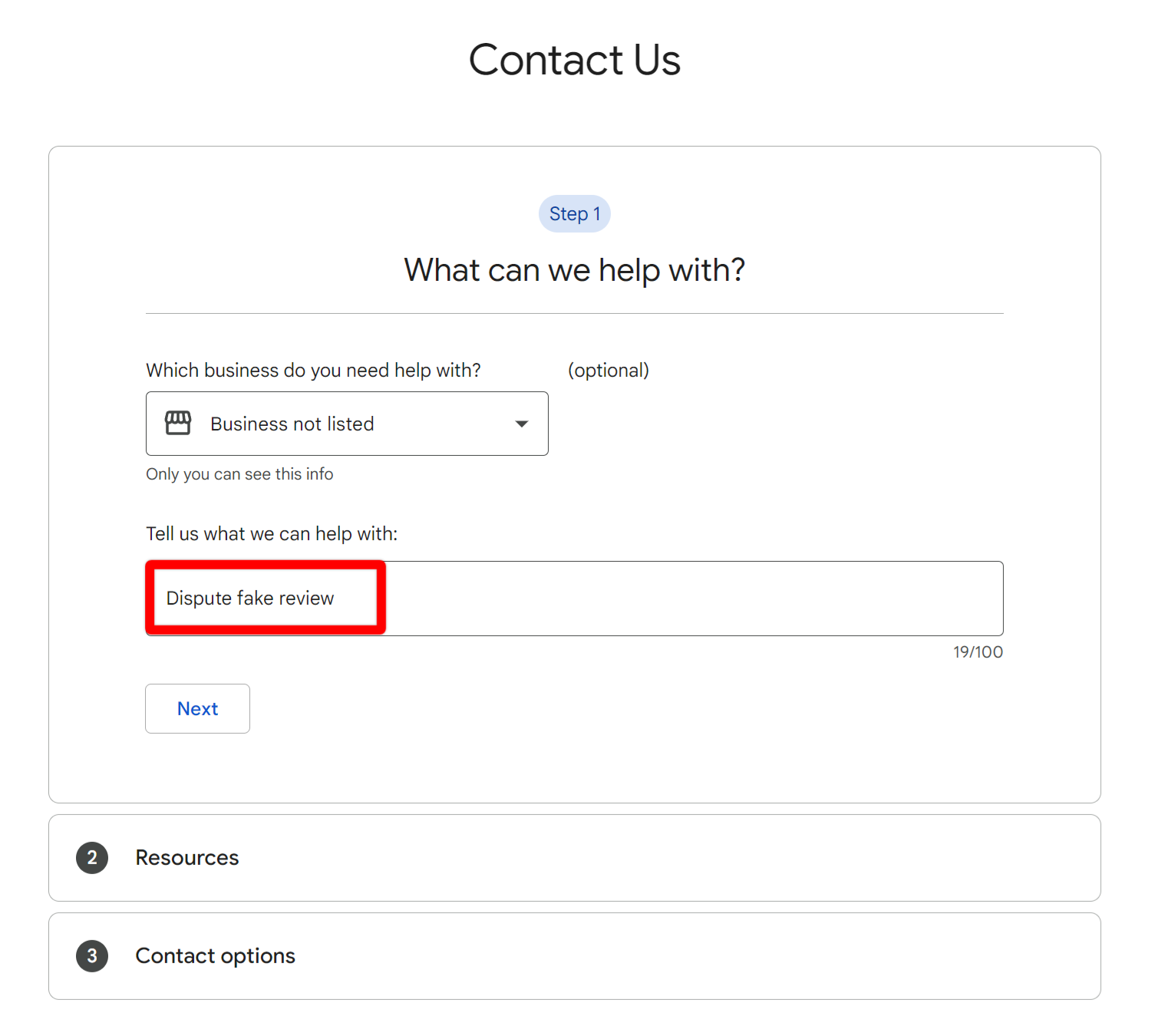 If Google still won't remove reviews and their final decision is "No", you may have better luck with the legal removal request route - enlisting the services of a content removal company.
How Google's review removal policy works
Google's review policy guidelines are very clear and easy to follow; if you're trying to remove negative content, pay close attention to this list to discover what Google themselves classify as an inappropriate review. It's typically your best shot to remove Google reviews.

Here's the rundown of what they won't tolerate:
Spam and fake content
Content should be a genuine reflection of an experience at the location in question. A review should be honest and not manipulate ratings for the sake of it.
Off-topic
Reviews should be about the specific place in question and not become forums for rants, social discussions or political conversations.
Restricted content
Reviews cannot be seen to promote products or services that are subject to local legal regulations. This includes gambling, alcohol, arms, adult and financial services,  and health or medical offerings.
Illegal content
Google does not accept content related to any illegal activity, including infringement of others' rights, sexual abuse, illegal acts and products, and images of violence and terrorism activities.
Terrorist content
Google will not tolerate any content that promotes acts of terrorism, motivates violence or celebrates terrorism attacks.
Sexually explicit content
No sexual content is permitted, particularly if it exploits children. They will remove the content, shut down the account, and send a report to the relevant national centre for missing and exploited children and relevant law enforcement establishments.
Offensive content
Google will remove any obscene language and gestures.
Dangerous and Derogatory Content
Google Maps is a platform for polite and safe communication. They do not permit incitement of hate, bullying or self-harm promotion.
Impersonation
Google does not permit content attributed to another person, or that can be misleading or deceptive.
Conflict of Interest
Conflict of interest relates to posts about self-promotion, posting content about a current or past employment experience or about a competitor to manipulate their ratings.

If Google deems that the review meets the above criteria in any format which includes photographs, videos and written reviews that distort the truth, then they will remove the content.

Reviews are automatically processed to detect inappropriate content like fake reviews and spam. Google may take down reviews flagged in order to comply with its policies or legal obligations.
How to dispute a Google review removal
Sometimes, Google may automatically flag and delete Google reviews you know are real! Frustrating, right?
Typically, this starts with a notification from Google that one of your reviews has been removed (or your customer tells you they posted it, but nothing shows up on your public profile).
If you've double-checked the guidelines above, there are some steps you can take to get the review reinstated. Read our guide here to find missing reviews.
Ways to deal with bad Google reviews
Negative reviews can feel like a punch in the gut for any business, but don't worry, we've got your back! Here are some ways to handle them like a pro:
Respond to the review: Don't leave the negative review hanging! Respond in a timely and professional manner. Address the customer's concerns and offer a solution or explanation for the issue they've experienced. This shows that you're committed to hearing feedback and finding a resolution. More on this in the next section.
Stay positive or emotionally neutral: Keep things upbeat and positive when responding to negative reviews. Don't get defensive or aggressive, as it will only make things worse. Instead, thank the customer for their patience and focus on finding a solution to the problem.
Solve the problem offline: If the issue requires further discussion or resolution, offer the customer a way to contact you directly. Provide a phone number or email address so you can address the issue in more detail. This shows that you're committed to fixing the issue and going the extra mile.
Verify the validity of a review: If you're unsure of a review's authenticity, keep an eye out for the tell-tale signs. Spam reviews tend to be oddly vague (almost like the review could have been written for any business). Lack of detail is always a red flag. Take a look at the reviewer's profile and see if they've left other reviews (and if they have a picture on their account). If it seems off, it probably is.
Remember, negative reviews can be turned into a positive experience by handling them with grace and professionalism. Follow these tips to show your commitment to customer satisfaction and turn a negative situation into a positive one.
Why you can't just take every negative review down
If only there was a "Delete Review" button, right?
There's a good reason that (sadly) doesn't exist. Google reviews help consumers make informed buying decisions about places, services and people. We're playing by this notion of a "trust economy", where businesses who do right by their customers are celebrated and rewarded, while shady merchants and bad actors (pardon the pun, Nic Cage) are quickly caught out in a public forum.
Ultimately, a healthy trust economy is good for everyone; the best businesses rise to the top.
That's why getting a review removed from Google isn't always easy. They'll take action on spammy reviews (or a fake review), but legitimate reviews - even the worst ones - are representative of the customer experience.
Reviews increase brand trust, bolster your online reputation, show your consumers your transparency and how you deal with both positive and negative reviews, out in the open. A "genuine" negative review can improve your service offerings by helping you understand what you are doing wrong and how you can make it better. Many negative reviews are actually constructive criticism, so it's worth taking a deep breath and keeping this in mind before responding to them.
How to respond to genuine negative reviews
Finding out how to respond to bad reviews on Google might seem a bit daunting. You want to remove negative content from Google search that's about your business and although you'll never want to receive a negative review on Google, always consider being thankful that the reviewer has taken time to write about their experience. You can take this opportunity to improve your business and, if you play your cards right, could even improve your reputation and standing with specific - and all future - customers (which we talk about in this article about review gating). By responding to online reviews thoughtfully, you'll increase your chances of retaining an unhappy customer, you'll win trust and you'll certainly improve your online reputation.

Check out this awesome example from Koala: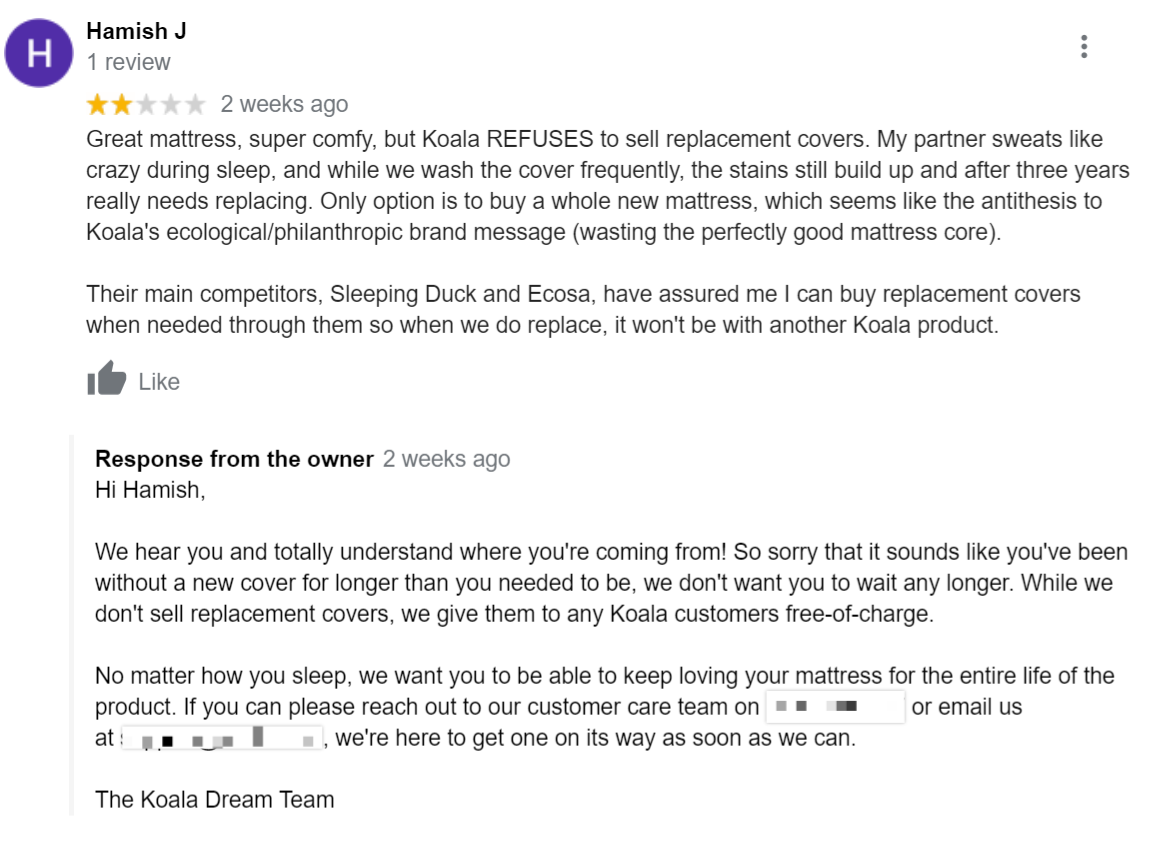 You will need to reply to the reviewer quickly, politely and offer a solution. Remember that reviews are visible, so it's essential to remain polite, calm and unemotional; there's nothing worse than getting into a heated argument in a public arena. Not handling the response with empathy, understanding and an apology could result in irreparable damage to your reputation. Try to take the communication offline, if you can. Be sure to say "thank you" for the review and focus on building relationships with the reviewer and your other customers.
All in all, responding to reviews - both good and bad - will help you win in the trust economy. Reviews breathe life and soul into your business, and offering transparency allows other potential customers to read between the lines. Invest in your relationships and build loyalty by showing that you care for each of your customers or clients.
How do I remove a review I wrote on Google?
Oops, written a review for another business yourself somewhere and want to delete it?
Open Google Maps
Click the Menu button at the top left (three horizontally stacked lines)
Go to Your Contributions then click Reviews
See your reviews then click Edit or Delete next to it then follow the steps
If you're wondering how to delete a Google review on iPhone or Android, you can follow these steps with the Google Maps app, too.
Alternative ways to delete Google reviews
You might just want to delete your negative reviews to salvage your credibility. But, can you actually delete Google reviews for your own business, or is this just wishful thinking?
Unfortunately, if you want to delete a Google review, you're going to need to report the review through your Google Business Profile (or contact Google) and make a case for yourself. Your best chance is if the Google reviews are genuinely fake or spam reviews that contain any content that goes against Google's content guidelines (see above).
Google doesn't let you jump in and delete reviews for the very reason that they are meant to reflect your actual customer's experience, but never fear! Below are some strategies you can employ to try and get those reviews deleted.
Ask the customer to remove their negative review
If you've responded to the customer online, reach out to the customer directly by phone or email if available (or ask them to contact you with details you've provided in your review response).  Express your concern for their negative experience and ask if there's anything you can do to make things right.
Once you're in contact with the customer, first thing first - resolve the issue as best you can.
If - after you've given them a call - the customer seems happy with the solution you've provided, ask them if they'd mind removing or changing their negative review. On a case-by-case basis, this may work without you needing to say anything at all, but you might also be able to incentivize them to do this of their own accord by offering a discount or freebie.
Keep in mind, not every customer will agree to change or remove their review (even when incentivized), and that's okay. What's important is that you've done your best to remedy the situation and quash any tension. Who knows? They may even revisit their review of you later on.
Focus on building positive reviews
Let's be real, dealing with negative Google reviews can be a tough battle to fight. You may come across some shady characters out there who buy fake Google reviews just to target your business listing (competitors who don't have a moral compass).
So, what can you do to prevent negative reviews from dragging down your online reputation? The answer is simple: rack up more 5 star reviews. It may sound like a daunting task, but it doesn't have to be! With tools like Cloutly, you can easily automate your review collection efforts and boost your relevance in Google search.
Here's the deal: even if you're currently struggling with a heap of poor reviews, you can quickly turn things around by simply asking your customers for legitimate reviews. And the quickest way to do that is to utilize reputation management software like Cloutly:
Final thoughts
While it's definitely possible to delete Google reviews (and we've listed out the current, working ways to kickstart the process), it's not a surefire way to rebuild your reputation.
Do what you can to delete reviews, but then start building on what's already working well for your business. Focus on providing the best customer experience possible, and your satisfied customers will be more likely to leave you a positive Google review. Remember, every positive review counts and will help you reach your goal of boosting your online reputation.
With tools like Cloutly, you'll quickly be able to drive fresh, new Google reviews for your business. The only thing more powerful than a negative review, is a tidal wave of positive reviews to drown it out! Cloutly helps you automate the review collection process, from Google, Tripadvisor and dozens of other review site integrations; it's your one stop shop for driving, monitoring, responding to and showcasing your glowing customer reviews.
With the right tools and approach, you can not only combat negative reviews but also create a strong foundation of positive ones that will help your business thrive. Let's get to it!
---