If you've had any measure of success in generating Google reviews, you've also asked yourself "How the heck do I remove negative reviews from Google?!" We're here to help!
If you want to remove negative articles from Google and remove negative reviews from Google, it can appear to be a complicated and frustrating process, but thankfully it's not impossible (in fact, if you follow this guide, you'll be fully equipped to tackle your own negative review gripes). Some might think Google is a bad company, but its guidelines are pretty standard. If you're also wondering 'can businesses remove Yelp reviews,' you'll find a bit of a crossover in the strategies to do so. Follow along to learn how to delete Google reviews.
News travels quickly today, and social media has become the word-of-mouth accelerant businesses live and die by. Online reviews on sites like Google play an enormous and emerging role in influencing our buying behaviour. People love to explore experiences, travel and products before they book or buy. You'll almost certainly have read Amazon, TripAdvisor and Google reviews yourself at some stage and made decisions based on them.

To buy, or not to buy... that is the question.
Review sites like Google My Business are important because we value other people's opinions, and when we're unsure of something, we look to others for validation. As a business owner, you'll care about what people think. Negative reviews can make or break you. A mixed set of reviews is a good thing, particularly if most are good reviews; it shows that your business and offerings are authentic. Remember that you can't please everyone, all of the time.
Sadly, some people will leave negative reviews on Google about your business or services. But it's not all bad news, so if you're wondering how to delete Google reviews... read on!
Need a negative review or a piece of content removed from Google? Download our checklist first.
Can I remove a bad review on Google?
*Yes, you can delete Google reviews (with an asterisk). If you feel that the review is fake or even defamatory, you can take steps to remove it (just like on TripAdvisor).
You can't just utter the command Google remove and hope that one of your electronic devices responds, but you can dispute a Google review.
It's not always straightforward; the process can be a little murky. If you're in a situation where you need to remove negative feedback, it's always best to continue to generate positive reviews at the same time, so that people will read between the lines. You'll want to elevate your star rating and improve your rankings as quickly as possible if you've been hit with a few negative reviews. If you're getting lots of negative reviews, you can read our guide on how to remove a business from Google, too.

Spotting and reporting fake Google reviews
Impressions matter! It's essential that you quickly get to work and limit damages by responding to the reviewer, even if you suspect their review is fake. This shows other potential customers that you care and actively involve yourself in customer feedback. The way you respond will allow them to see your support service skills, empathy, consideration and will help them understand your side of the story.
When replying to Google reviews, make sure that you don't make it personal and are not defensive in any way. Respond kindly, apologise if you think it is required, and offer to put things right if you can. If there is any way to communicate in a private space, then do so. If not, ensure that the response is short, friendly and to the point. How you handle the response might lead to the reviewer deleting their Google review. Invite the reviewer to contact you personally so that you can investigate their experience in full. Follow up where possible and do everything that you can to help turn their incident into a positive experience.
How Google's review removal policy works
Google's review policy guidelines are very clear and easy to follow; if you're trying to remove negative content, pay close attention to this list to discover what Google themselves classify as an inappropriate review. It's typically your best shot to remove Google reviews.

Here's the rundown of what they won't tolerate:
Spam and fake content
Content should be a genuine reflection of an experience at the location in question. A review should be honest and not manipulate ratings for the sake of it.
Off-topic
Reviews should be about the specific place in question and not become forums for rants, social discussions or political conversations.
Restricted content
Reviews cannot be seen to promote products or services that are subject to local legal regulations. This includes gambling, alcohol, arms, adult and financial services,  and health or medical offerings.
Illegal content
Google does not accept content related to any illegal activity, including infringement of others' rights, sexual abuse, illegal acts and products, and images of violence and terrorism activities.
Terrorist content
Google will not tolerate any content that promotes acts of terrorism, motivates violence or celebrates terrorism attacks.
Sexually explicit content
No sexual content is permitted, particularly if it exploits children. They will remove the content, shut down the account, and send a report to the relevant national centre for missing and exploited children and relevant law enforcement establishments.
Offensive content
Google will remove any obscene language and gestures.
Dangerous and Derogatory Content
Google Maps is a platform for polite and safe communication. They do not permit incitement of hate, bullying or self-harm promotion.
Impersonation
Google does not permit content attributed to another person, or that can be misleading or deceptive.
Conflict of Interest
Conflict of interest relates to posts about self-promotion, posting content about a current or past employment experience or about a competitor to manipulate their ratings.

If Google deems that the review meets the above criteria in any format which includes photographs, videos and written reviews that distort the truth, then they will remove the content.

Reviews are automatically processed to detect inappropriate content like fake reviews and spam. Google may take down reviews flagged in order to comply with its policies or legal obligations.
How to actually my Google reviews deleted (how to dispute a Google review)
How to review on Google is indicated by Google's review policy; it states that any review that is fake, defamatory or inappropriate will be removed.
If you want to know how to report a false Google review then the easiest way to get a negative review deleted is to do the following: you will need to log in to your Google My Business account and select your location. From the menu at the top left, you'll find the "Reviews" section. Once you have located the review that you would like Google to delete, click on the vertical dots menu and select the "Flag as inappropriate" option.
Finding the "Reviews" section in Google My Business
Alternatively, you can quickly Google your own business, find the negative review in your Google My Business listing (right-hand side of the search results). This is where you'll find My Google reviews.
Repeat this process - this time clicking "Report review", which will lead you to this screen:
It typically takes 14 days to close a Google review, to review your request and verify if they will remove the review. If at all possible, you can ask other people and customers to report the review as well, which may draw more attention to the content and encourage Google to remove the review.
If for any reason, flagging the review does not get it removed from your business listing, then the next step is to report it to Google's Small Business Support services. Visit business support and select "Contact us", "Customer reviews and photos" and then "Manage customer reviews". You can choose if you'd like to receive help by web chat, email or phone. You can expect help within 24 hours.
Now that you are in contact, you can explain why Google should remove the review. Be prepared to tell them why you believe the review is in violation of their own policies or why it is classed as a fake Google review or spam. If the support team cannot remove the review themselves, they may escalate the issue to a senior review specialist who will make the final decision. If that decision is still a "No", you may have better luck enlisting the services of a content removal company.
How to respond to a bad review on Google
Getting more Google reviews can mean more negative reviews come your way. Well, it's still more reviews, isn't it?
When down customers leave negative reviews, they can put a bit of a dampener on your mood though, especially if you're off to a winning positive Google reviews streak. It's not a huge issue though, as you can save face with your review responses.
If someone writes a review complaining about your service, it gives you an open forum to apologise and explain that it would not happen again. Potential customers seeing this will see that you:
Care about protecting your online reputation
Want every customer to have the best experience
Will listen to queries about your business
Endeavour to improve your product or service
As a local business, a bad review can provide invaluable information for strategies to improve your business model. To respond to Google reviews which aren't so favourable, make sure you:
Thank the reviewer for taking the time to let you know that they weren't happy with your business
Take the conversation offline to resolve an issue faster, and in a less public space
Offer a discount or invitation back to your business, ensuring the mistake won't happen again
Apologise - don't be defensive, that puts people off. A simple apology works wonders.
Is it illegal to delete bad reviews?
You can't just go ahead and delete all the bad reviews on your Google My Business listing. That's unethical and kind of defeats the whole point of having a business reviews page.
Anything that is misleading conduct goes against Consumer Affairs so it is illegal. Unless you delete bad reviews that go against Google's guidelines. If you have a negative review that contains untruths, profanities, threats or private information, you can get Google to delete it.
Why you can't just take every negative review down
Google reviews help consumers make informed buying decisions about places, services and people. Getting something removed from Google isn't easy, and you might want to know how to get rid of negative internet posts, but it's not a done deal.
To remove negative results from Google needs to be measured up against this notion of the "trust economy", where businesses who do right by their customers are celebrated and rewarded, while shady merchants and bad actors (pardon the pun, Nic Cage) are quickly caught out in a public forum.
Reviews increase brand trust, bolster your online reputation, show your consumers your transparency and how you deal with both positive and negative reviews, out in the open. A "genuine" negative review can improve your service offerings by helping you understand what you are doing wrong and how you can make it better. Many negative reviews are actually constructive criticism, so it's worth taking a deep breath and keeping this in mind before responding to them.
Since reviews drive click-through rates and can ultimately convert more browsers into buyers, it pays to have a strategy in place for responding to bad reviews on your business listing; some customers will look to see how you handle negative feedback to get a gauge on what to expect from you in future. Make sure that your business takes proactive steps to ask for reviews and responds to all of them in a timely manner. They will drive traffic to your website and in turn, your physical location (if you have one).
How do I remove a review I left on Google?
If you have left a review then you can remove it. Perhaps you left a scathing review for a competitor in a jealous moment, or you're just interested as a Google user. The easiest way is using Google Maps.
Open Google Maps
Click Menu at the top left
Go to Your Contributions then Reviews
See your reviews then click Edit or Delete next to it then follow the steps
That's how to delete a review or how to delete reviews.
If you're wondering how to delete a Google review on iPhone, you can follow these steps, too.
How to respond to genuine negative reviews
Finding out how to respond to bad reviews on Google might seem a bit daunting. You want to remove negative content from Google search that's about your business and although you'll never want to receive a negative review on Google, always consider being thankful that the reviewer has taken time to write about their experience. You can take this opportunity to improve your business and, if you play your cards right, could even improve your reputation and standing with specific - and all future - customers (which we talk about in this article about review gating). By responding to online reviews thoughtfully, you'll increase your chances of retaining an unhappy customer, you'll win trust and you'll certainly improve your online reputation.

Check out this awesome example from Koala: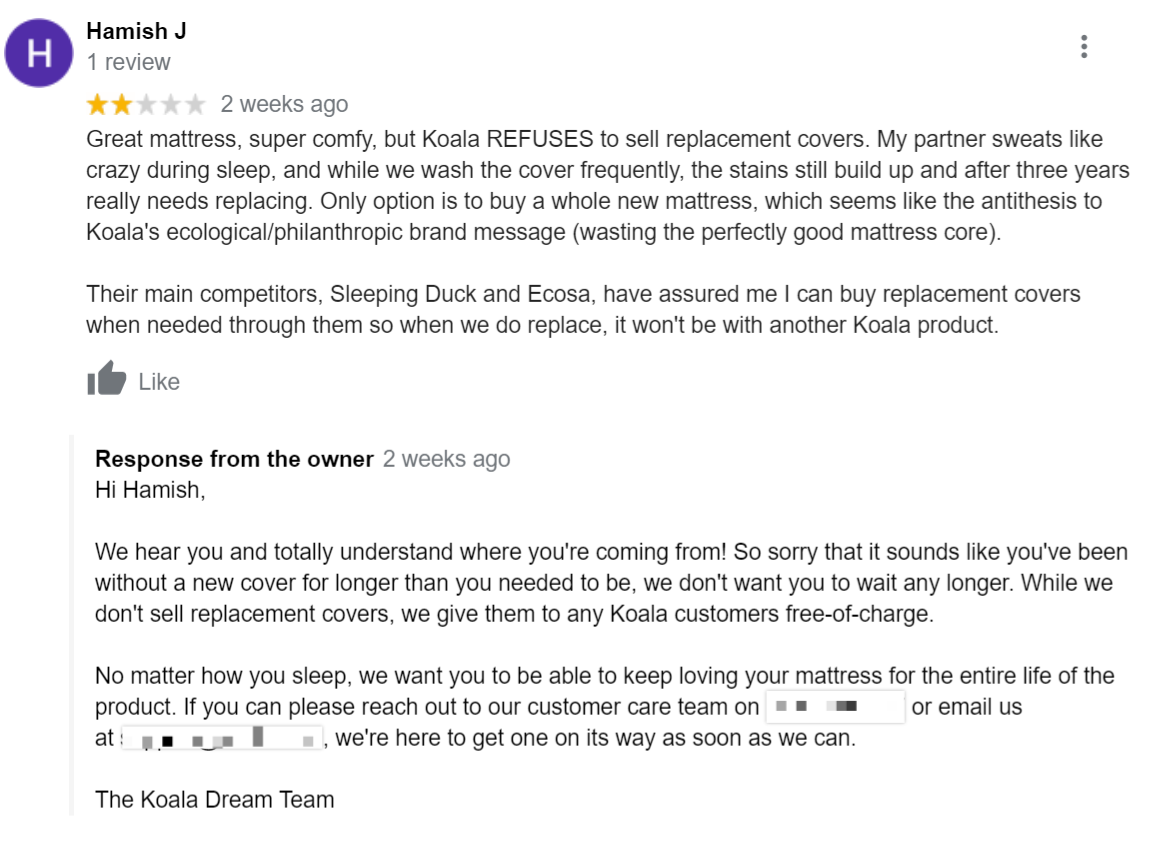 An absolutely brilliant response to a negative Google review by Koala
You will need to reply to the reviewer quickly, politely and offer a solution. Remember that reviews are visible, so it is essential to remain polite, calm and unemotional; there is nothing worse than getting into an argument in a public arena. Not handling the response with empathy, understanding and an apology could result in irreparable damage to your reputation. Try and offer an acceptable solution and then take the communication offline.
Be sure to say thank you for the review and focus on building relationships with the reviewer and your other customers. Always respond to a negative review.
All in all, responding to reviews - both good and bad - will help you win in the trust economy. Reviews breathe life and soul into your business and offering transparency allows other potential customers to read between the lines. Invest in your relationships and build loyalty by showing that you care for each of your customers or clients.
How to delete Google reviews
You might just want to delete the negative reviews - especially as positive ones help build your online reputation and credibility. But, can you, as a business owner, actually delete Google reviews, or is this just wishful thinking?
Unfortunately, if you want to delete a Google review, you're going to need to make a case for yourself. Your best chance is if the Google reviews are genuinely fake or spam reviews that contain any content that goes against Google Maps content guidelines (see above).
Google doesn't let you jump in and delete reviews for the very reason that they are meant to reflect your customers' actual experiences. It's likely that you'll only want to delete bad reviews, so is there a way we can do this without contacting Google's customer service team?
Reach out directly to the customer
You can incentivise the customer to edit or retract their review.
If they had a bad experience with your business, offer a way for them to contact you directly. This allows you to 'fix' the issue if you can; offer a discount; offer an incentive to return to your business to try it again and hope the first bad experience was a one-off; encourage them to re-think their negative review.
It's easy for a customer to edit their review if an issue was resolved:
Open Google Maps
Access the menu icon on the top left
Click on Contributions and navigate to the Reviews tab
Select the review or reviews that you wish to edit
The customer might delete their review or edit it from a negative review to a positive one.
The main key is communication with reviews, your customer will be less inclined to leave a bad review if you hear out their concerns with their experience of the business.
How to do a review on Google
It's easy for your customers to leave a review on Google, which is why sending out a review link with Cloutly can guarantee an increase in your social proof.
From your browser, simply:
Log in to your Google account and find the business you're going to review
By the stars next to the business, click Write a review
From the Google Maps app:
Search for the business and click on it.
A banner will appear at the bottom of the business listing and you can scroll to the reviews section then ta-da, Write a review
But it's even easier to use our free QR code generator for your customers to review you.
How do I hide my name on Google reviews?
If you're the business owner, your name won't show on your review response unless you sign off on it. You don't need to leave your full name, but it is good to show that you're a human and add that personal touch. You could sign it, Thanks so much for taking the time to leave a review. Come back soon! From your favourite restaurant manager, Tony.
Just remember, if you're a reviewer or part of the business being reviewed, Google will be able to track you with your IP address. So don't leave anything nasty out there.
Focus on building positive reviews
Trying to eliminate all negative reviews is a difficult battle to win. There might be some strange people out there that buy negative Google reviews to target your business - competitors that don't have a moral compass - but they will get caught. Buying Google reviews comes with a warning label: don't do it, unless you can live with damaging your own reputation and putting your business at risk.
The best way to prevent negative reviews from impacting your online reputation is to win more positive reviews (increase the number of 5-star positive reviews posted). It sounds hard, but it doesn't have to be. Use a tool like Cloutly to automate your review collection efforts. It's the fastest way to get more Google reviews and boost your relevance in Google search.
It starts with one positive review at a time, so even if the only reviews you have right now are poor reviews, you can quickly turn things around by simply asking your customers for legitimate reviews. And the fastest way to do that is to use reputation management software like Cloutly.
Build upon what works well for your business so that the majority of customers that you interact with have a positive experience, and therefore, are more likely to leave you a positive Google review.
How to ask a customer to remove a negative review
There is a strategy to this, but it's not fail-proof. You can write an epic review response, apologising, thanking them for their time to review you, seek to resolve the issue offline and perhaps give compensation such as a refund or discount.
If their issue is resolved, they might delete their original review. You could ask nicely, saying, "if you feel we have resolved your issue and you're happy, would you mind editing or removing your original review for our reputation?" You never know, they might.
Can you delete customer photos from Google My Business?
If you have a reviewer leave an unflattering photo of your business, for example a piece of raw chicken on their plate or an unsightly bathroom (ew), it's no wonder that you'd want it deleted. It can intensify a bad review by having photo evidence and damage your Business Profile.
Unfortunately, though, you can't get it deleted just because you don't like it. It's the same with reviews. It has to violate Google's review guidelines.
But, if you do have cause to delete it, then:
Bring it up in Google Maps (you can't do it from the Google My Business dashboard)
Click on the photo and then the Report a problem option
Choose a reason for reporting the photo
Then you wait to see if Google agrees.
Stay on top of your reviews across Google and other review sites
Building trust and positive sentiments can be hard. Even harder when something goes wrong. But when things are going right, scoring amazing reviews from your customers is a highly-effective way to organically build your online credibility.

With Cloutly, you can build social proof online by asking your customers for reviews and directing them to any review site you choose (like Google, Tripadvisor, Facebook reviews etc). It's the best way to bring all your reviews into one place, get more reviews anywhere, and display those glowing reviews live on your website to build trust with new customers.
Try Cloutly free for 14 days and start getting more reviews in under 3 minutes.