We often get asked about Removify, how they're different to us and whether or not we recommend them for removing online reviews. Since we're not actually competitors (Cloutly is a software that helps you drive customer reviews to win more business, whereas Removify is a done-for-you service who help you remove negative online content), we decided to explore further, objectively. Hopefully, by the end of this article, you'll have a better grasp of what Removify do and whether or not you should enlist their help.
What is Removify?
Established by Nick Bell and Andrew Whitford, seasoned digital agency entrepreneurs, Removify is a Melbourne-based startup we often see mentioned across social media as "the" company to seek out if you're in need of negative content removal.
Removify offers a done-for-you service that helps businesses remove unwanted, unsolicited, unfair or fake reviews, stories and complaints across sites like Google, Glassdoor, Facebook and RipoffReport. They do this by assessing each case, looking for policy breaches and appealing to the host platform (like Google) to have a particular piece of content taken down.
It's a neat idea. Removify also guarantees their work, claiming that if they don't succeed, you don't pay.
What kinds of negative content do Removify help remove?
Removify broadly uses the words "negative content" to cover a host of nasty, online material, including:
Negative and fake reviews
Videos and images
Libel and defamatory posts/articles
Negative search results
Social media content
Some have been eager to point out an ethical dilemma of Removify's service. If they can just remove online reviews and search results, isn't this effectively manipulating the trust economy? How can we trust that what we're seeing and reading hasn't been omitted or favourably censored to hide bad actors?

The answer, according to Whitford, is that Removify "don't physically remove the content; we create a case for them [the business] just like a lawyer would, to represent that business".

They admit it's not always possible to have negative online content removed (which is fair), with news publications, government sites and other official organisations particularly unlikely to oblige their removal requests, but Removify claims to have an 88% success rate.
How much does Removify cost?
Between $500-2500 for negative content successfully removed. If they can't remove it, you don't pay.
Can't I just remove negative online content myself?
In some cases, yes! If you're suffering at the hands of online trolls, nasty competitors or fake reviews, we wrote an article on how to remove negative reviews from Google which might help you.
Each platform has a slightly different process to have negative content removed, but there are a few ubiquitous questions you can ask (and answer) that will help you maximise your chance of documenting, appealing and removing a negative review yourself. Google's Prohibited and Restricted Content guidelines actually provide an extremely thorough checklist of policies that you can look to, to have infringing reviews removed.
Our suggestion for DIY: look to the content guidelines and policies of the platform in question, document your case thoroughly (ie: why you believe a particular review is in breach of their policies) and submit an appeal to have the infringing content removed.
Is Removify worth it?
At $500-2500 a pop, Removify's service doesn't come cheap, but it could easily be argued that doing nothing is much more costly for your business. We're not paid to endorse Removify or blow smoke up their chimney, but acknowledge they do provide a service that grants you peace of mind. After all, we're both in the business of helping businesses build trust, and in stressful times, that can be worth it alone.

Yes, we'd recommend Removify.
The last thing you want to deal with personally is a situation like this: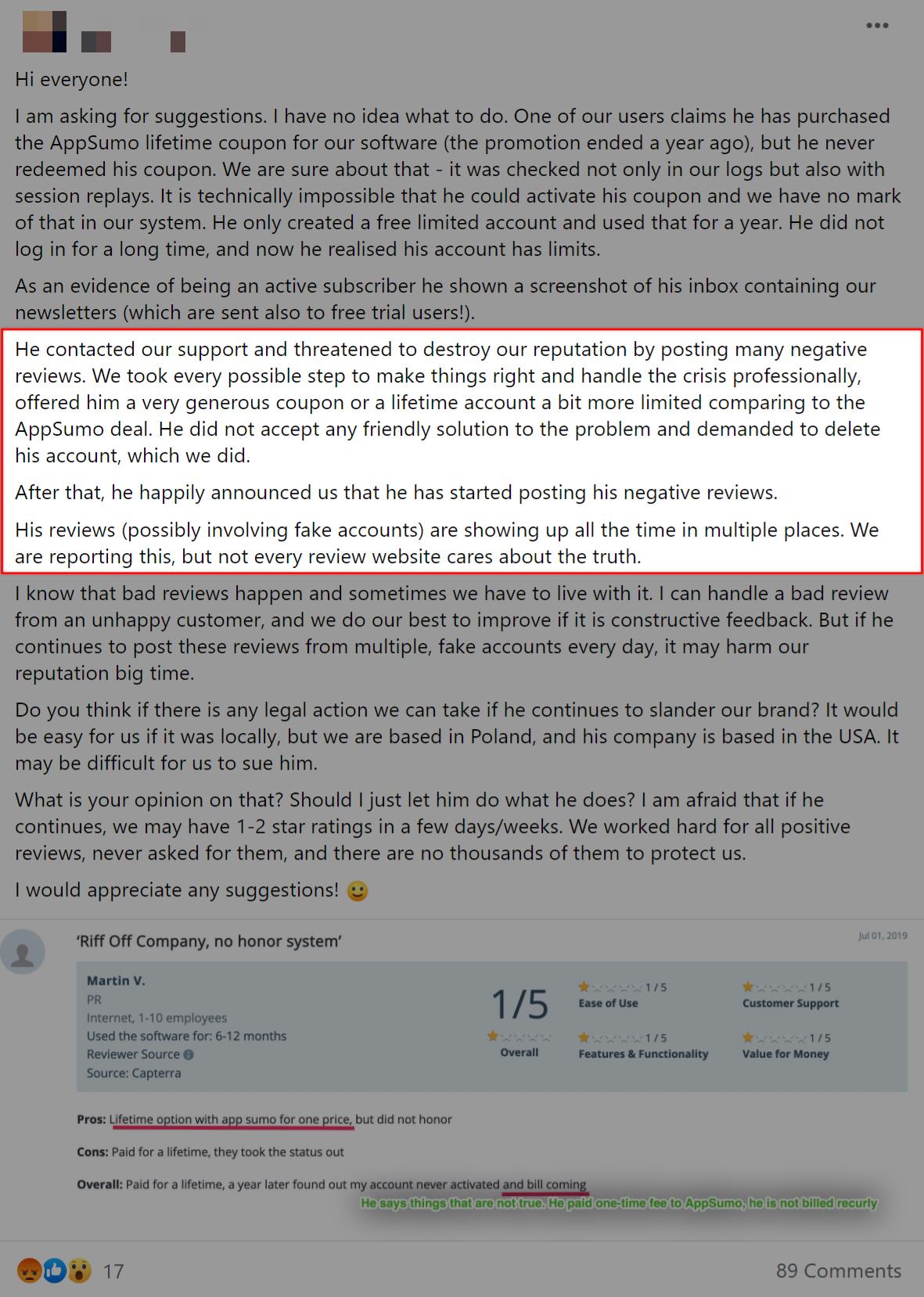 What are people saying about Removify?
Removify has 119 Google reviews (at the time of writing), and a 4.9-star rating. That's pretty good! In particular, reviewers gave them props for communication, responsiveness and being able to take down negative reviews promptly.
One of Removify's only negative reviews is - ironically - a fake review, which gives owner Nick Bell a platform to highlight why Removify's service exists.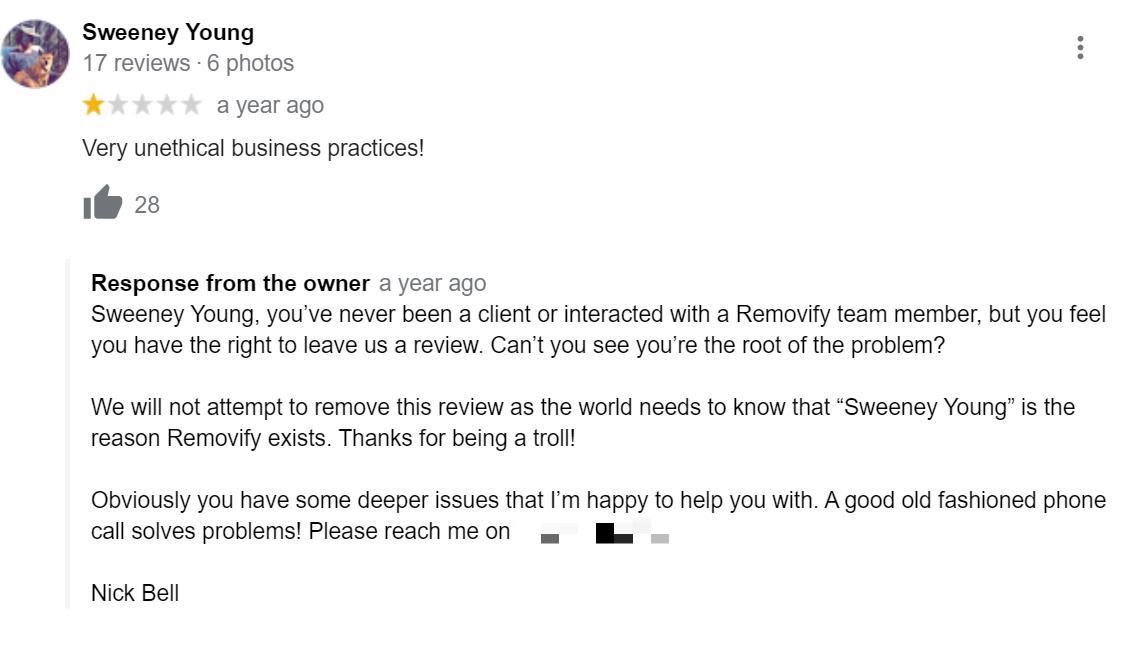 How to bury bad reviews, if you can't delete them
Removify agrees with us that sometimes the best defence is to play offence. If you've fallen victim to a negative review that can't be removed (ie: it's a legitimate complaint), firstly, take a deep breath. Negative reviews aren't always bad news, as contrarian as that seems. At the very least, they're an opportunity for you to show your future customers how you respond to negative feedback.

If you're on the receiving end of a bad review, your next steps should be to:
Respond politely, address the complaint professionally and take the feedback onboard.
Have a system in place to drive new customer reviews for your business that 'drown out' negative feedback.
This is where a tool like Cloutly becomes invaluable to small businesses. Using Cloutly, you can consistently drive new customer reviews at scale on sites likes Google, Facebook and TripAdvisor straight from your point of sale, CRM or e-commerce store.
With more reviews, you'll appear more frequently (and higher up) in search results, earn more trust with customers and win new business.
You can try Cloutly free for 14 days here. Or, compare our plans here and discover why Cloutly could be the perfect tool to accompany and reinforce your Removify efforts.