Good morning, world! At least you thought it was until you started to check through your notifications. What? A bad review? How is that possible?
You have that sinking feeling and a sense of dreaded disappointment. First things first, don't panic and scramble to write a reply. Although a timely response is essential, you still have time for a coffee and to compose yourself. Whether you operate a cafe, restaurant, AirBnB or tourist attraction, your guests' experiences (and your review responses) are important in helping shape your online reputation.
The silver lining - constructive criticism can be valuable
Now that you are calmer and have had time to re-read the review and hopefully piece together the reason for the complaint, it's time to take action and begin drafting your review response (so future guests and customers can see how you resolve problems and deal with negative feedback).
It's always a shame that a negative review has to appear on your TripAdvisor listing, but believe it or not, it can sometimes be a good thing. Firstly, the reviewer has experienced your service and attention to detail, but for some reason, they are not happy. Are their comments something that you can take on board and improve upon? Do you remember the customer? Are you at fault? If so, how can you rectify the problem? According to Womply's data science team in a study of 200,000 U.S. small businesses, "Businesses that reply to their reviews at least 25% of the time average 35% more revenue".
People tend to read between the lines. Sometimes, it's not the complaint that will reflect poorly on your business, it's how you reply. Your customers will be able to see that you take both good and bad responses seriously and genuinely care about the service you offer them, or, they'll see the skeletons in your closet and avoid doing business with you altogether. Be careful not to self-sabotage.
Where do I go to respond to a TripAdvisor review?
First, you'll want to make sure you're being notified immediately if your listing attracts a bad review, so you'll need to be registered with TripAdvisor's Management Center . When you see a new review, here's how to respond:

Login to the TripAdvisor Management Center (and claim your listing if you haven't already).
Click on "Respond to Reviews" under your primary photo or "See all Reviews" at the bottom of the page.
Select the review you want to respond to.
Write (or paste) your response into the text box.
Click submit.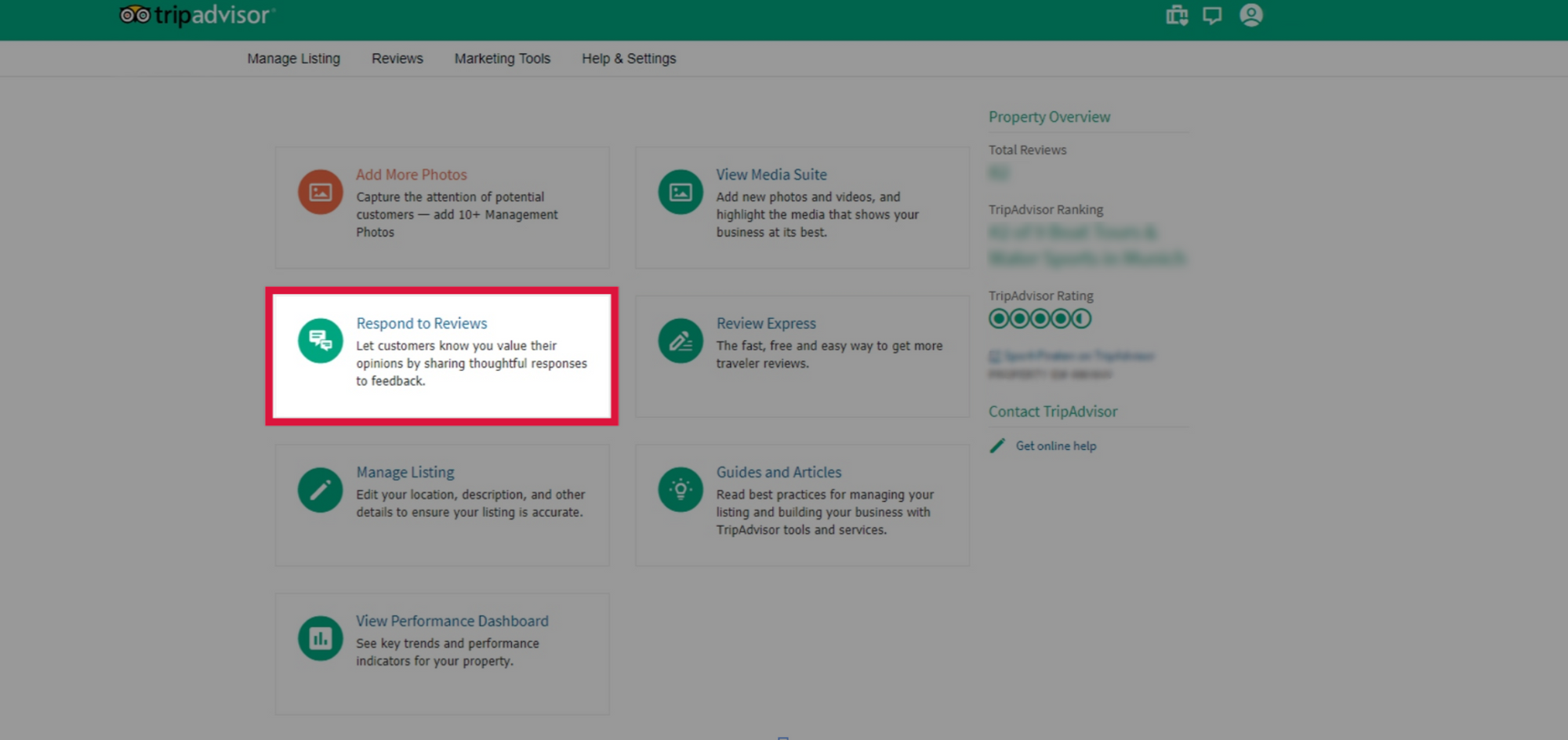 What should I say in response to a bad review?
You need to respond quickly and thoughtfully to show the reviewer that you care about their concerns. You also demonstrate to prospective guests (fellow TripAdvisor users) that you take your customer service responsibilities seriously by sharing your perspective. Here are some tips to structure your management response.
Always remain professional and polite
Whilst we all love the 'cheeky landlord' replies, it doesn't work for all businesses. Remember that your response is public and new customers will read it and form their own opinions. Remain emotionally unattached (ie: not hostile) and communicate your understanding of the situation. You don't want to deter other customers with a defensive reply.
Say thank you
Believe it or not, the mention of a simple "thank you" can diffuse many frustrations. It also shows that you appreciate the importance of every review and the time spent writing them. Where possible, also include a heartfelt apology and respond to each of the points mentioned.
Address the complaint
Take the time to understand the specific issues that the reviewer had at your establishment and address them by explaining your actions (without making excuses) to prevent the problem from occurring again. Potential guests will appreciate that you take on board any problems and resolve them.
Be positive
Reply to any positive comments within the review and share any news you might have about recent changes and additions to your services.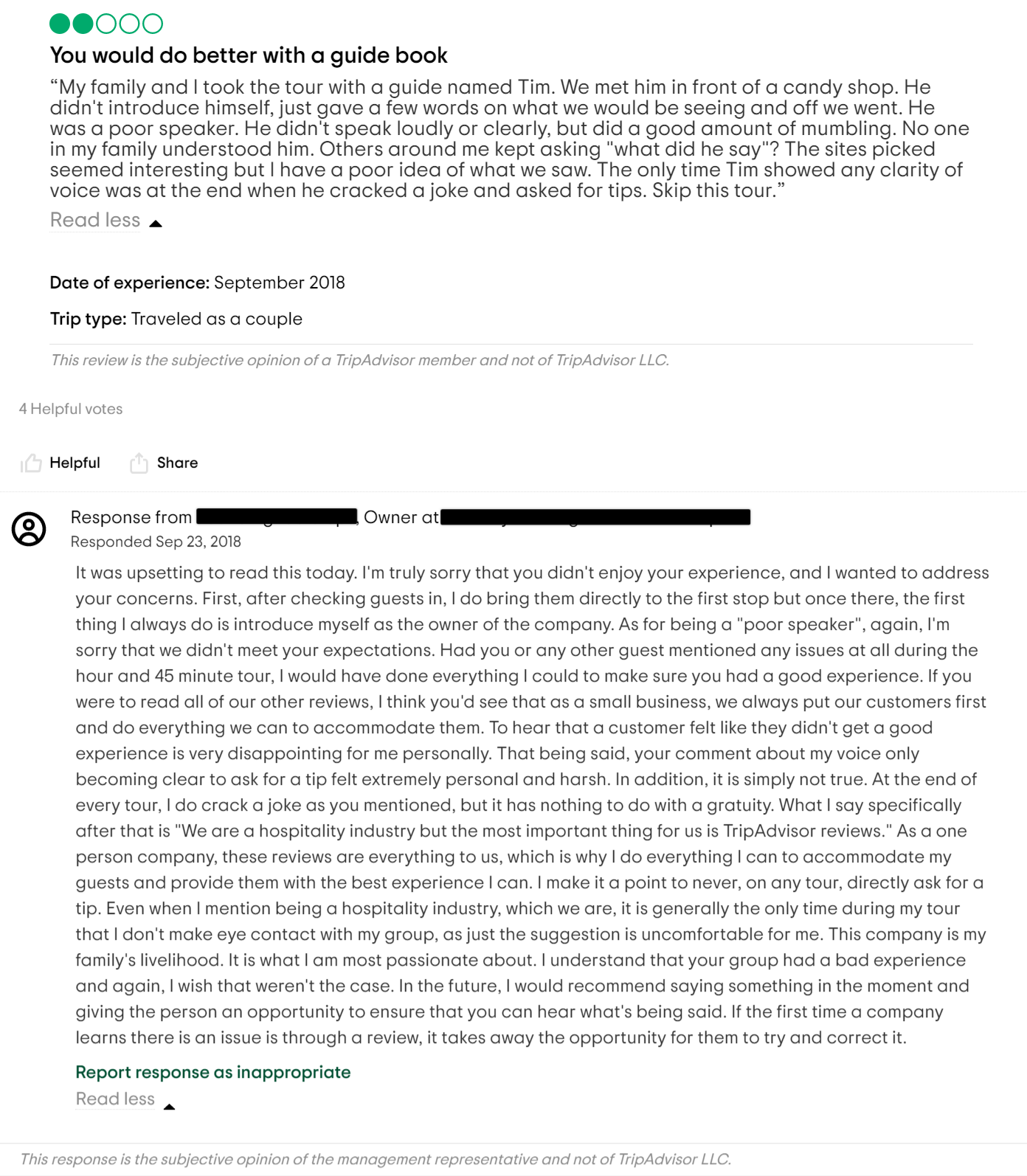 Management response guidelines
TripAdvisor encourages interaction between travellers and strives to ensure that the platform is seen as a trustworthy source of information and advice. To police this, they have some guidelines that you should follow:
No promotional content
TripAdvisor will remove any reviews or replies deemed to be for personal gains such as gifts, services or cash. They will also remove any responses that contain external links unless it is relevant to the review.
Keep it relevant
TripAdvisor is not a platform to express personal thoughts and opinions about ethics, religion, politics, or TripAdvisor itself, nor will it tolerate threats to coerce and suppress a reviewer. Keep your response on topic.
Respect the reviewer's privacy
Whilst you might speculate about the reviewer's identity, using personal information about an individual is prohibited. You must not share their names, telephone numbers, addresses or any other personal information in your TripAdvisor response.
Easy to Read
Ensure that your reply is easy to read, so do not include lists, bullets or formatting techniques because they will not appear in your owner response. Do not include machine translations in your responses. They are unreadable.
Be original
Make sure that your responses are original. Don't use any reviews of correspondence from other guests or third parties. Copy and pasting is not a good look and will only further frustrate customers.
Your response checklist: how to respond to a bad review
This is the tricky part - make sure you stick to the following steps:
Keep calm.
Read the review.
Investigate the claims; one of your team will likely know what happened.
Draft the review in a Word or Google document and save it.
Re-read your review and make the necessary changes (aren't you glad you didn't press reply?)
Make sure that you apologise for the points that the reviewer has made.
Be genuine and empathetic.
Always remain professional.
Ask for a chance to make things right.
Invite them to take communications off-line, offer them a telephone number and email address to contact you directly.
Re-read your response again, copy it into TripAdvisor, and press send.
Can I edit my review response?
It's always best not to rush the response; although it is time-critical, it's better to hold off for an hour or two and ensure that your response is perfectly crafted and not written in haste. It is not possible to edit your response at the moment. If you want to change something, you'll need to delete the initial response and then resubmit it with the new and edited version.
How NOT to respond to a bad review on TripAdvisor
There are some entertaining responses to reviews, to say the least, but is that luck or judgement? Although you might think it would be fun to retort in such a way, it could come across as rude, condescending and insulting. It is best to remain unemotional and empathetic. If you've been known to 'bite', people (trolls) might leave bad reviews just to 'get a response'. As you know, a poor review can make or break your business. Don't risk it.
---
How do you dispute a review on TripAdvisor?
If you've received a review that you don't think follows TripAdvisor's guidelines, then you can report it with the hope of having it removed from your page (much like you can do with negative Google reviews). TripAdvisor does not mediate and they don't fact check any disputes, but they do have clear parameters on any violations, blackmail, fraud or improper usage. Follow these instructions:
Login to the Management Center.
Click the "Reviews" tab at the top of the page.
Select "Report a Review" and complete the form on the following page.
Submit your concerns and comments in this form, share the reason for the dispute and the relevant review.
Provide any evidence that you may have
TripAdvisor processes thousands of reviews every day, so be patient when waiting for a response. They advise this process can take up to two business days, with no guarantee the review will be removed. It's best to be as diligent and thorough as possible when submitting your dispute report.
Stay on top of your reviews across TripAdvisor and other review sites
Building trust and positive sentiment is hard. Even harder when something goes wrong. But when things are going right, scoring amazing reviews from your customers is a highly-effective way to organically build your online credibility.

With Cloutly, you can build social proof online by asking your customers for reviews and directing them to any review site you choose (like TripAdvisor, Google, TrustPilot, Facebook reviews etc). It's the best way to bring all your reviews (from all your review sites) into the one place, get more reviews anywhere, and display those glowing reviews live on your website to build trust with new customers.
Try Cloutly free for 14 days and start getting more reviews in under 3 minutes.