Receiving bad criticism is one of life's less enjoyable interactions however, when you own a business, it is something that can actually help you be better.
It's a chance for feedback - if there's something you're doing that's amazing, your reviews will act as a form of positive marketing with authentic social proof.
If it's a negative review, though, it can still act as a marketing tool if you tactfully reach out to the reviewer. But if your review response is non-existent or defensive, you might just encourage potential customers to run the other way.
You've heard the phrase, 'the reviews are in' right? Well, if your 1-star review is in, you might want to focus on some immediate damage control. Negative reviews and positive reviews help define a brand - if you're not bothering with them then you're not managing your online reputation.
Long gone are the days that a mistake lays unnoticed - it's too easy for customers to leave honest feedback in a public forum - that's why you've got to keep on top of your Google reviews, master your review responses and commit to customer satisfaction.
Consumers trust online reviews - if they see happy customers, satisfied customers or a positive conversation offline with the business owner, they'll begin to trust your business and company values. And, learning how to respond to negative reviews is a business skill you'll need to perfect.
Online reviews are everywhere so read on to find out how to respond to negative reviews on Google (and every other review site) with our review response techniques.
Why should you respond to a review?
Responding to reviews is a way to connect with your customers. It's reputation management, really. The way you handle and respond to your reviews is another way to define your brand.
Also, a customer that leaves a review likely wants a response - so don't just ignore them!
You can answer any queries that they might be reflecting on, and it gives you a chance to resolve an issue or appreciate the feedback. A business owner or a representative from the business can listen to a customer's experience, and learn from it.
If you own a car dealership and a real person has left a cutting negative review, then others will believe your business to deliver subpar service (or maybe worse).
Your initial response is vital for even the most scathing review and one star rating. It shows to current customers and future customers that you're keen to rectify and resolve an issue for a positive outcome.
It also lets the customer who left the review, and potential customers who see the reviews, know that you care enough about their experience of your business.
Research shows that people are more likely to trust personal recommendations than other forms of advertising, so if a real person is telling the world (okay, not the world but kind of) how good your business is, future readers are more likely to turn into potential customers.
It's a free marketing tool in many ways - if someone is singing praise about your business in reviews, then you have clear social proof - you could even cut back on advertising costs if you boost your reviews and showcase them on your site, as well as them showing up on search engines.
How to respond to a negative review (4 ways)
Okay, so we've seen what types of reviews are out there. Now, how do we respond to one that could damage your reputation and make you regret setting up a business?
It's a systematic approach and we recommend trying not to become too emotionally invested, even if your business feels like your child. It will come across as defensive and unprofessional.
Here is an example of a response from the owner on a Google review - it's apologetic and the response matches the time that the review was left, meaning the review didn't go unnoticed for long.
Maybe the owner could have signed off with his name to give it a bit more humanity but requesting a direct message can resolve the issue faster.
Whilst the phrase: 'the customer is always right' doesn't always ring true, you need to value each and every customer that leaves a review.
They may edit their original review and thus their negative experience has been resolved. You can turn negative Google reviews into:
A  learning experience
A resolved issue
An edited review for all to see
1) Be courteous and empathetic
Let the customer know that you're sorry for their experience which has caused them to leave a 1-star review.
If you are aware of the issue that the customer faced, then let them know that you will ensure it doesn't happen again.
Or, if it's an issue that is happening repeatedly, let the customer know that you are struggling to fix it and offer a solution to their frustration. Honesty wins all the time.
2) Offer to rectify the frustration
Whilst you may not be able to take away the bad experience that a customer had, you can make amends with something more tangible than an apology.
You can offer them a discount, give their money back or invite them back with the assurance that the issue won't happen again. Bad reviews can be a one-time thing - everyone has off days.
Great customer service comes from being understanding and kind.
3) Ask the customer to reach out directly
If a customer is leaving a poor review, you can add a personal touch and request they contact the owner of the business directly. Negative online reviews are for all to see but if you take the conversation offline, you can resolve the issue quicker.
A direct message can gather more detail, and it provides a less-public forum for the user to air their grievance and share their customer experience.
It allows the business to be empathetic, and rectify the error instantaneously rather than communicate through a review site.
4) Don't let it settle
Responding to an angry customer with a negative review should be done in a timely manner. Don't let it sit for ages with no response as that shows that you don't care (it also allows others to see it without your response which is a big no-no).
If someone had a bad experience at your restaurant and left customer feedback that day, then responding the next day when the upset is still fresh in the customer's mind is going to be the most effective way to resolve the issue, and butter them up with a free meal next time?
Should I just respond to the bad reviews?
You should respond to all reviews which aren't spam. This means your Google reviews, your Yelp reviews and reviews across all other review sites - of which there are plenty!
It can be quite a mammoth task to contend with but if you just respond to the bad ones, you're ignoring your appreciative customers.
Don't be scared of speaking to a disgruntled customer
One person's negative experience deserves attention. A bad review online can be partially-rectified with your review response but also allows you to gather additional feedback that will improve your business. You can make a positive impact just by trying to rectify an issue with your negative review response.
Don't forget, though, that ignoring a positive review also doesn't look great. You're basically not valuing your happy customers - just the angry ones!
Each and every review response needs to be unique and focused on the specific query or experience.
It will be a missed opportunity if you don't. Negative feedback is invaluable although it might sting a little.
Try and respond to as many reviews as possible and offer fair responses or appreciation. It might be that you can resolve an issue and the user could even take the bad review down.
Positive reviews are of course easier to respond to (we won't lie), but there is a way to respond to negative Google reviews.
Negative review examples
A negative review will point out awful things about your business - it can stop customers ever entering your store and make you cry yourself to sleep.
Sometimes, it can be spam messages, but other times it means you haven't met a customer's expectations and they're disgruntled. They'll head to the Google review button and do their worst.
Although honesty can make you perform better, it's still a tough pill to swallow.
An example would be this one from Amazon for a product review of a hairdryer:
This review is negative but it's actually helpful - it states what is wrong with the hairdryer and it might just be a faulty product. The owner can easily respond to a review like this, despite the 1 star looking bad.
And a review of a restaurant on TripAdvisor:
Ouch! Okay, this review is bad. It's detailed but not slanderous, meaning potential customers would see it and trust the reviewer, not the restaurant.
The staff would have an issue dealing with this review as it's very specific, only a huge apology will do and an offer of a discount (which I doubt they'd even want to accept!)
Arguably the second one makes you question why this business is still going - they clearly don't want to be there.
Positive reviews examples
A glowing review can shine bright on top of the search engine, differentiating your business from your competitors.
The more specific the review is the better - for example, if you're a salon owner and someone says, "your keratin hair treatment was TO DIE FOR", you might get someone who was just looking for a haircut to book the keratin hair treatment too!
A review that sells your business, promotes your products or services and gives you a compliment is the difference between a good day, and a sucky one.
This person loved this Polish restaurant so much that they said:
Now, this is a review that intrigues potential customers to try this restaurant. That's exactly what you want from a review - it's advertising at its finest because it's real.
And this person seemed to really like their multivitamins ordered through Amazon:
This review is a great example of customer service, too.
The original review received an edit after the business actually responded to them with the query they had about an ingredient in the pills. The user even thanked the business and said, "I'll definitely remain a customer".
This shows that responsiveness is always well received.
Positive review response - how should you handle it?
Well, if you're a new business owner you'll probably scream with glee and screenshot the positive review for all of your friends and family to see. We don't blame you. Having someone appreciate your business enough to leave positive feedback is exciting and a bit of an adrenaline rush.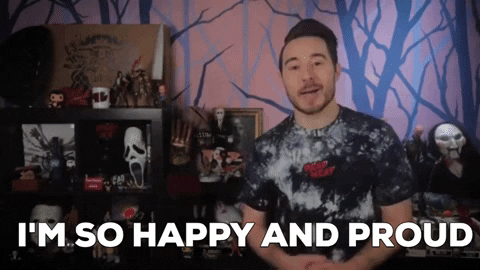 But, whilst we don't want you to be bashful, we wouldn't recommend being overly grateful. It's not like the reviewer donated an organ. You can just:
Thank the user for their positive feedback
Thank the user for taking the time to leave a Google review
Be grateful
Invite the customer back again
Offer a discount if it's one of your first reviews
Local businesses thrive on reviews - it's what makes them stand out whether you're the owner of a car dealership or you own a salon in a city full of salons.
In a competitive market, a single review can be the difference between a new customer or not.
What happens if the review is fake?
Google does make it difficult to delete reviews and for good reason. They want your business's successes and failures to be available to potential customers for transparency.
However, Google can remove a review if it violates any guidelines. This includes content which is:
Offensive
Sexual or violent
Spam
Derogatory content
Conflict of interest (if someone within your business leaves a glowing review, for example, Google can delete it)
A spam review does no good for anybody so there's no need to fret about these ruining your business - as long as you keep on top of your reviews and it doesn't survive there long.
The aim of the game
Of course, what we're looking for is more positive reviews. We want a happy customer over a disgruntled one to boost your online reputation with positive Google reviews.
You want your business to show up on Google Maps with twinkling gold stars, showcasing not only your positive reviews but your positive review responses. You'll have future customers thinking, "wow - this business knows what it's doing".
You need to cherish customer feedback, not turn from it.
To be honest, it's pretty hard to hide from the many review sites out there - you might even want to consider streamlining all your positive and negative reviews in the one place with Cloutly. Just sayin'.
Wrapping up
Reviews can make or break a business, that's why you want to keep an eye on them and respond accordingly.
Whether you're a new business or one that's been around awhile, you might want to make sure you're on top of asking for reviews. Consider using a tool like Cloutly, that can handle all your customer review requests, follow-ups and responses to score more reviews than ever before.
Don't let negative online reviews stop you in your tracks, they're manageable. You just need to master your negative review response.