Checking out Facebook reviews, scrolling through Instagram and generally interacting on social media is the first thing many people do in the morning and the last thing at night.
With over 1.9 billion daily active users, Facebook makes it easy to access information, discuss politics (a lot), share stories and experiences, join business networking groups, run Facebook ads and connect your product catalog, learn from industry experts and you guessed it, check out reviews (social proof).
More than ever, customers are turning to social platforms like Facebook to fully engage with businesses.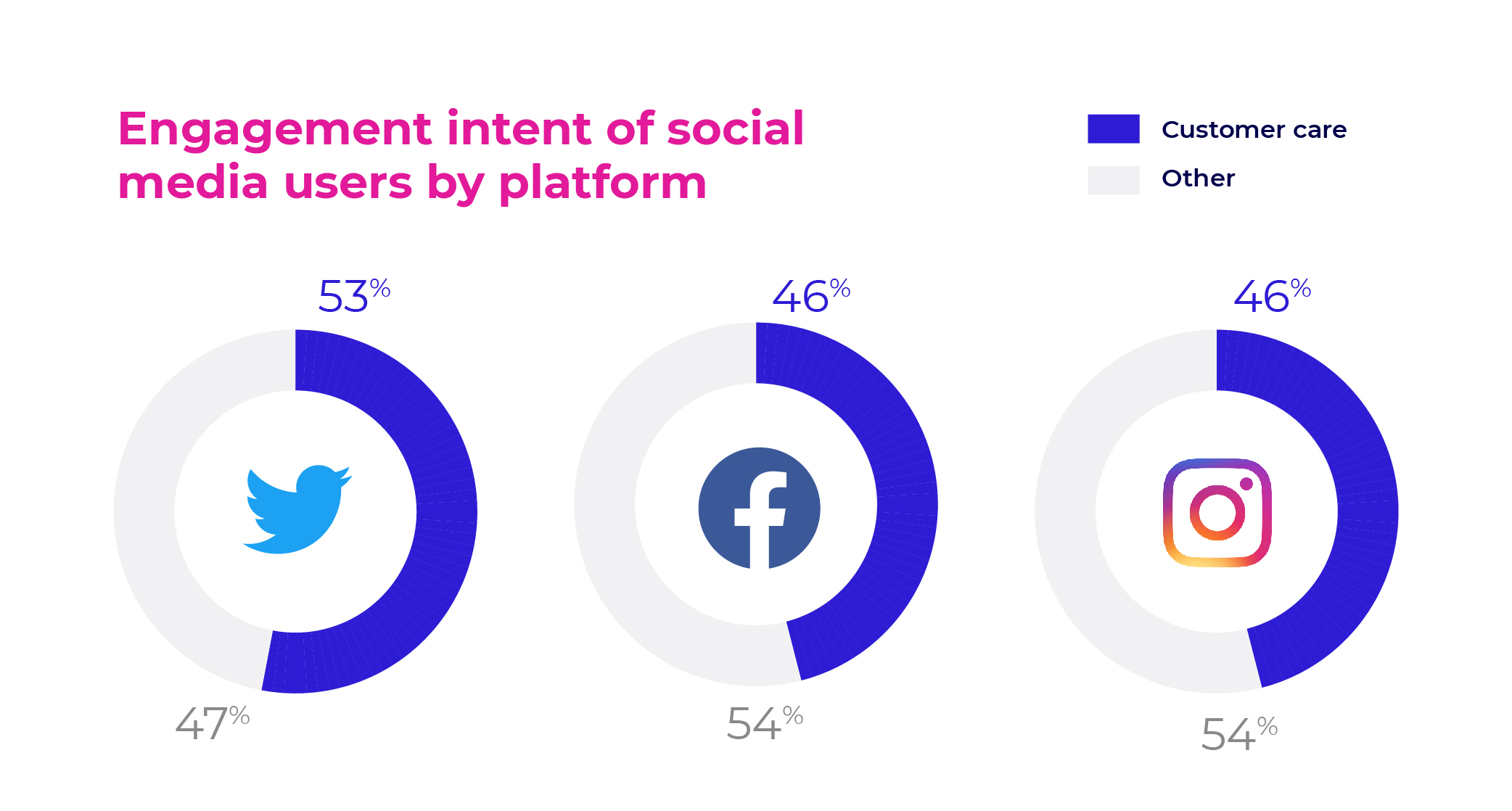 Facebook is fast becoming one of the first points of contact you have with your online customers, so, as a business, if you're not taking advantage of Facebook reviews, you could be missing out. It might seem like a minefield of information, but people do truly care about what others are saying about your business, so proactively driving positive reviews is absolutely worth your time and effort.
Why are Facebook reviews so important for businesses?
Consider this. You're in the market for a new dentist after moving cities. You've had bad experiences before, so choosing the right dentist is a big deal. What's the first thing you do? Ask your family and friends for a recommendation or search online for the best local dental surgery.
Believe it or not, this process happens millions of times every day for local businesses. When you finally do find that dentist and notice they have hundreds of glowing online reviews from existing patients (many of whom address the same concerns you have), you feel a sense of relief and a sense of trust.

When we are unsure about something, we look to others for validation. Facebook reviews provide the endorsement that we are not alone; other people have done this before, and we can feel confident in looking to their experiences. Encouraging your customers to leave a review on your business will result in your future customers also feeling this sense of trust.
Besides Facebook reviews, you might have a myriad of other review sites that customers review you on (like Google or TripAdvisor). Some great tools on the market, such as Cloutly, can help you aggregate and manage all of your reviews in one place. Cloutly's platform will help you effortlessly drive 2-3x times more customer reviews, whilst bringing all your feedback - from Google, Facebook, Trustpilot etc - into one place, rather than all over the place.
Whilst Facebook reviews allow you to build a better business and understand the customer experience, they also provide you with an asset that delivers compounding interest: your reputation.
The most important review factors
When it comes to building trust, here's what consumers are saying matters most to them (i.e. factors that are most persuasive) when looking at business reviews on review platforms like Google as well as Facebook.
Star-rating (between 4.5 and 4.9 stars is the sweet spot).
Authenticity (are the reviews balanced? thousands of 5-star reviews alone set off alarms).
Recentness (consistent feedback proves your level of service is constant; old reviews don't hold much weight).
Response (how does the business respond? what does it say about them?)
Volume (number of reviews).
Setting up your page for Facebook page reviews
Whether you already have an established business page or you need to create one, the benefits of Facebook reviews are irrefutable. Facebook is a powerful platform that will help you connect with your audience, acquire new customers, drive purchases and improve word-of-mouth referrals.
First of all, you'll need to set up a new Facebook business page if you haven't got one (or you've previously deleted your page). You can do this from your personal Facebook account. Follow these five easy steps:
Step 1 - Create a Facebook page (if you don't have one)
Go to https://www.facebook.com/pages/create

Enter all of your business information in the panel on the left; you'll see real-time updates as you proceed. Use your business name where possible (or the name that people are likely to search by default).

Use the 'category' section wisely and choose the relevant suggestions. Next, complete a short description – Facebook gives you 255 characters to play with.
Then, when you're done, hit the Create Page button down the bottom left.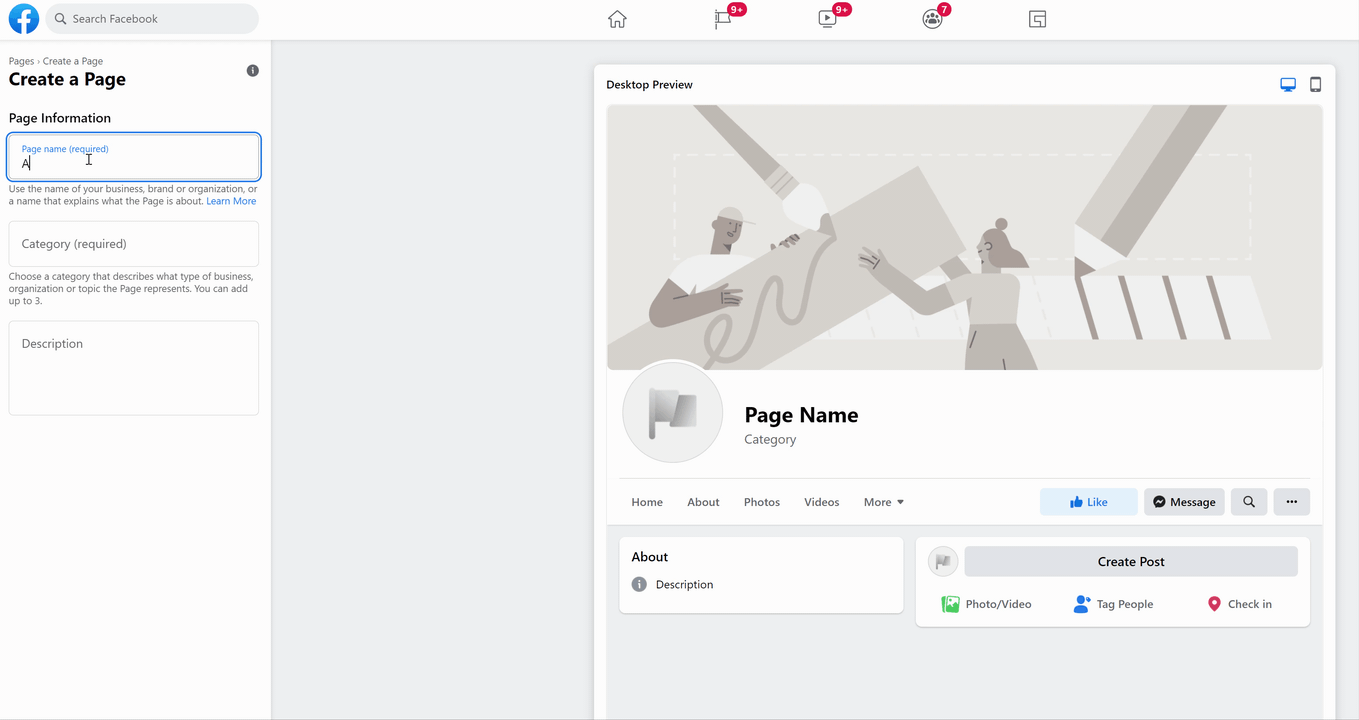 Step 2 - Add some pictures
Next, add your profile picture and cover photo. These will always be on display, so ensure you choose something eye-catching. If you are a public figure, use a portrait photograph; if you have a small business, use your logo, or, in lieu of a logo, you could also consider using a product image. The most important thing is that the image is recognisable.
Step 3 - Connect your Facebook page with WhatsApp (optional)
If you wish, connect your business page to WhatsApp, so that customers can reach you here from your pages, or from any ads you plan to run, or, if you'd prefer to skip this bit, you can continue to the next page.
Step 4 - Choose a username
Create your username, which will tell people where to find you (and tag you) on Facebook when they search above their news feed. Your username can be up to 50 characters, but use them wisely – ensure that your username is easy to remember. Facebook will give you a green tick if the username is available.
Step 5 - Add business information
Facebook has a simple step-by-step guide to follow. When all of the details are complete, carefully consider the right call to action (CTA). This is what the public will see on your page, and may encourage visitors to shop, download your app, book an appointment or even just learn more about your business.
How to enable the Reviews tab on your page
Once you've done all this, you're ready to enable the Facebook review tab!
Log in and navigate to your Facebook business page.
Click on 'Settings' and then choose 'Templates and Tabs'.
Find the Reviews tab and activate it.
That's it!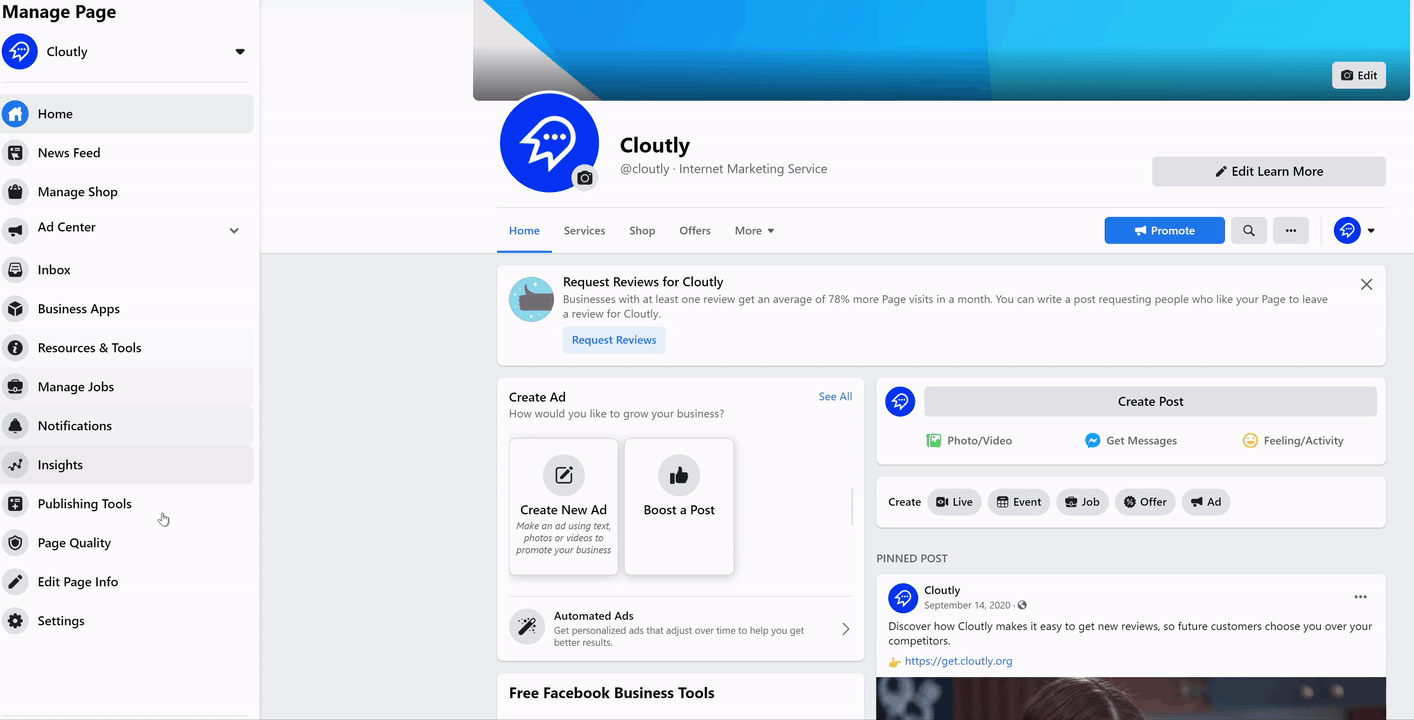 How to get more Facebook reviews
Now it's time to get some glowing reviews on your business page. How do you do it? Quite simply, ask your customers! The good news is, it's easy to request a review on Facebook. Here are a few ways you can do this:
Reach out to your loyal customers and ask them to provide you with an honest review on your business Facebook page. You'll be impressed with the number of people that want to help.
Use Cloutly to add your customers to automated review campaigns, which help you drive 2-3x more reviews on the review sites you've connected.
If you have a website, you can embed your Facebook reviews so that with one click, you can redirect customers directly to Facebook. Cloutly has a range of website widgets you can use to showcase not only your Facebook reviews but your reviews from 40+ review sites.
Ask your customers to check-in. If they do this, Facebook will remind them to leave a review on your business listing.
Whether you ask for a review in person, by email or by Facebook, remember to be genuine.  It is essential to ask your customer in the right way so they don't find you inauthentic about their experience and appear to be just seeking a review. If they have had a great experience, feel free to explain that reviews really help other prospective customers make comfortable decisions.
How to embed Facebook reviews
Note that you'll need to be the admin of a business page in order to to embed Facebook reviews. If you don't have one, discover how to create or delete a business Facebook account as quickly as possible.

Step 1 - Go to the Facebook reviews section
Log in to the Facebook account associated with your Facebook business page and go to the business page. You will see a few tabs including Home, Services, Reviews, Shop, and others. Click on Reviews.

Depending on your customization, the Reviews section might be positioned elsewhere. But it is generally found in the tabs section.

Step 2 - Filter and select the reviews to embed
Once you've clicked on the Reviews tab, your business' reviews should appear. Above the Reviews section, you'll see a dropdown menu that allows you to categorize them into 'Star Rating', 'Most Helpful', 'Most Recent', and others. Select the one you would like.

After sorting them, find the review you'd like to embed and click on the three horizontal dots at the top right-hand side of the display box.

Step 3 - Embedding your review
When you click on the three horizontal dots, a few options will appear. If Embed is among them, click on it. If it isn't among the options, try clicking 'More Options' first.

Step 4 - Copy the Facebook embed code
When you click Embed, a window containing the embed code pops up with two options: JavaScript SDK and iFrame. Choose the one that best fits your use case (though for most people, iFrame will work fine).

This embed code is what you'll need to paste into your website's HTML in order to get your reviews to embed. Select the code and copy it.

Step 5 - Paste the Embed Code into Your Website
With the code snippet in hand, you have one question and two options: firstly, where should I place my widget?! Secondly: you could choose to sprinkle the best reviews here and there across your website, or alternatively, create a dedicated page for your glowing testimonials where all your reviews live.

Once you've got a game plan, head over to your website and paste your embed code into a HTML block (this process may be different, depending on your website builder/CMS).

How to respond to Facebook reviews
You should make an effort to respond to as many of your customer reviews as possible (the good and the bad), regardless of the platform. Your customers have taken the time to leave you a review, so it's nice to thank them for their time at the very least.
Always use their name, tell them that you appreciate their review and be specific in your reply by using keywords and addressing key points from their review. Where possible, you can use responses as marketing opportunities to announce a new promotion that might benefit them (or the 5000 other people who read your reply).
Transparency is key. If appropriate, ask them to spread the word to their friends and family.
If the review is negative, thank and reassure them that their feedback is valued. Try and take communications offline and take their best contact details. Indicate in your response that you are committed to resolving their issues.
Whatever the platform (Facebook, Google, TripAdvisor etc), it's important to have a procedure in place to respond to negative reviews. Check out our best response templates here.
How Facebook reviews affect your page rating
Facebook rates each business page on a number of metrics, such as reviews and recommendations (reviews are now synonymous with Facebook recommendations, to avoid confusion).
Various criteria form your overall rating, and only business owners who allow recommendations will be able to see this.
You can see your business' rating by going to your page and clicking on the Reviews tab in the menu, at the top of your page.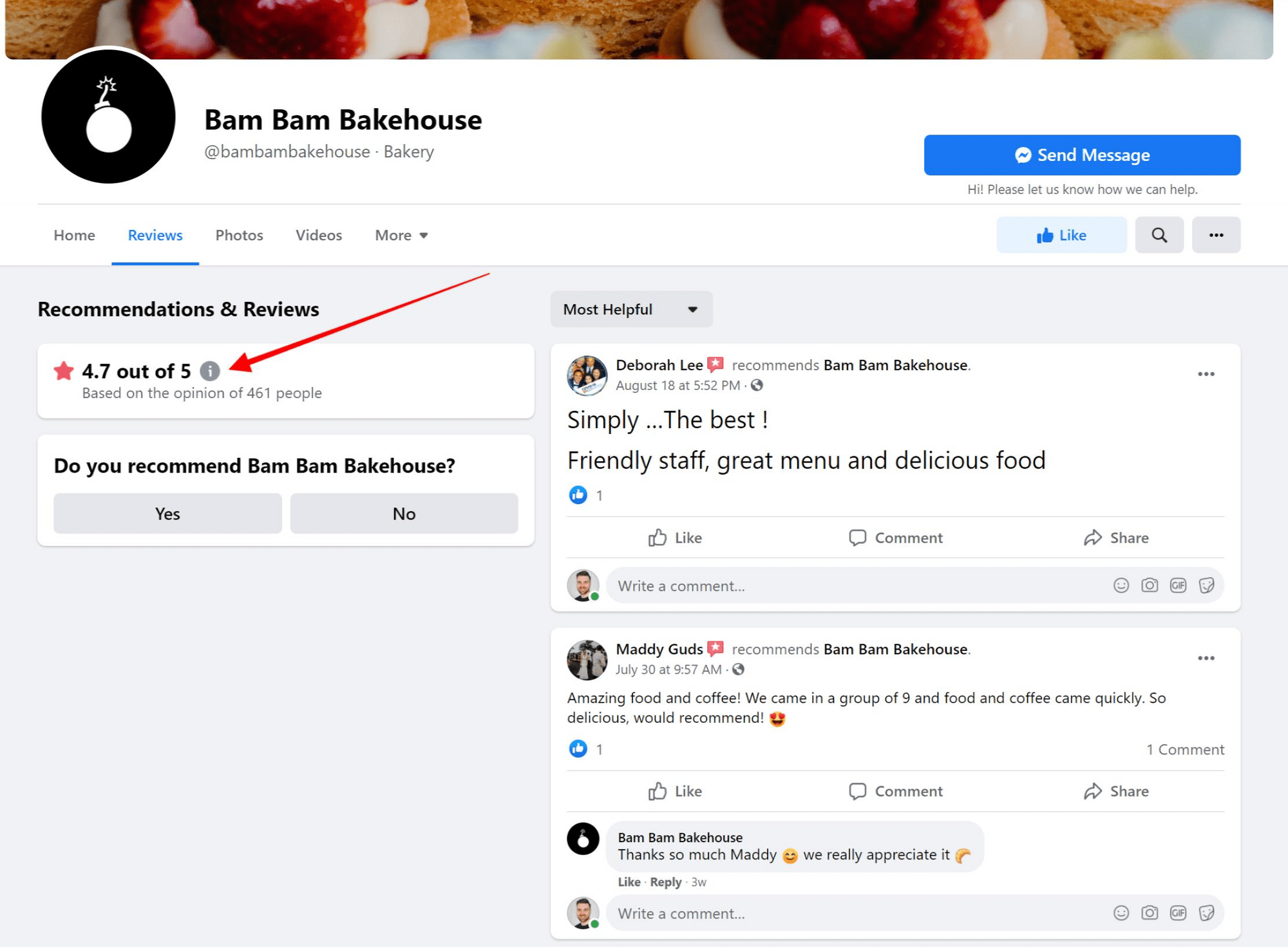 Can I hide, report or remove Facebook page reviews?
Yes and no.
Yes, you can hide or remove the reviews tab from your Facebook business page entirely.
No, you can't remove individual reviews (unless they're fraudulent, and you can prove it).
Firstly, consider the content of the review and if a reply would be sufficient. Don't forget that negative reviews can be just as powerful as 5-star reviews if you play your cards right.
All businesses make mistakes, and it is how you respond and deal with the situation that can count in your favour. Also, customers may be suspicious if you only have all glowing reviews (it doesn't look natural).
If you receive a review that you deem fake, involves hate speech, is excessively negative or is in breach of Facebook's community standards, you can report it to Facebook and make a case for your business.
We've written a guide about removing negative reviews on Google, which is virtually the same process as on FB.
If you'd prefer, you can hide the review section on your page altogether, which will stop you from worrying about any fake or bad reviews/recommendations people might see. Be aware that this section relates to all reviews, including any new reviews, plus the five-star ratings you have already worked so hard for.
To do this, head to your Page Settings (edit page), choose Templates and Tabs, find the Reviews tab and switch the toggle off.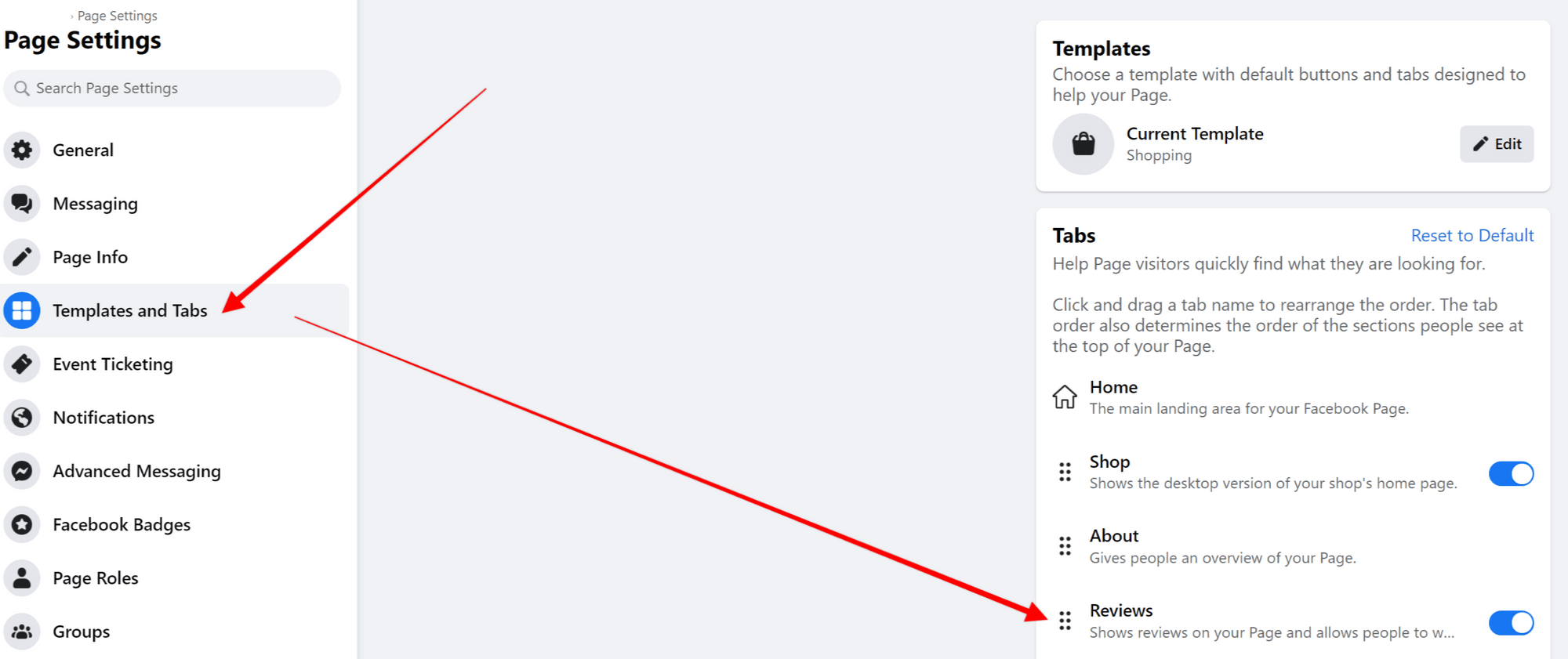 As with other platforms like Google, you cannot remove reviews (unless they are against Facebook's guidelines) from your Facebook page, even if they're malicious.
Review systems are grounded in transparency and honesty, therefore deleting and editing reviews would counteract this. The only way you can delete Facebook reviews is if you report them and Facebook confirms that it goes against their guidelines.
How to report a fake review on Facebook
If someone has posted a review that violates the platform's community standards, then you can report it. Facebook will remove the review if it includes bullying, misrepresentation, hate speech or insensitivity.
Flagging a Facebook review is simple. Here are the steps:
Log in to your Facebook account and head over to your Facebook page on the right-hand side
Navigate to the Reviews tab at the top and click it
Navigate to the three dots beside the review in question (on your right). Then select Find support or report recommendation
A pop-up window will appear. Click on the most appropriate word that describes the review
Hit Done
Then cross your fingers and wait for the Facebook jury to deliver their final judgement. Overly offensive and ingenuine reviews may warrant removal straight away.
Why can't I see all my Facebook reviews?
Reviews disappeared? Can't find out where to see them? This one is usually a quick fix. Firstly, make sure that you've enabled your Reviews tab inside Page Settings (see above). Then, take a look at your page again. If you still can't see the Reviews tab, take a look under the More dropdown menu.
If it's there, you may want to re-arrange your tabs back in Page Settings and place Reviews further up the list. If it's still not there, go to the About tab and make sure you've selected a business category that Facebook recognises.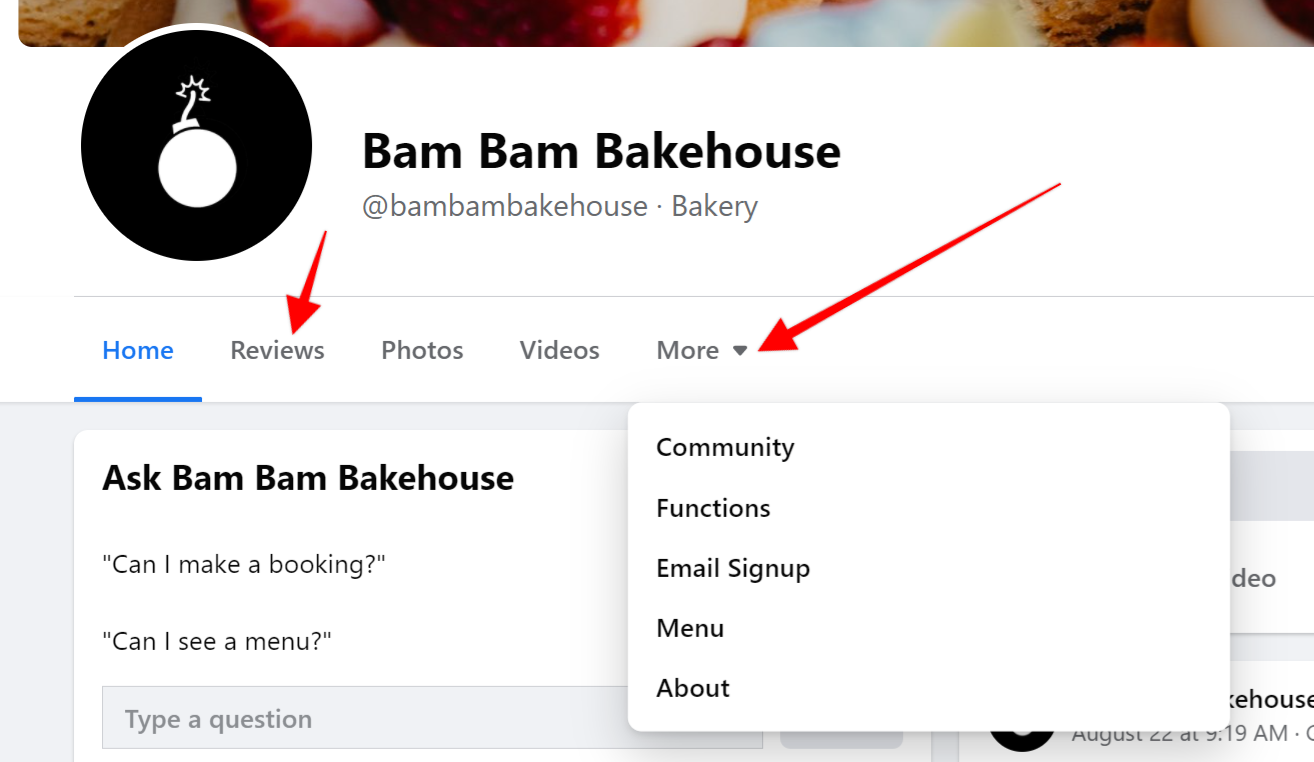 Some businesses have reported that their older reviews (star ratings) have just vanished.
If this has happened to you, you're not alone.
Since merging Reviews with Recommendations, Facebook has massively simplified the way in which people can sort through a business' feedback. Now, you only have the choice of sorting reviews by Most Helpful, or Most Recent.
While your reviews are unlikely actually gone, the limitations of this filtering system may cause them to appear like they're gone. Our advice: don't fret, they're probably still there. If you find a direct link to any of your old reviews, that will give you a definitive answer.

How to leave a review on Facebook
As most people have Facebook, it should be easy for them to leave a review for your Facebook Business Page. But, in case you have a Facebook novice wondering how to leave you a positive review, you can direct them to this guide.
Head to the Facebook Business Page of the business you want to review
Click Reviews from the drop down menu under the business's name and logo
You'll see a question, Do you recommend *business name*? Then click Yes or No (but hopefully Yes)
You can then write a review of at least 25 characters long
Then, in the Sharing section you can select who you want to see your review. Just friends or everyone,
Then, hit Post
Final thoughts
You're now armed with all the tools and support you need to start scoring Facebook reviews.
If you think about how many times you look at other businesses' reviews before you dine, shop or shake hands, you'll realise how important it is to continue building your reputation as an asset class.
The more reviews you get (even the bad ones), the more trust you earn, and this helps future customers make real buying decisions about you.
Which dentist would you trust: the one with a 3-star rating from two patients, or the one with a 4.8-star rating from three hundred patients?
Using a tool like Cloutly makes driving reviews easy, predictable and scalable. Instead of awkwardly asking your customers (one by one) for a review, Cloutly's review campaigns put the process on autopilot: driving 2-3x more reviews on the sites you choose, including Google and Facebook.
If word-of-mouth is important to your business, try Cloutly free for 14 days.