Need to delete a Facebook group? Look no further.
There are a few reasons why you might want to wind up your community (maybe you've also decided to also delete your Facebook business page), but Facebook doesn't always make it clear on how you should go about it.
Not to worry. In this article, we'll show you how to delete your Facebook group as fast as possible.
Should you have a Facebook group?
Creating a Facebook group helps you bring together your community of like-minded people. Personal or professional, the group is a place to share common interests, stories, share wins and express thoughts and opinions.
Facebook groups encourage people to come together to support a widespread issue, cause, discuss ideas and share relevant content. Anyone can set up a group, but the real gold is in the community itself.
There are millions of successful business groups on Facebok. In fact, for some companies (like lemlist), communities are the bedrock of their growth strategy. If your product or service helps people get better at doing something, you may find success in bringing new members to your community.
Facebook groups have various exciting features for admins to capitalise on in new ways. You can orchestrate live watch parties, host guest speakers and AMAs (ask-me-anything), or offer exclusive mentorship, support and content to select members.
If Facebook reviews are part of your marketing strategy, you're very likely to score them by the dozen inside an exclusive (and helpful) Facebook group.
How to pause a Facebook group
Deleting a Facebook group is permanent (and tedious). Instead, you may want to pause (or archive) the Facebook group instead, which will suspend all new posts, comments, reactions and membership applications for everyone until the group is resumed.
To pause a group:
From your News Feed, click Groups in the left menu and select your group (from the groups you manage).
Click the three dots below your cover photo.
Click Pause group.
Choose the reason you'd like to pause the group before clicking Continue.
You'll be prompted to write a group announcement about the pause, which all group members will see.

You'll also be able to schedule a time for the group to be un-paused (resumed) if you want. Read more about resuming a group here.
How to delete a Facebook group (step by step)
Deleting a Facebook group can be a tedious process. If you're sure you don't just want to pause the group (see above), then follow along.
PS: This process is for the web broser version of Facebook. It's the same, but looks a little different on the mobile app/devices (iOS and Android).
First, be sure that you are the administrator and original creator of the group. As the group owner, you can delete the Facebook group, but you must first remove all of the members... one by one. When you are the only person left in the group, you then have the option to delete it.
From your News Feed, click Groups in the left menu and select your group.
Click the Members button, found beneath the name of the group.
Click the three dots next to each member's name and select remove member.
Click confirm.
Repeat step 3 and 4 until you have removed all of the group members.
Once all the members have been removed. Click the three dots next to your own name and select leave group.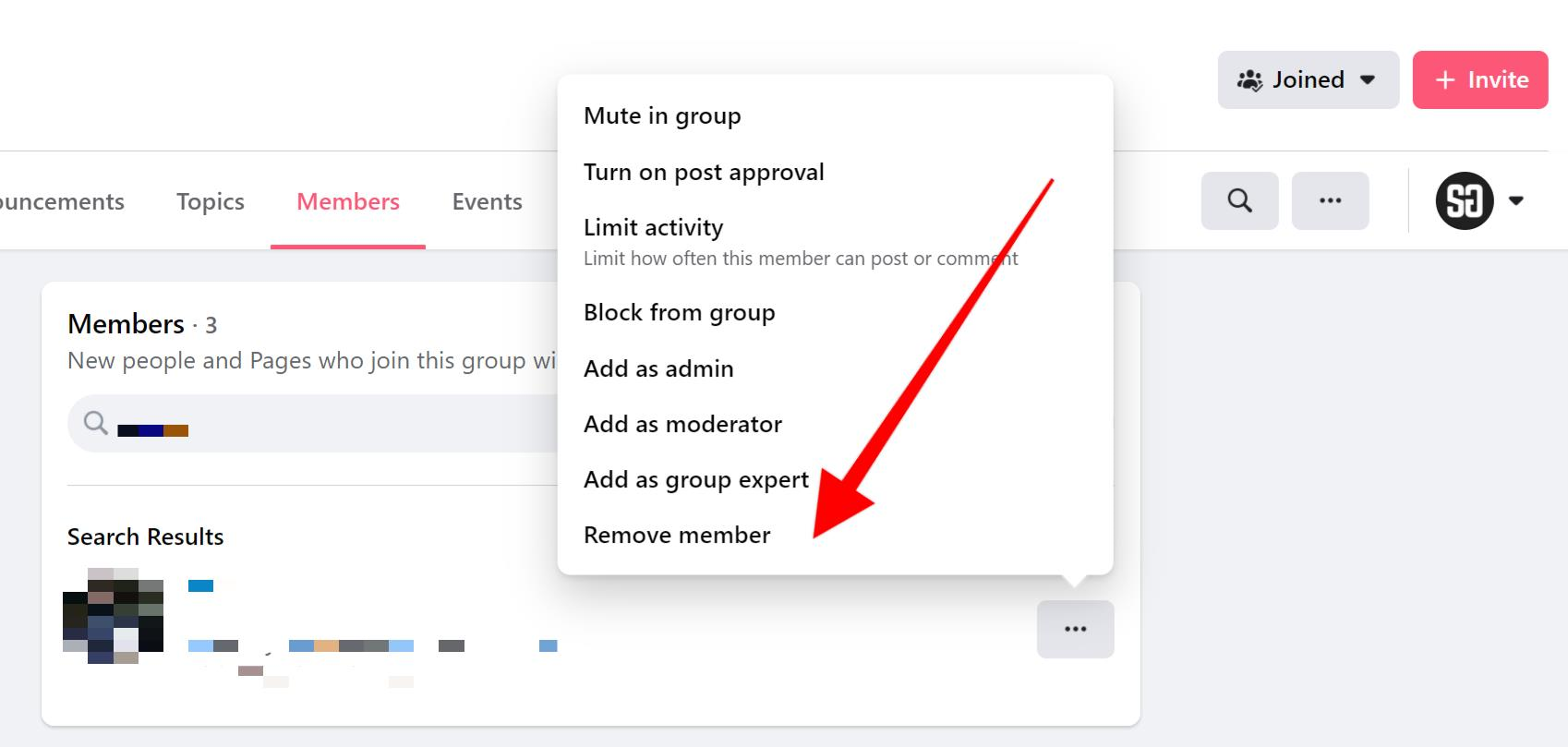 What is the difference between a Facebook page and a group?

Facebook page
A Facebook page is, in essence, your business profile. Your page features information about your business, allows you to collect and respond to customer reviews, can be a virtual shop for your products. People can also tag your business on Facebook.
Facebook Group
A group is slightly different. Facebook users can join a group as a member in order to engage with other similar-minded people. Groups can be public or private, which promotes a sense of community. Groups rely on interaction and give you the opportunity of building and nurturing relationships with customers and peers by sharing exclusive content.
Top reasons to have a Facebook group
Converse with your group members. Encourage them to start conversations, engage with group content, solve problems and share wins.
Get product feedback. Facebook group owners can use the poll tool to engage with your community, understand what they need, what they think is missing or their general opinions. This will not only encourage engagement, but will also help you improve the products you sell.
A highly valuable group with great engagement is a place where people want to hang out, on their mobile app or web browser.
Build your email list. Offer content, run giveaways, webinars or exclusive training in exchange for email addresses. You can pin your offers and lead magnets to the top of your page.
Become a thought leader in your industry. Post content that motivates and inspires your followers and you'll open new doors for yourself, by relation to the name of your group.
Validate new ideas, products and concepts. You can use your Facebook group as a testing ground for future concepts.
Announcements. Your group is full of people who get value from it; they'll be your early adopters and your advocates.
Pros and cons
Before you make any rash decisions, take a look at some of the pros and cons of Facebook groups.
Pros
Facebook Group organic reach, accessibility and community are significantly more prominent than a standard business page. If you've liked a Facebook page, it's pretty challenging to keep track of their posts unless they share information frequently. Select groups, on the other hand, are always shown in the sidebar of your newsfeed, and frequently keep people talking.
A private group instils trust through exclusivity. Members engage freely in conversation with each other knowing that they're surrounded by like-minded people.
Groups can be satisfyingly self-sustaining. Inspired group members will ensure that there is plenty of group activity with lots of new conversations. You should spearhead the community efforts, but remember to take time to sit back and learn more about your members, their habits and behaviours.
Group posts are heavily favoured in Facebook's news feed algorithm.
Groups and communities can increase your customer activation and retention. Customers inside valuable communities are more likely to be loyal, active and engaged with your brand than non-members.
Cons
Facebook groups don't show up in Google search results.
Maintaining an active community can be a full-time job; you need to be committed.
Admins will need to spend time approving applications.
You can't run Facebook ads to your group. You'll need to solicit their email addresses, or run more obvious promotions.
Customers may rely on your group for support. If not tightly moderated, it's easy for groups to fall into disarray.
All in all, Facebook groups are a great way to build your own, thriving community of like-minded people (or customers) with exclusive content, lively engagement and interesting conversation.