Want to delete a Facebook business page? Or maybe you're looking for a less permanent solution, but know that you definitely need some time away from the platform. Facebook holds the attention of around three billion users on its platform each month, including over 200 million businesses that take advantage of its many marketing opportunities across the Facebook app. If you're here, this probably includes you!
Why should I have a Facebook business page?
Long gone are the days you needed a website to market your business. Many businesses now do just fine by simply being active on social media. The modern web is social, and a Facebook business page is a free piece of digital real estate that can expand your business' online presence. You can communicate with your customers and clients via Messenger, share exciting news, promotions and updates, post about the work you've been doing and even win new customers by generating Facebook reviews (social proof).
Whilst there are many good reasons to have a Facebook business page, many people (and businesses) are also deciding to leave the platform and delete their business pages. This comes after huge concerns related to user privacy, following a series of investigations into Cambridge Analytica's data misuse and its role in pervasive, political manipulation, along with the ever-encroaching pay-to-play model that severely kneecaps the effectiveness of organic content on Facebook.
If you've been posting on your Facebook business page to the sound of crickets, you're not alone, and you're not going crazy. For a few years now, there's been a direct correlation between Facebook's skyrocketing annual revenue and the downturn of organic content. The simple fact is: if you want to win on Facebook, you need to spend money.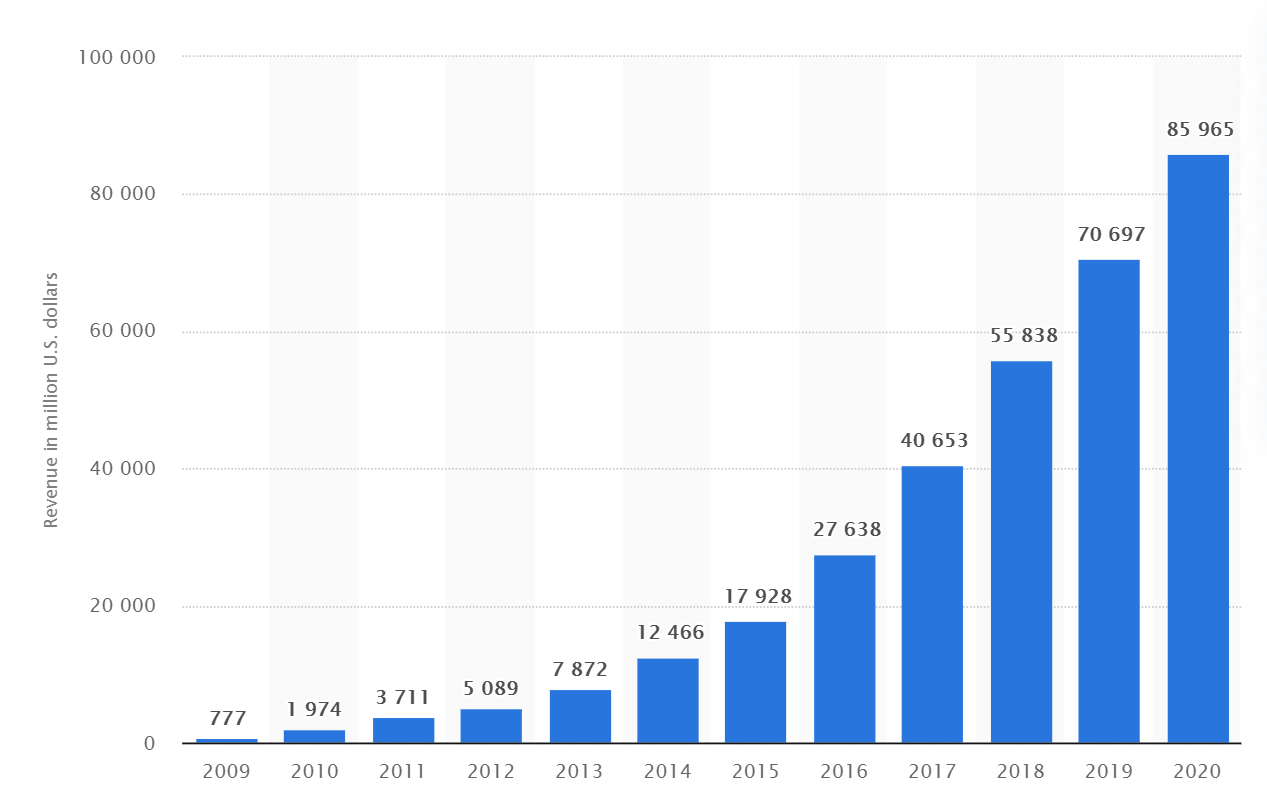 So, what now? We're at a crossroads. You could continue spending your time posting content and shouting into the void to keep up appearances (you don't want people thinking you've gone out of business, after all). Alternatively, you could just delete your Facebook business page and be done with it.
Your options: delete or hide?
There are two simple ways of deleting a Facebook business page from public view. You can permanently delete the page (which means it will be gone forever), or you can hide the page temporarily (or long-term). This also applies to deleting Facebook groups.
How to delete a Facebook business page
A word of warning before you start. Deleting a page is permanent. Ensure that you are entirely sure that you want to delete your business page (and that you're a page admin).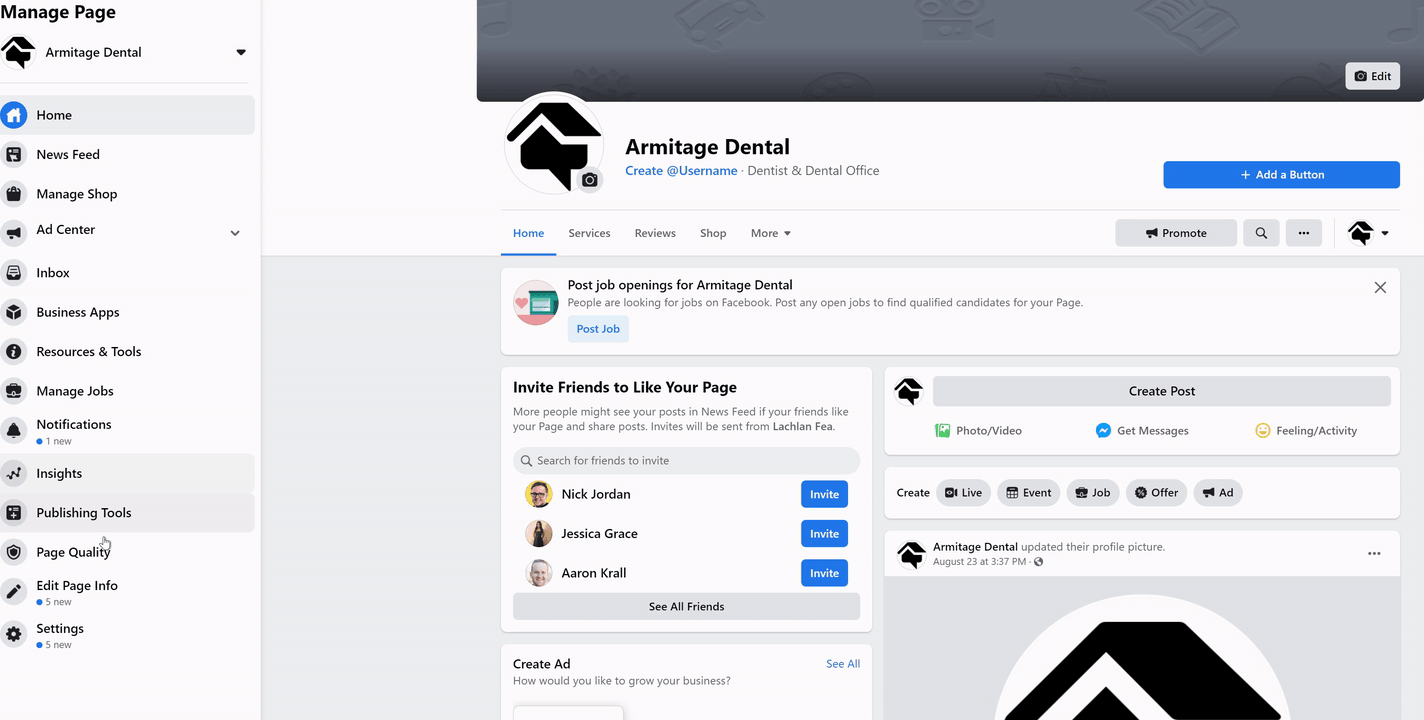 Login to your Facebook account and navigate to your business page (edit page).
Click the Settings button at the bottom left side of the page.
On the Settings page, scroll all the way down to the bottom of the list and click on Remove Page.
Click Permanently delete 'your page' (Facebook will show the page name of the page you wish to delete).
A pop-up box will appear asking if you're sure you want to delete page permanently? Press Delete to save changes and proceed with deleting your page.
Your page will automatically be deleted after 14 days. If you choose to cancel the deletion, you can go back into the business settings menus and click cancel deletion at the top of the page. Once 14-days have passed, you are no longer able to recover your page.
How to unpublish a Facebook page
Need to take your page down, but don't want to commit to permanently deleting all your hard work? Unpublishing your Facebook page may be a better option. There are various reasons why you might want to unpublish a page; one is that you are still working on the content and don't yet want it to be visible, or it could be that you're taking a hiatus, relocating, or changing hands. If you think your Facebook business page might be useful at some point again in the future, unpublishing it may be a better (and less permanent) solution.
To unpublish your Facebook business page:
Login to your Facebook account and navigate to your business page.
Click the Settings button at the bottom left of your screen.
Click Page Visibility at the top of the list under the General tab.
Tap and select Page unpublished.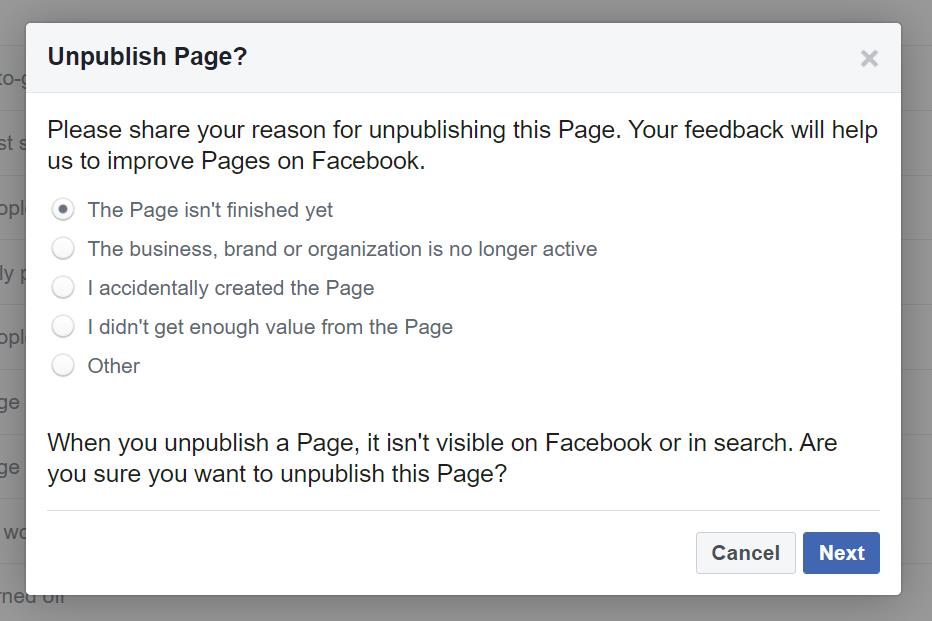 Facebook will ask you a range of questions about the reason you'd like to unpublish your page. Select the appropriate answer, press Next, and you'll then be able to confirm by clicking Unpublish.
Your page is now unpublished and cannot be seen.
To re-publish the page, follow the step-by-step guide again by jumping back to Step 4 and selecting Page published.
Should I delete my Facebook business page?
Whilst there are plenty of considerations for deleting or unpublishing a Facebook business page, there are also some solid arguments for maintaining an active account instead.
First and foremost, Facebook is an interface for your customers; a source of potential revenue. Not just in the form of shopping, ads, or groups, but in terms of your biggest asset, customer reviews. When people compare you with your competitors, what will they see? If you're not actively running Fb ads or publishing content, and you've previously neglected to capture customer reviews on Facebook, it's worth using a tool like Cloutly to help you build a lasting source of social proof and raving fans, so that even unchecked, your Facebook page can drive referral business through word-of-mouth.
While you may not, your audience lives on social media, and some (or lots) of them might be your current or potential customers. Unless you're dealing with a particularly nasty Facebook page full of negative reviews (in which case, download our negative review removal checklist), it's usually worth keeping your Facebook business page up and running just to show off your best customer reviews.
Pros and cons
There are pros and cons to everything. Facebook has conquered almost one-third of the world's population, so why wouldn't you want the opportunity of connecting with even a small percentage of them?
Pros
There are almost three billion users on Facebook (which also owns and operates Instagram).
Facebook business pages provide an easy point of reference for your customers: all your contact details, opening hours, pricing and more.
Facebook is a cross-device platform with both a PC (desktop) web app and a mobile app for Android and iOS devices (like the iPhone). As a business, you can run an ad account to reach people who may be interested in your products and services, promote an event or even your physical store.
Facebook makes it easier to communicate and have interaction with customers interested in your business or products via Messenger.
Customers can leave you positive reviews.
Customers can tag your business on Facebook.
Facebooks analytics can help you better understand your audience and the effectiveness of your content/ads.
Facebook's shop functionality allows you to upload products and services for sale. It makes native customer browsing easier and is almost certainly the future of e-commerce (headless commerce).
Cons
Facebook business pages have low organic reach.
If you're not willing to spend money on Facebook ads, you're going to find yourself shouting into the void.
If unchecked, Facebook Messenger can become a source of frustration for customers when they're not responded to in a timely manner (i.e. nobody's home).
Customers may leave you negative reviews (learn how to respond to bad reviews).
Hopefully, you can weigh up the pros and cons of unpublishing or deleting your Facebook business page. Deleting your page is a big, irreversible step, which will also wipe out all your page likes, reviews and content. So why not unpublish it for a little while instead?