Google reviews play a significant part in how you rank on a search engine results page. Therefore, striving for 5-star Google reviews is not only expected, but it should be part of your branding strategy.
Let's face it, if you're wanting a 5 star Google review, then it's 50% how you ask for it and 50% how good your business is. If you're not providing a great service, then asking for a review might just land you with a bunch of 1-stars. Even if you ask nicely.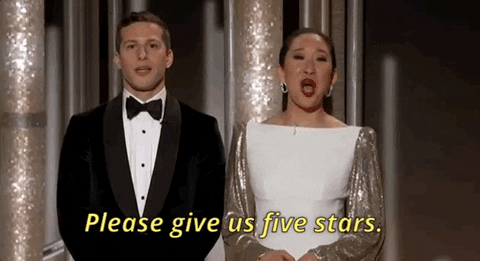 Online reviews are one of the top ways customers evaluate the transparency of a company. For instance, a 5 star Google review showcases positive aspects of your business from a customer's perspective.
On the downside, five-star reviews can be challenging to get. But you only experience this challenge if you approach it with the wrong perspective.
First, understand that naturally, customers leave a review when they have had a bad experience. To get more 5-star Google reviews, you need to be intentional about motivating and helping customers leave reviews.
Here are 10 tips to help your business get more 5-star Google reviews.
Ask customers to leave a review
Making a review request is a simple step that works 90% of the time. Unfortunately, the approach is not used as much as it should.
Most customers only need you to remind or request a review, and they will happily provide it. Cloutly is a tool that streamlines your review requests in a way that doesn't feel like spam - you can even send personalised videos to your customers!
Part of making the ask is knowing when to do it. Typically, customers are more inclined to leave positive reviews when they are happiest or satisfied. This is immediately after purchase  Also, you can try to ask for reviews in the middle of a project if your services are not just a one-time thing.
The channel you use to ask for a review will depend on previous client interactions. If you interact with the customer mainly through email, then it makes sense to ask for a review through email, too. If Facebook Messenger was the main channel, then that's the best channel to do it. Using this approach makes the process natural. Plus, it gives you a better chance of engaging the customer.
Be straightforward
When asking for Google reviews from customers, you want to be straightforward and avoid beating around the bush. Since you want the review, express this to the customer from the word go once you make contact.
You want to be approachable and still respectful of their time.
Avoid being coercive or 'nagging' as it can be off-putting to the customer. A simple, straightforward, and positive message will suffice. For example:
Hello Maggie,

We hope you love your new bedding set as much as we do!

Our business thrives on positive reviews, so if you do love it, please leave us a review! It will only take 1 minute of your time - then you can dive into your new sheets.

Thank you in advance, we hope to see you again soon!

The team at Sweet Dreams
It's short and sweet but it's also been lightly personalised to the specific customer. Just remember to include a review link to make it even easier for Maggie to leave you 5-stars.
If a customer had a positive experience with your business, this shouldn't be hard. When customers have had a 5-star worthy experience, they don't mind returning the favour by leaving a review.
Reaching out manually won't cut it out when you have hundreds of customers, though. It will be more effective (and save you loads of time) to invest in review management software to automate things.
Remove the friction
Customers may put off writing a review if it feels like 'too much work'.
Fortunately, you can help them move past this mentality by showing them how easy the process can be. First, consider the typical process customers need to go through:
Open up Google Maps
Search for your business profile
Click through to reach the site section
Start to write the business review
It's a bit of an effort for customers, isn't it? So, what can you do to help ease the process?
You can generate a custom link to request reviews. This link leads customers directly to the review section of your business profile, eliminating any tedious processes.
You can use our free Google Review QR Code Generator to create a ready-to-go marketing page for your business in one click.
Otherwise, here's how to create the custom link to request Google reviews (the long way).
Log in to your GMB account
Select the location of the business you want to manage
On your profile, click on Get more reviews
Create the custom URL by editing the automatically generated link
Copy the link and start sharing it with customers
Once you send out the link to your customers, you can also include a template. The template should not tell the customers what to write for the review. Instead, it should be more of a guide or inspiration for a quick but helpful review.
For example:
I have worked with Red CT for X amount of time. I chose them because of X, and I especially loved their service X or product X because of X
Another tip is to share past 5-star Google reviews by other customers. You can share these reviews at the bottom of your email or display them on your website in different sections. This will encourage customers to share their positive experiences too through Google reviews.
If customers find the summary review complicated, you could always reassure them that a star rating on its own works, too.
Maintain a positive brand image
Customer reviews are an extension of your overall brand image. For you to get more Google reviews, exceptional customer service needs to be part of your game plan.
Building a positive brand image helps customers keep you top of the mind, making it easier to remember when and how you helped them get a positive solution.
In addition, always respond fast to queries, and create a culture where customers' input is valued.
Respond to other reviews
This tactic aligns with the previous issue of maintaining a positive brand image. If customers find a lot of negative reviews with no responses, their immediate thought would be that you don't care.
If you take time to respond to reviews, including the 5-star Google reviews, customers will be more inclined to leave you one. People just want to be appreciated, this includes the customers.
Address negative reviews
Taking time to address the negative reviews shows that you care about keeping customers satisfied. In turn, a negative review can quickly transform into a 5-star Google review if you put in the effort to remedy situations.
Remain compliant with Google reviews best practices
Google is big on the authenticity of reviews. The company has placed measures to ensure reviews remain authentic since it's a big part of how customers make decisions.
With this in mind, make sure that each approach to getting more Google 5-star reviews remains compliant. Otherwise, relying on unethical methods will bite you in the behind later.
Below are three things to avoid in your quest for 5-star reviews
Don't pay for 5-star reviews— these are bad reviews that will damage your credibility. What's more, customers will usually smell a forged review a mile away. It's also extremely unethical...
Don't build too many reviews at once— it's good to have a review building strategy, but ensure it's natural and within a reasonable timeframe.
Don't fake Google reviews— fake reviews are one sure-fire way to lose potential customers and lose credibility in Google's eyes.
Share 'leave us a review' cards with customers
'Leave us a review' cards are often overlooked but can also be a great way to gain more authentic reviews. The best time to hand these cards out is immediately after you've delivered a service when customers are still happy and excited.
The card should have a shortened link to the Google review page. Or, you can include a QR code that customers can scan and be immediately taken to the review page. This approach is more personal and likely to result in positive reviews based on the recency and satisfaction of service delivery.

Try our free Google Review QR Code Generator to do this in one click!
Do it in person
If your business has a physical touchpoint with customers, you can also ask for reviews in the moment. Typically, most brick and mortar companies have direct access to customers when serving them. Then would be a great time to request a review. Like the card approach, it's more personable.
Here's one way a customer service member could approach the situation:
"I'm so happy we could help you achieve X and now you have one less thing to worry about. If you wouldn't mind leaving us a review on Google, it would really help other customers find us".
Some customers may even choose to do it right there and then. Others may have a question or two, which you can clarify in real-time.
A long-term review generation strategy is the way to go
The best kind of 5-star positive reviews are natural, and they happen over time. A review generation strategy can help you get 5-star Google reviews faster and without much frustration.
This means running multiple campaigns over email, social media, and SMS to make review requests. It will take time, but your efforts will pay off in the long term when positive reviews translate to more leads, satisfied customers, and improved brand awareness. What's more, a review management campaign can help weed out the bad reviews and any negative reviews can be transformed into a positive ones.
Cloutly can help you run review generation campaigns by engaging your customers over SMS and email. The best part? It's all automated, so you can focus on creating the best experiences for your customers.
In turn, your business generates 2-3X more Google reviews than it would have with manual review requests.
A 5 star review is like business gold dust so try Cloutly free today to start generating 5-star reviews from Google and any other review site.