Updated February 2023
What changed? We updated this article with the latest strategies, resources and Google review request trends for 2023, since the switch from Google My Business to Google Business Profiles
Let's be real: in today's world, Google reviews can make or break a business. If you're not already gunning for that 5-star rating, you're missing out on a whole lot of benefits - from better search rankings to increased customer trust.
But here's the thing: getting those 5 stars is easier said than done. It's not just about asking nicely - you need to actually be delivering the kind of top-notch service that makes people want to shout your praises from the rooftops.
Think of it this way: online reviews are like a window into your business. They give potential customers a sense of what it's like to work with you, and they're often one of the first things people look at before making a decision. That's why it's crucial to showcase your best side with glowing 5-star Google reviews.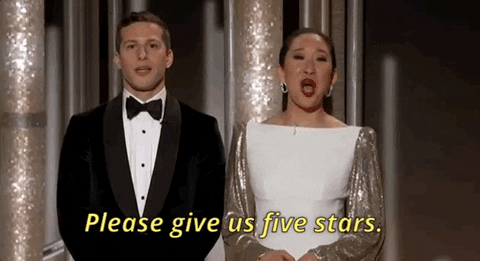 Now, we know what you're thinking: how do I actually get people to leave those rave reviews? That's where our 10 tips come in! From sending follow-up emails to incentivizing reviews, there are plenty of tactics you can use to motivate and empower your customers to spread the word about your business.
So don't be daunted by the prospect of chasing down those elusive 5 stars. With the right approach, a little creativity, and a lot of dedication to delivering the best possible service, you can make those 5-star Google reviews a reality - and reap all the rewards that come with them.
Here are 10 tips to help your business get more 5-star Google reviews.
Ask customers to leave a review
It's easy to assume that getting customers to leave reviews is a difficult and time-consuming process, but the truth is, it's often as simple as asking. Unfortunately, many businesses don't take advantage of this straightforward approach as much as they could.
The good news is, most customers are more than happy to leave a review when prompted - they just need a little nudge in the right direction. That's where Cloutly comes in, with a tool that lets you request reviews in a way that feels personalized, respectful, and not spammy in the slightest. You can even send custom videos to your customers to add that extra touch of personality.
Timing is also key when it comes to review requests. Generally, customers are most likely to leave positive reviews when they're feeling happy and satisfied - which often means right after a purchase or the completion of a project. By knowing when and how to make the ask, you can set yourself up for success and gather those all-important reviews to showcase your business in the best possible light.
Be straightforward
When it comes to asking for Google reviews from your customers, it's best to be upfront and transparent. Let them know right away that you value their feedback and appreciate them taking the time to leave a review. But don't forget to be approachable and respectful of their time.
You want to make the process as easy as possible for them while still conveying the importance of their input. After all, a positive review from a satisfied customer can be a game-changer for your business!
Avoid being coercive, naggy or spammy. A simple, straightforward, and positive message does wonders. For example:
Hi Maggie,

We hope you're enjoying your cozy new bedding from [Our Company]!

We're writing to ask you a favor - we'd love to get your feedback on your recent purchase. We want to know all the juicy details - did our bedding live up to your expectations? Was it as soft as a cloud? Did it make you feel like you were sleeping on a pile of marshmallows? Or did it fall short of your expectations?

Your opinion is super important to us, and we're always looking for ways to improve our products and services. So, we'd be super grateful if you could take just a few minutes to share your thoughts with us.
When it comes to requesting reviews, a little personalization can go a long way. A short and sweet message that's tailored to the specific customer, like Maggie, can make them feel valued and appreciated.

And don't forget to include your review links to make the process as easy as possible for them! (PS: Cloutly can handle this for you).

If your customers have had a positive experience with your business, they're usually more than happy to leave a 5-star review. But as your customer base grows, manually reaching out to each one can become an impossible task. That's where review management software like Cloutly comes in - it streamlines the process and saves you valuable time.
Remove the friction
The truth is, many customers tend to avoid writing reviews simply because it feels like too much work. But what if we could show them how simple it can be?
Think about it: opening up Google Maps, searching for your business profile, clicking through to the review section - it's only a few extra steps, and yet it's enough to make anyone groan.
So what can be done to make the review process process silky smooth for your customers? Well, here's a start: link them directly to your reviews section. Google actually made this a lot easier with their new "Google Business Profiles" update.
You can now:
1. Navigate to your Google Business Profile Manager (or just run a Google search for your business name)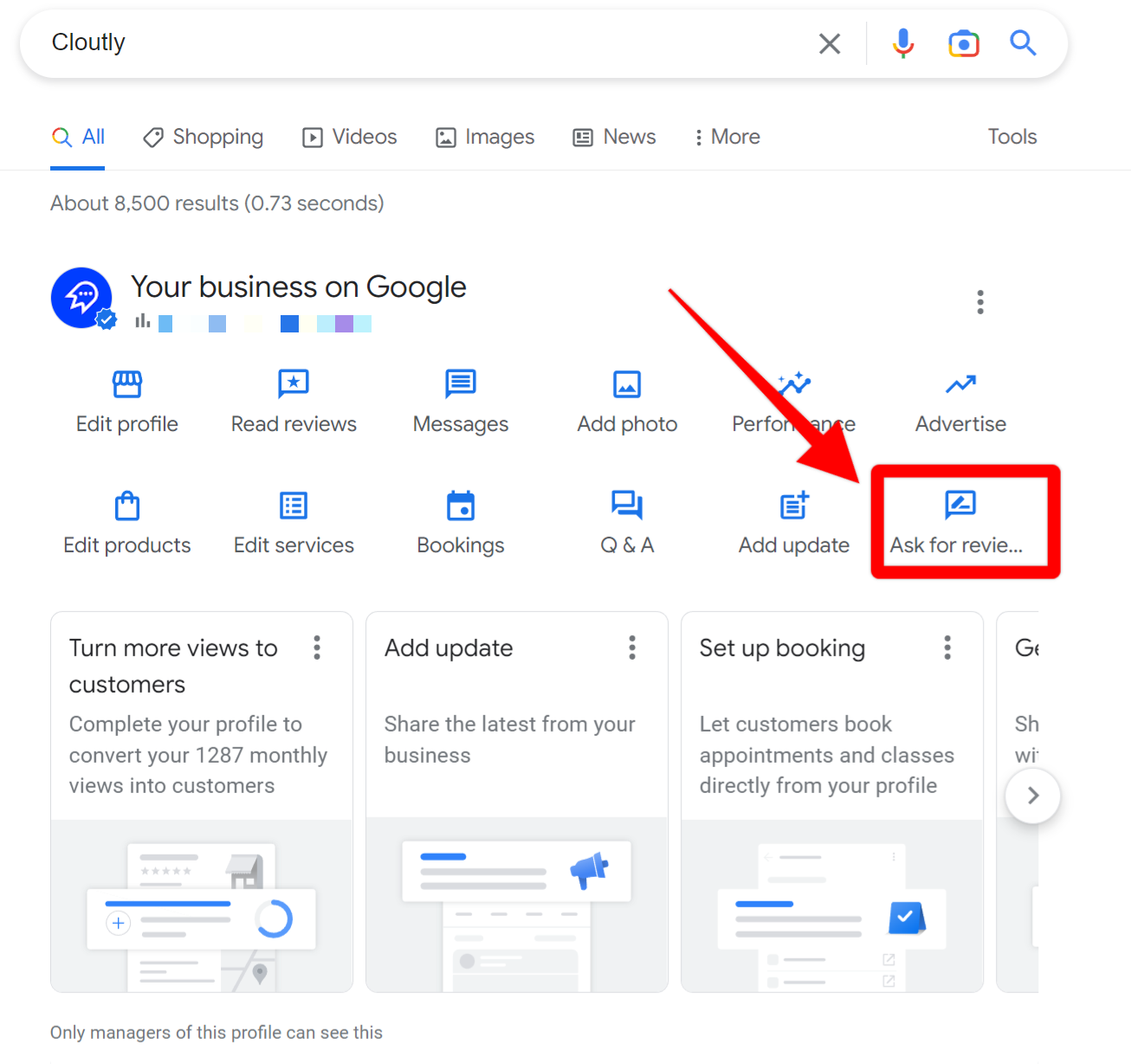 2. Click the "Ask for reviews" button and copy your review link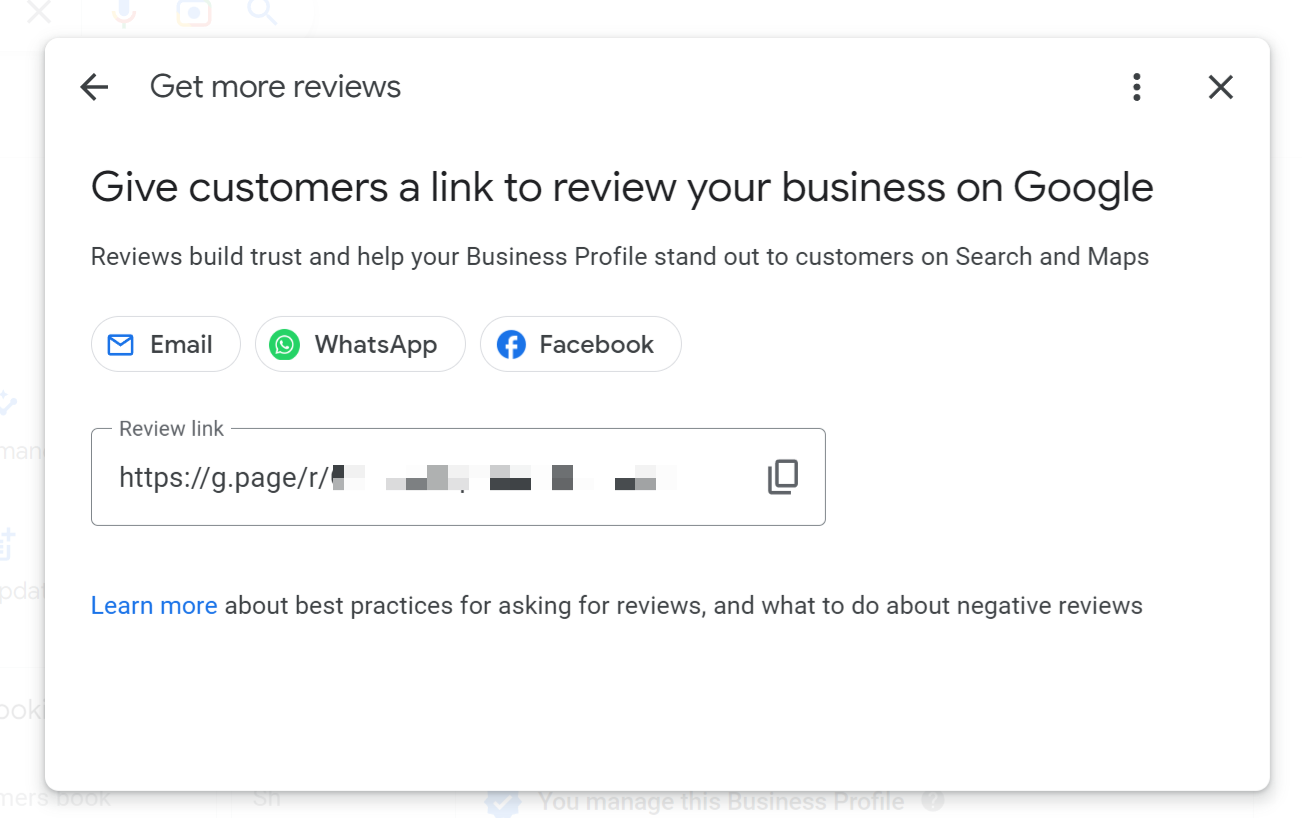 Now the question becomes, "What do I do with this link?"
You can email it off to your customers, one-by-one (ouch);
Add the review link to your email signature;
Integrate the link into your existing marketing messaging
Add your review link to the bottom of invoices or receipts
You can even use our free Google Review QR Code Generator to create a ready-to-go marketing page for your business in one click.
But there's one, glaring problem with most of these methods. You only get one shot! What about the follow-up? Getting 5 star Google reviews from a request typically requires more than one email or message. What happens if your customer opens your email while they're grocery shopping, or picking their kids up from school?
That's what Cloutly solves - it handles all the follow-up and review links for you:
Maintain a positive brand image
Customer reviews are a vital part of your brand image - they're like little ambassadors that speak on your behalf. If you're looking to get more Google reviews, you need to put exceptional customer service at the heart of your game plan.
You want to create a positive brand image that stays with your customers long after their interaction with your business. This way, they'll think of you first when they need your services again. Building a memorable brand takes time, patience, and a whole lot of care. The last thing you need is unhappy customers negatively mentioning you online, right?
Responding quickly to customer queries shows that you're attentive and value their time. And when you make a habit of valuing their input, you'll gain a better understanding of what they need and how you can meet their needs. By fostering a culture of openness and customer-centricity, you'll make your customers feel seen, heard, and appreciated.
Respond to other customer reviews
Responding to reviews can be a game-changer in getting more 5-star Google reviews. Why? Because it's all about showing your customers that you care about them and appreciate their feedback.
Imagine this: You had a fantastic experience with a business and decided to leave a glowing 5-star Google review. But, after a few days, you don't see any response from the company. You start to wonder if they even read your review or care about your experience. Not the best feeling, right?
On the flip side, if a business responds to your review, it makes you feel seen, heard, and appreciated. It shows that they genuinely care about their customers' experiences and want to ensure they are happy.
Address negative reviews
While they may be hard to read, responding to negative reviews shows that you're willing to work with customers to make things right. In fact, responding to negative reviews can be a powerful way to turn a dissatisfied customer into a loyal advocate.
So, don't be afraid to respond to all your reviews, both positive and negative. Your customers will appreciate it, and it may even encourage more 5-star Google reviews in the future!
Remain compliant with Google reviews best practices
Reviews on Google are a big deal. They're like the secret sauce that helps customers decide which businesses are worth their time and money. That's why Google goes to great lengths to keep them real and honest with their review content guidelines and policies.
So, when you're trying to get more 5-star reviews, it's important to play by the rules. That way, you can build your credibility, and customers can trust the reviews they read.
Here are a few things you should definitely avoid doing if you want to stay on the right side of the law:
Don't pay for reviews: It's like buying fake friends. It might give you a quick ego boost, but it won't last long. Plus, people can usually smell a rat from a mile away. It's also super shady and unethical.
Don't get too many reviews all at once: You might be tempted to build up your reviews as fast as possible, but slow and steady wins the race. Google likes it when your reviews grow naturally over time. So, be patient, and don't rush it.
Don't fake it till you make it: Fake reviews are a big no-no. Not only will you lose credibility, but you'll also lose potential customers. People want to know the real deal, not some made-up story. So, keep it real, and you'll reap the rewards in the long run.
Share 'leave us a review' cards with customers
If you're looking for a simple and effective way to get more authentic reviews for your business, look no further than 'leave us a review' cards! Don't let their simplicity fool you - these cards can be a game-changer for your business.
When it comes to handing out these cards, timing is key. You want to do it immediately after you've delivered a service, while the customer is still feeling happy and excited. This way, they're more likely to leave a positive review based on the recency and satisfaction of the service delivery.
To make the process even easier, include a shortened link to the Google review page or a QR code that customers can scan to be taken directly to the review page. This approach is personal and convenient for the customer, which can result in more positive reviews for your business.
If you're worried about the technical aspect of creating QR codes, don't be! Our free Google Review QR Code Generator makes it easy for you to create a QR code in just one click. So go ahead, give it a try and watch those authentic 5-star reviews roll in!
Ask for reviews in person
Asking for reviews in person can be a bit of a challenge - we get it! You want to make sure you're not being too pushy or awkward. So, to help you out, here are some tips to make it feel natural and non-intrusive:
Be a rockstar: The best way to earn a glowing review is by providing top-notch service that blows your customer's socks off. So, let your inner rockstar shine and make their experience one to remember!
Ask for a favor: Now that they're basking in the glory of your awesomeness, ask for a little favor - their feedback. Let them know how much their opinion matters to you and how it helps other customers discover your business. Plus, it's a great way to keep improving and offering the best experience possible.
Spread the love: Tell them about the benefits of leaving a review, like helping others find your business and getting a better idea of what you have to offer. Plus, you get to see how much they loved your service - what's not to love?
Make it easy-peasy: Provide clear and simple instructions on how to leave a review, such as a direct link to your business's review page (or a QR code you've whipped up using Cloutly). Bonus points if you can show them how to review you on their phone!
Choose the right moment: Timing is key, so pick the right moment to ask for a review - like after a successful transaction or a positive interaction. If they seem stressed or unhappy, it's not the right time to ask. But if they're beaming with joy, go for it!
A long-term review generation strategy is the way to go
We all know that 5-star Google reviews are worth their weight in gold. But how do you get them without pulling your hair out? Well, that's where a review generation strategy comes in handy.
By reaching out to customers over email and SMS over time, you can gently nudge them to leave a review. It may take a little time, but the results are worth it! Positive reviews mean more leads, happy customers, and greater brand awareness. And, if you're worried about bad reviews, a review campaign might just be what the doctor ordered. If you never ask, you'll never know... but that customer will still be unhappy. Sometimes it's better to rip the band-aid off so you can resolve issues proactively!
With Cloutly, generating reviews is a breeze. Your entire review generation pipleine is automated so you can focus on what really matters - creating the best experiences for your customers! With dozens of integrations, Cloutly is bound to work with the tools you already use.
In fact, businesses that use Cloutly generate 2-3X more Google reviews than with manual review requests alone. So, if you're looking for a boost in your online reputation, try Cloutly for free today. Who knows? You might just strike review gold!