Using fake reviews might seem like an easy way to get ahead, especially if you're a new business. But, what are the real costs of doing so?
Most people that use fake reviews get caught and they're missing out on the ethical (and legal) ways to generate positive social proof about their business. They just haven't heard of Cloutly before.
Genuine reviews prevail all the time, but what if you don't know how to ask for reviews? What to do with them once you get them? How to respond to them? Well, read on, team.
We'll break it all down for you. You can click X on that tab you have open about fake reviews now. You don't need them, and you certainly don't need to commit a crime to boost your online reputation.
Can you buy reviews?
You can - but it's highly unethical and dangerous. We've written a whole guide on this here.
Buying reviews is promoting a misconception about your business. It's unethical and it will trick consumers into buying your product or service. Even if your reviews are incentivised, such as a free dinner at your restaurant or a half-price haircut, if the reviewer doesn't stipulate this then you could be hit with a big fine. According to the FTC (Federal Trade Commission), soliciting endorsements in exchange for money or a cash incentive can land you in serious trouble.
You don't want to scam consumers, so paying for reviews which in effect are fake as they're unfairly influenced or untrue, equates to false advertising.
Fake positive reviews will only leave your customers disheartened by your brand if your reputation doesn't ring true to their own experience. And, customer retention is a powerful thing.
If you buy fake reviews, do so at your peril. You're likely to be caught, and any short-term wins are often quickly undone.
What about fake reviews you didn't pay for?
Fraudulent online reviews (that you haven't been a part of) are something that some businesses will come across.
Fake reviews can be written by humans - someone who's got it in for your business - or bots. Whether it's a competitor behind it or not, you want to get rid of the deceptive reviews quickly before your customers see them.
The trouble is, it's easy for people to leave fake reviews on Google and Facebook. You will also find many business owners replying to fake reviews on Tripadvisor to address the fact that they're false. If someone was misled by them, then the owner isn't going to be too happy.
What to do when you spot fake online reviews
Your first course of action when you see fake online reviews is to read the policy guidelines for the review site and see the course of action for fraudulent online reviews. Highlight the review and request removal due to it being a fake review. The review sites can check it out and remove it accordingly.
Time is of the essence here which is why review software comes in extremely handy.
Fake online reviews can remain 'live' even after you report it as it might take a while for the moderators to review your request for removal. Unfortunately, this means that these fake online reviews (fake positive reviews or fake negative reviews) will still be visible to your customers.
As mentioned above, some business owners have a bit of fun responding to fake negative reviews, so you could even flex your funny bone. Take a look at these negative reviews and how the business owner handled them.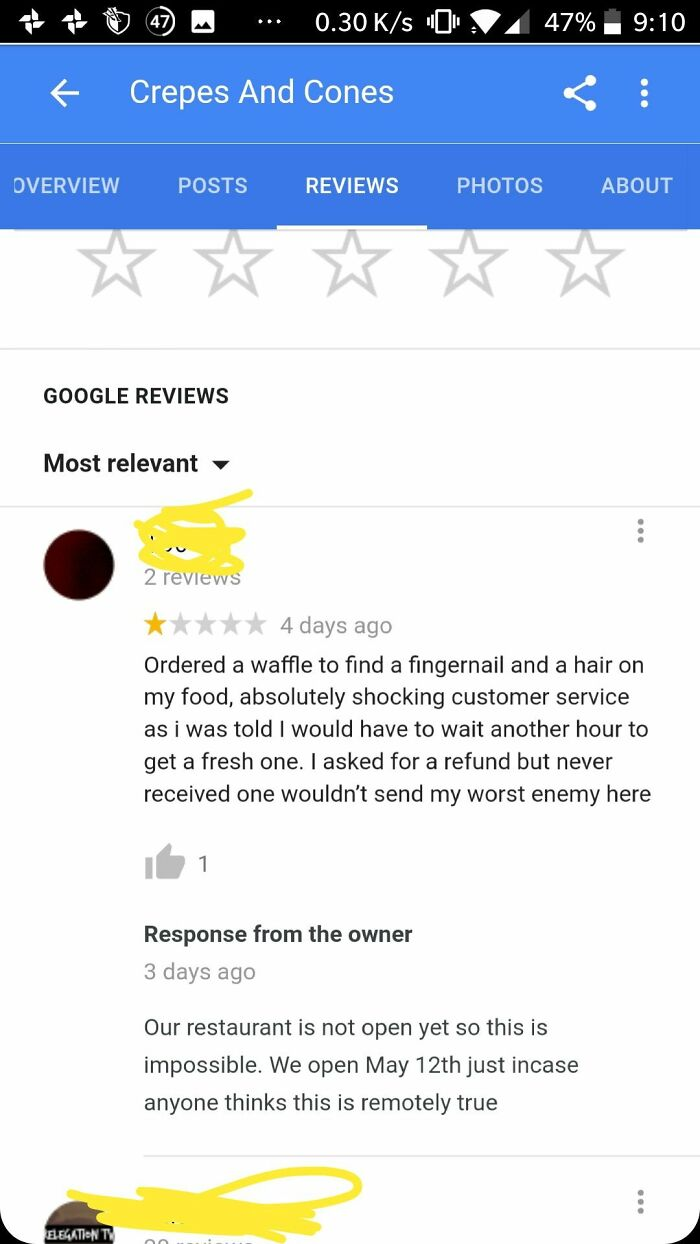 Online reviews full of lies just need a simple, snappy response. For example, this negative review couldn't be true as it's not open yet. But other potential customers wouldn't know that so it's a massive save for this business's reputation.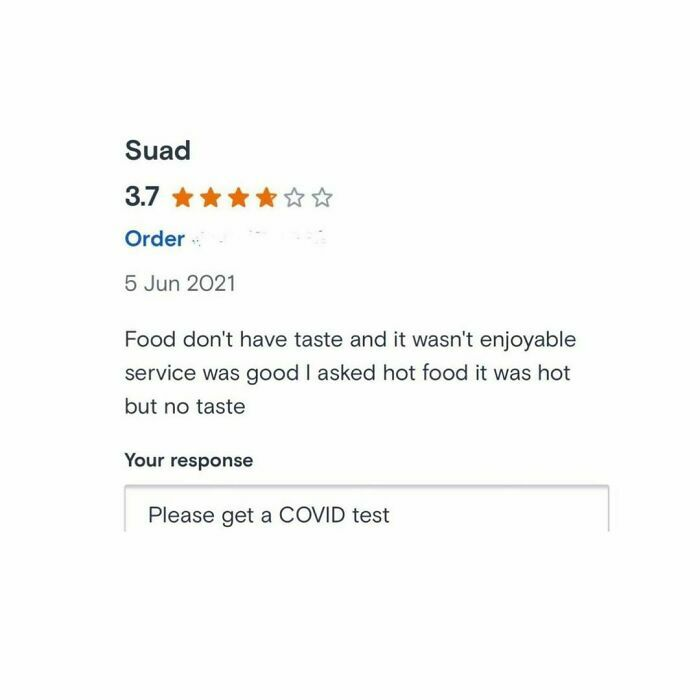 Who even has the time to write fake reviews? Well, these people did. This snarky response from the business owner could go one way or the other, but it defends the brand with a touch of humour.
These fake reviewers had it coming! Responding to fake negative reviews (as well as reporting them) is a two-part approach to tackling your fake reviews. Especially if the moderators take their time to take the fake review down.
How to identify fake reviews
The best way to identify fake reviews is to have a reputation management system in place. You can even use software like Cloutly to notify you each time you have a new review. And, if the review turns out to be fake, you can handle it rapidly.
If you're looking for fake reviews, keep your eye out for any of the below:
Generic titles such as 'Great product quality' or 'Love this business'
Bad grammar
Spelling mistakes
Limited detail
An extremely high percentage of five-star reviews (no business is perfect)
Similar wording to other reviews
Those that write fake reviews are intending to create deceptive reviews about your brand. These can be fake positive reviews or fake negative reviews, but either way, these false reviews could damage your brand indefinitely. It almost sets a precedent for deceit.
Fraudulent online reviews can be smelt a mile off. And, potential customers will be dissuaded to trust your brand from the get-go. That's why you need to be vigilant and look for the above details to prevent fake reviews from clouding your honourable reputation.
Is false advertising really that bad?
If a customer experience is lied about, then you will be disenchanting other real customers left, right and centre.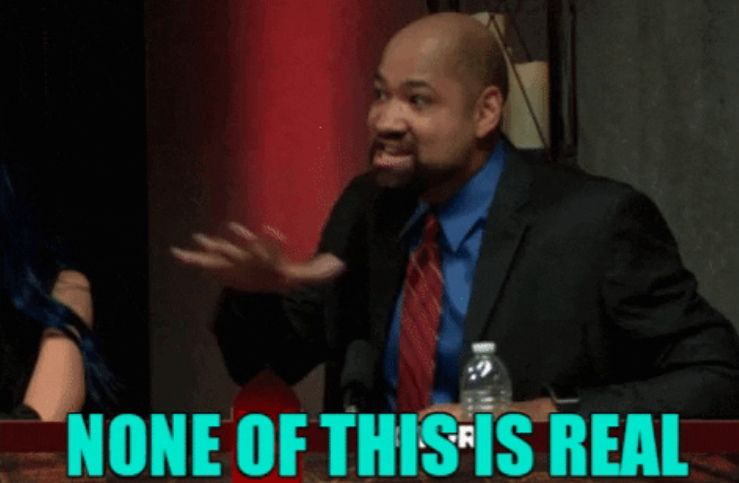 You want to build your success on genuine positive reviews and genuine negative reviews. This is how you'll see which areas you need to improve on for your business, and where you will see the areas you're excelling in.
Authentic social proof is optimum for customer retention and your business growth.
Third-party reviews need to be genuine reviews otherwise you're misleading consumers before they've even tried your product or service. Your trust and credibility will be threatened from the get-go.
Use Cloutly today to not only streamline your review campaigns but to keep you on top of suspicious reviews. Don't let false feedback damage your business' reputation.