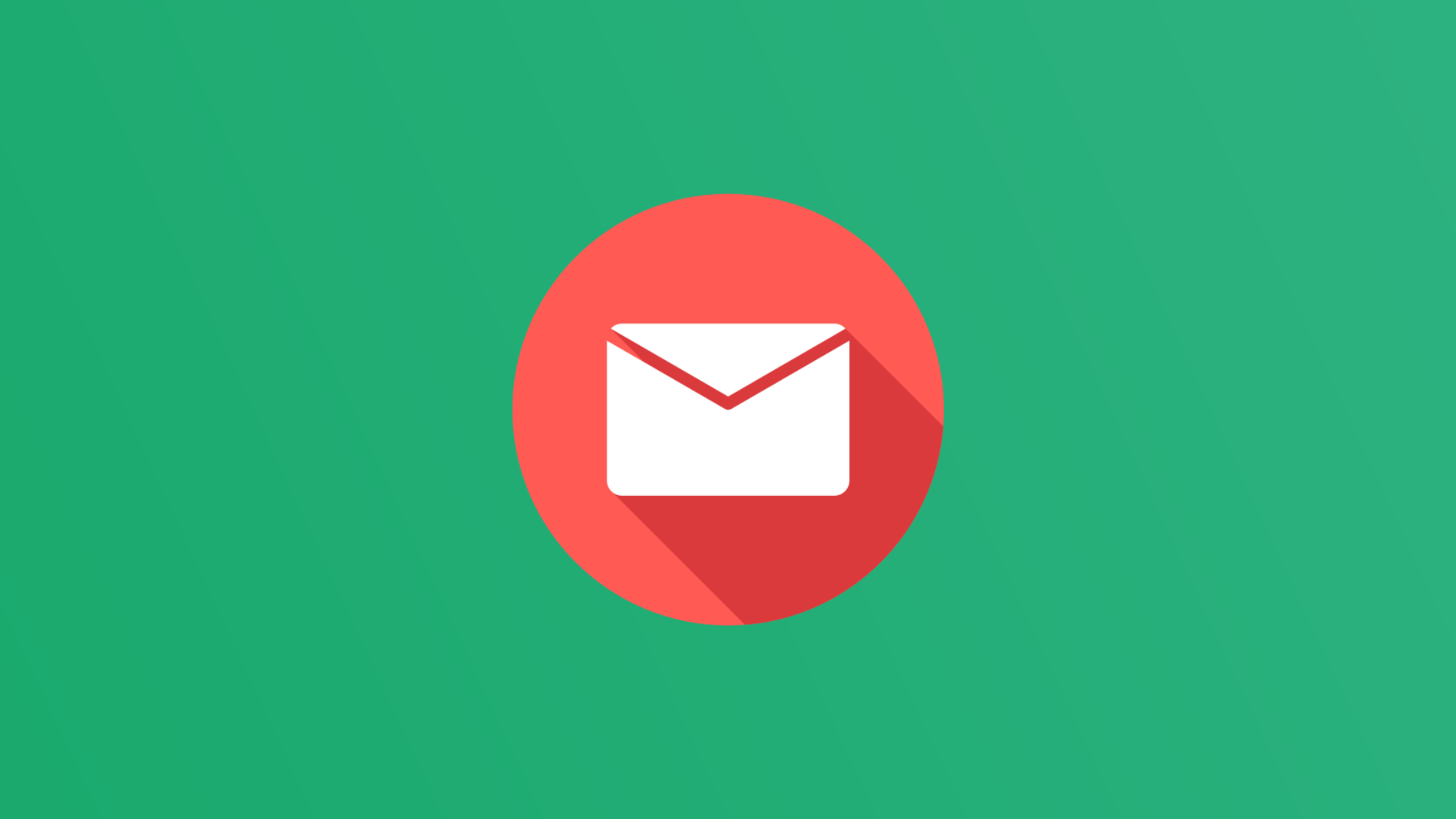 How to write the perfect review request email (4 best examples)
Want to know how to write an epic review request email that actually wins you plenty of 5-star reviews? We outline all you need to know.
Table of Contents
Sending out a review request can be one of those dreaded tasks for businesses.
Usually, it's seen as an admin task and businesses will send out a generic review request only once, after a customer has been to their store or purchased something online.
Many times, they go straight to someone's junk folder or remain in an inbox, ignored. It can be a hassle too. And, if you're not writing great copy and sending out a few chances for your customers to write online reviews about your business, you're not going to see much success.
Unfortunately, it can be a challenge to cut through the noise, which is why Cloutly was created. Our review software can guarantee you more reviews just by humanising and breathing life into your review requests.
But, there are tricks you can learn to optimise your chances (as well as implementing software). We'll even give you a review request template to inspire your review request email. Asking for a review doesn't need to be difficult.
Read on for how to ask for reviews in emails, that will get opened and reacted to.
Why reviews?
Reviews are a great way to promote your business with authentic social proof. They increase your credibility, trust and visibility for new customers and potential customers.
Online reviews allow your satisfied customers (and unhappy customers) to have their say about your business and it gives you a chance to respond to them. It expands the customer journey, from purchase to customer feedback meaning you have more opportunities to engage with your happy customers.
Reviews are also vital for potential customers. Many people look at online reviews before even giving a business a go, to judge whether it's worth their time (and money). They know that real customers will leave honest feedback, and they'll sidestep your marketing campaigns to get to the truth of your brand.
A review request campaign is vital for your business's success, so get asking for a review! Just stay tuned for our review request template below to help you ace your campaign copy.
How to send out a review request email
There are a few ways to send out a review request email and it can depend on what sort of software you use. If you choose to use software (which we recommend) for your review request emails, just make sure you it's:
A) An email someone wants to receive
B) An email someone should receive (make sure your contact list is up to date and for people that have bought something from your business before)
C) An email that's humanised and personalised to trigger a response
The key to requesting reviews is not to settle for one chance. That's why setting up a campaign works best. This means your customers are sent a few emails about reviewing you.
You don't want to harass your customers, but you also want to give them ample opportunity to review you, so using email marketing software or review management software can be vital for your positive reviews.
With MarTech, you can streamline your email campaigns, and view analytics such as which emails landed in junk and what the open rate was. Options include:
Cloutly - email, text or video review requests in smart-step campaigns that are personalised. You can also download a full report of open and click rates
Mailchimp - schedule campaigns, A/B test copy and reports
ActiveCampaign - pre-built automation that you can personalise for each person or group on your email list
Hubspot - marketing campaigns across all channels including emails and you can integrate with Hubspot's CRM
You will need to organise a review request email campaign to make sure you get epic results. Be relatively persistent and attention-grabbing so the reader will open the email and take action.
How to write a review request email
Requesting positive reviews needs to be personalised. A robotic and dull review request will go straight to the back of someone's mind (and to their junk mail).
Think about who you're talking to: a human, and hopefully a happy customer.
A review request template can ebb and flow, depending on your branding, but overall it should follow a simple structure:
Introduce yourself, for example, "Hi, Tony. This is Bailey from Cloutly."
Be positive about your business, "I hope you enjoyed your free trial of our software and saw some epic results."
Get to the point, "it would mean so much if you could leave some feedback on any of the key review sites below so that we can continue to improve our product and customer service."
Be grateful for the time they've already put into your business, "thanks so much for supporting our business and taking the time to review us."
Of course, you can be a bit more creative, but you get the idea. Don't overcomplicate your review request templates. And, if you continue reading you can copy and paste our review request email templates for you to personalise.
Outside of your review request template, show some personality in your review request email with compelling copy:
Stick to brand guidelines - if you have a funny tone of voice, make sure your review request email speaks to that!
Keep it short and sweet
Be polite and grateful - they've opened your email and that's the first step, let them know you appreciate it and you love that they're your customer
Keep it focused. You're there for the review, not a kidney
Offer rewards such as a discount from their next purchase if they review you
Oh and make sure your subject line doesn't seem spammy (don't overuse punctuation) and make it pop in your satisfied customers' inboxes.
You could even include snapshots of what other customers have said in online reviews about your brand as inspiration for your reviewer.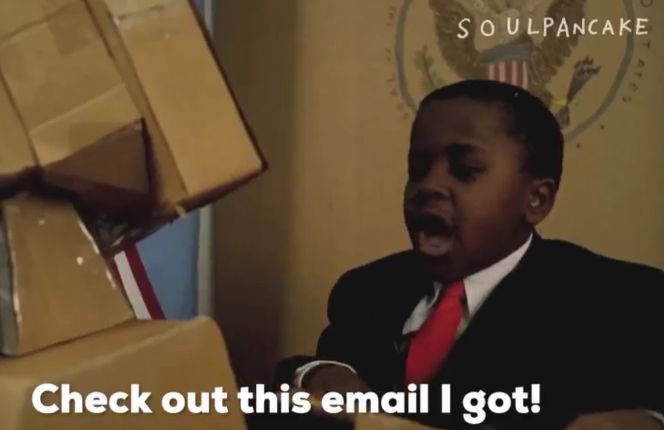 Cloutly goes one step above with its review request campaigns. You can record a video and send it to your email list, thanking them for being a customer and asking them, in an engaging and fun format, to write you a review or (even better) send a video back as a customer testimonial. These are great for your marketing efforts, too.
In your video, make sure you're comfortable in front of the camera and make your branding known. It doesn't need to be high-quality, in fact, the more candid, the better, but just make sure it remains professional.
Also, include a review request link with a clear CTA; make it super easy for your customer to review you. If they can write a review directly from the email, the more likely they will be to do it.
How to run a review request email campaign
The more chances you give your customer to review you, the more likely you are to get customer feedback.
People are busy. They need a gentle nudge now and again which means you should send your review request email, with a second and third attempt. Stop at three or four, though, otherwise, it becomes annoying.
Review request email examples
If you want to ask for reviews, try taking the lead from these top brands.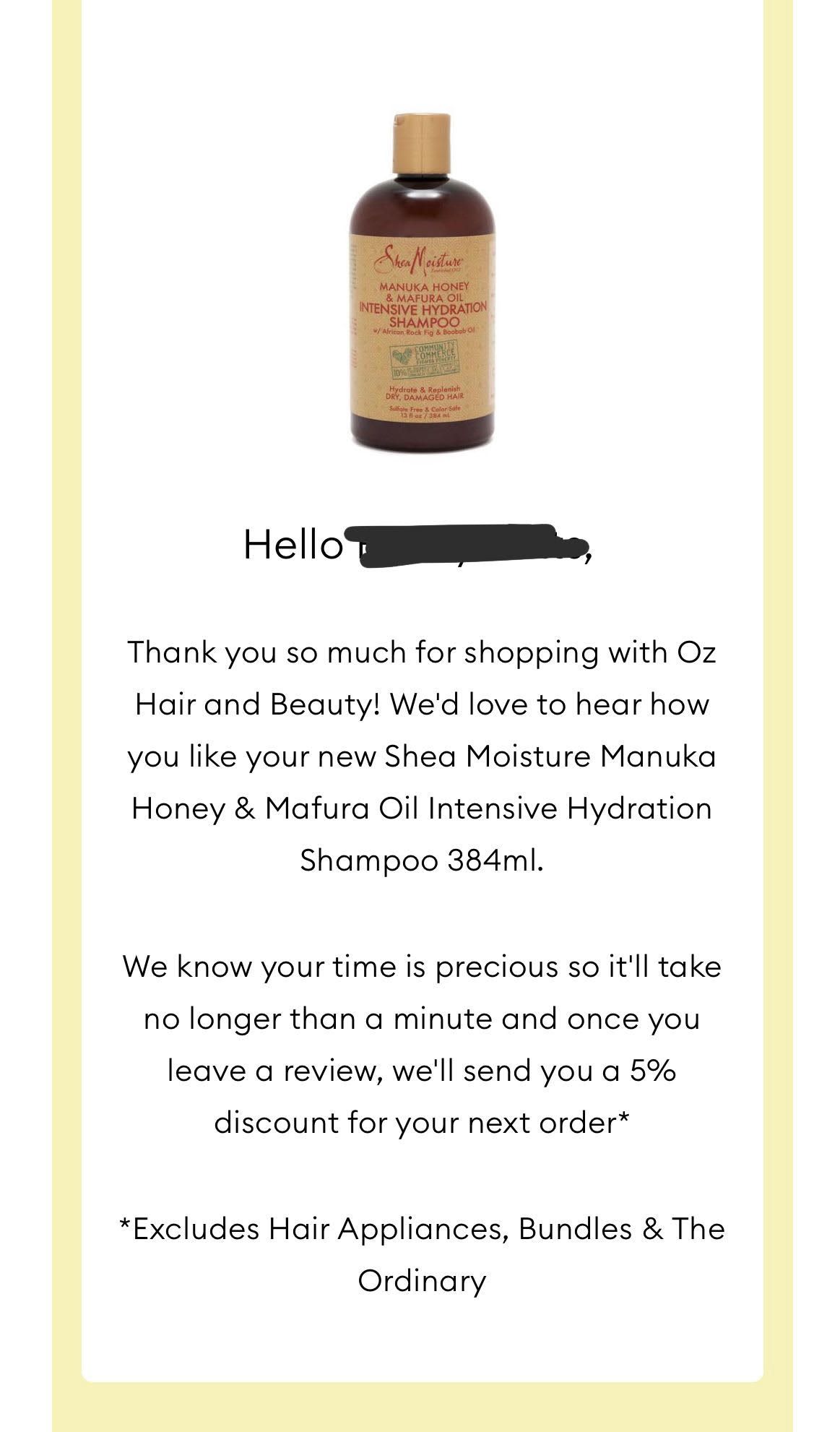 This review will stand out in your inbox, and if you're a big online orderer, ahem like me, it's good to have an image of what you ordered. So you can remember it!
Oz Hair & Beauty have offered an incentive here, a 5% discount for your next order once you leave a review. And, they've humanised their approach: "we know your time is precious so it'll take no longer than a minute."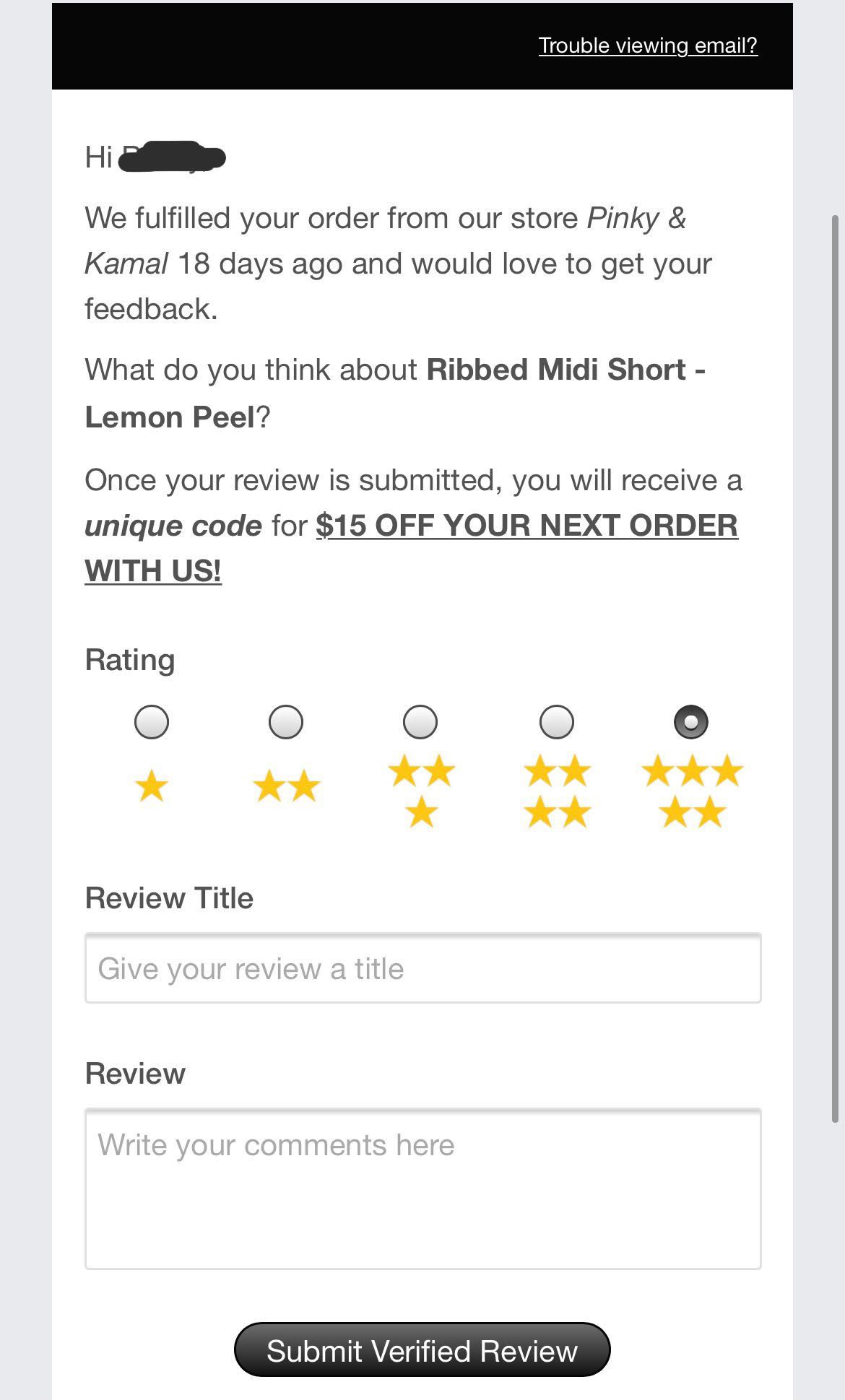 How easy is this? Pinky & Kamal have made it super easy for their customers to review them. 3-steps and you're done! And, there's a discount.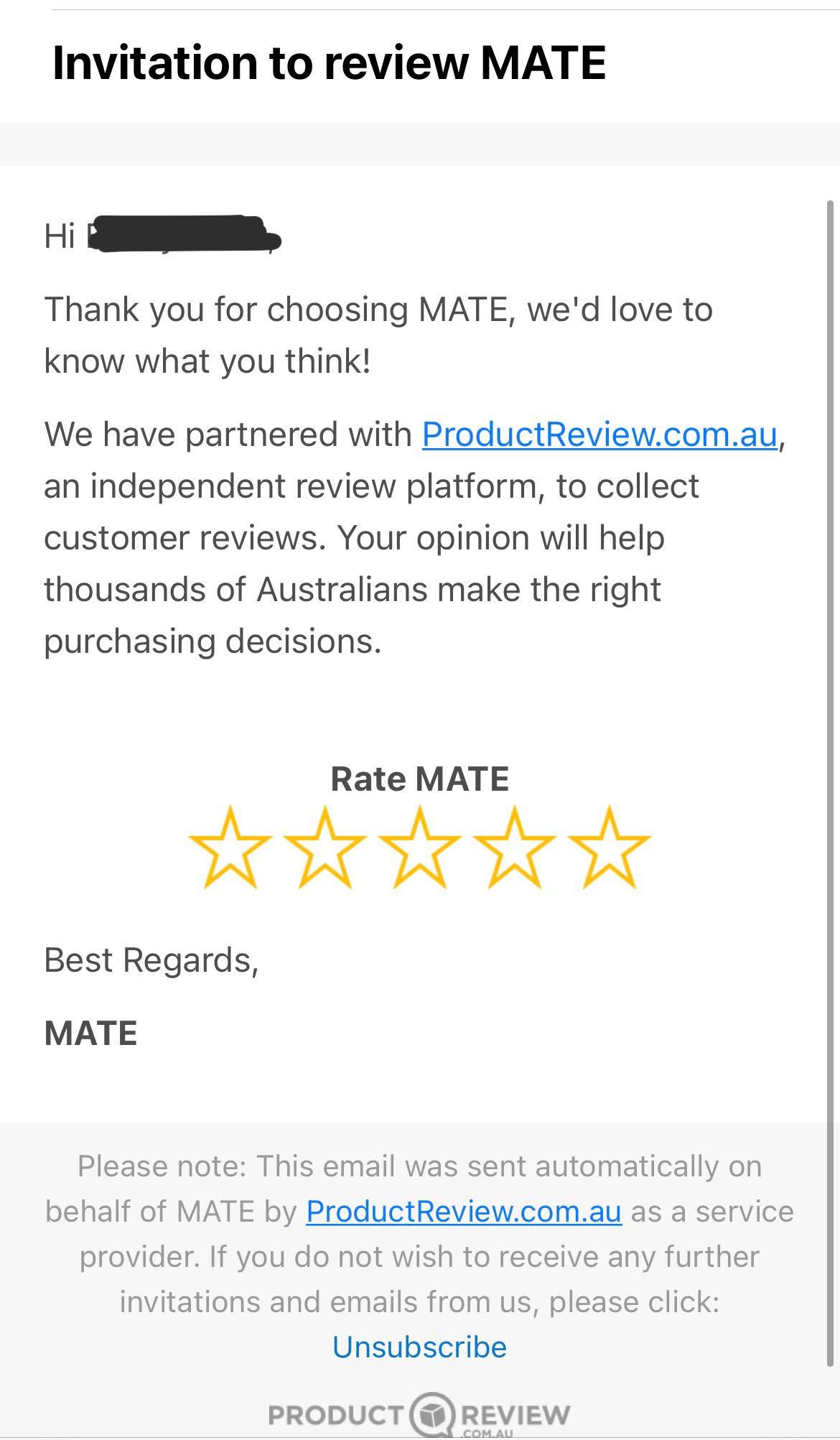 Short but sweet (and effective) from MATE.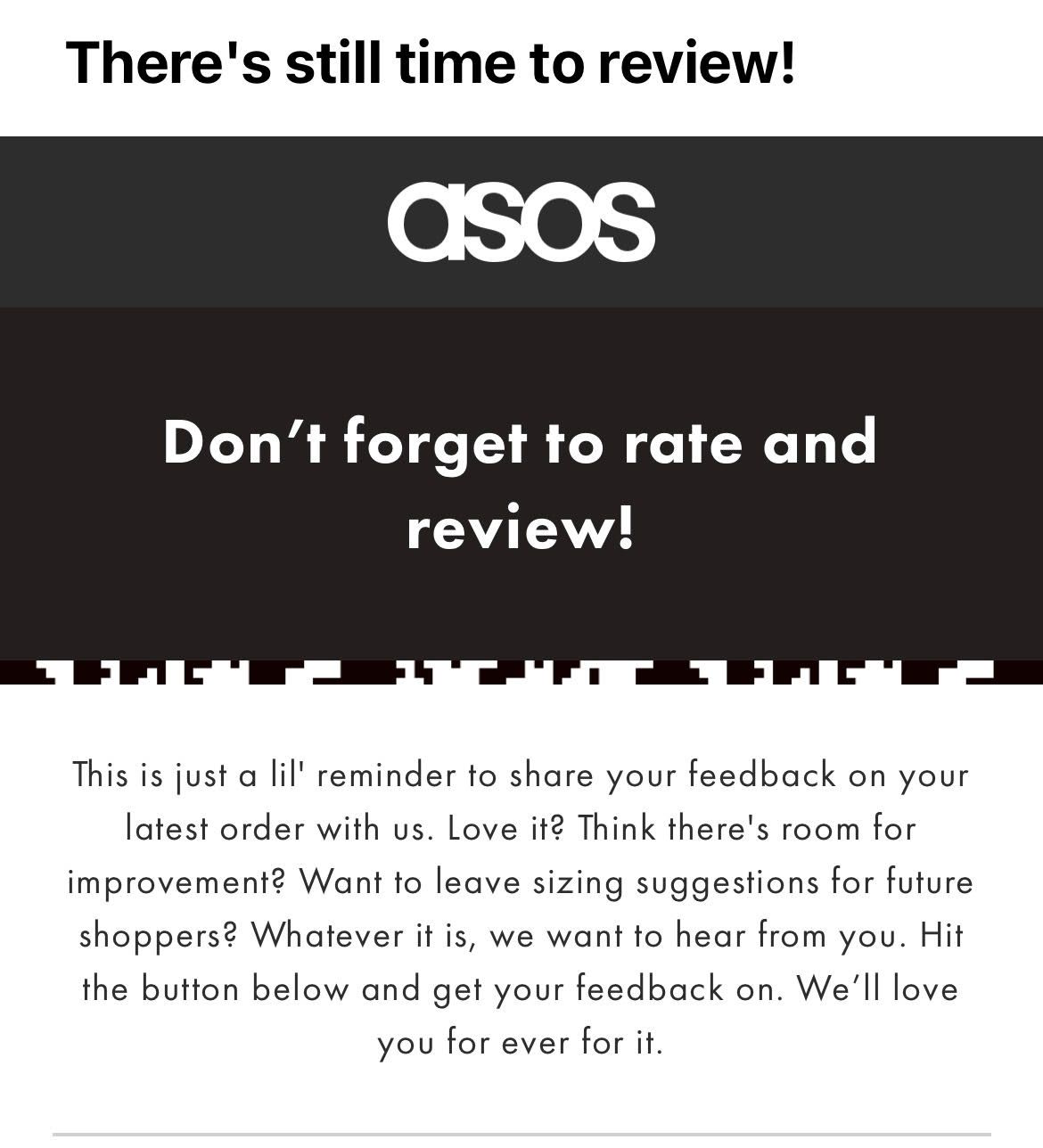 ASOS make a bold statement here and colloquial language that appeals to its target audience. "We'd love you forever for it," just enough to make you blush and write a review!
Your online reviews will come in like wildfire if you follow the style and tips from these brands.
Review request templates
It's always good to start from somewhere, but remember to personalise your email templates.
If you own a restaurant, try sending out something along the lines of:
Email subject line: Was it as good for you as it was for us?
Hey [First name],
Thanks for coming to our restaurant the other day.
We want to know how we did. How was the food? How was the service? How was the music? Anything - we're nosey!
If you'd like to leave us a review here [insert a link to review] we would be so thrilled.
We read all of our feedback and take it to heart so that we can continue to improve on our [service type].
See you soon, next week's specials are going to be fire.
Troy, Head Chef at Alfonzinos.
Or perhaps you're looking for a product review:
Email subject line: How's your new hairdryer working?
Hello [First name],
Our customers rely on customer feedback from lovely people like you to know whether to try our hair tools.
If you have a moment to spare, we'd love to know how your new hairdryer is - is it all va-va-voom in the hair department?
Please click on the button below to tell us if you're enjoying your [product name].
CLICK HERE TO REVIEW US ON WHICHEVER PLATFORM SUITS
And as always, thank you for choosing [your brand or company name].
Cheers,
Lead Hair Technician, Sally
This subject line is straight to the point - we've left some square brackets around interchangeable words.
Remember to personalise it for yourself. And, if they work for your brands, emojis and images in your review email won't go a miss.
When to request reviews
This is key. You should send a review request only when it's relevant, and only when a customer has received or had time to use your product. This will vary from business to business, for example, a restaurant could send a review request a couple of hours later whereas a lawnmower company might want to wait a week or two. Investigate your customer base to know when.
Some times to email would be:
When a customer orders a product again
If a customer mentions your brand on their social media account
After a purchase
After receiving a referral
You want to proud of your review collection but to do that, you need to be proactive with asking for positive feedback. As a local business, setting aside time to reach out to your customers is vital.
Where do you want your reviews?
Where you want your reviews is all about where your business is listed. Make sure you list on relevant review sites such as:
Google (Google reviews can also improve your local SEO)
Yelp
Tripadvisor
OpenTable
The Yellow Pages
One thing when it comes to your review requests is your customers need to have an account on one of these platforms to review you. Some will be nice and set up an account, but others will think ugh, I haven't got time for that!
That's where Cloutly comes in. Not only do our review campaigns use a smart-step messaging system to elegantly engage your customers across SMS and email, maximising your chances of scoring a review, but your customers can set up a Cloutly account to review you without creating an account. It's a sure-fire way to get a positive review from your customer without taking up too much of their time.
Cloutly's smart technology will recognise if a customer has already reviewed you and it will let you know, meaning you won't then bombard them with emails.
Use our free QR code generator and put it in your physical business space to score even more reviews!
---