Managing your reputation sounds complex. It can mean representing your business as ethical, welcoming, diverse and fun or it can mean boosting your marketing and ensuring it's positive.
Your brand's online reputation can be defined by your reviews. Your customer relationships and review collection are what will have potential customers deciding whether to trust your business or not. But, sometimes the hardest part is asking for a review.
As many businesses are online, we need reviews from previous customers to know what's good, and what's not. And although it may feel like there are unlimited review sites for your business listings, there are reputation management tools to help you:
Show off your reviews
Streamline your review requests (with campaigns that will actually convert customers into reviewers)
Get more reviews
Receive notifications when a new review shows up on a review site
Boost the credibility of your online reputation (with social proof)
We'll talk you through what a reputation management tool does, and the top best reputation and review management platforms.
#1 - Cloutly - best for getting reviews
Cloutly brings to the table something sorely lacking in the reviews and reputations space: humanity! Unlike other review platforms we've tried that simply blast out generic SMS messages (that get ignored by customers), Cloutly's unique review campaigns allow you to segment review messaging based on the customer experience, plus add video from the business as an extra personal touch.
Sending a review campaign to your bookkeeping clients? Add a video from the bookkeeper!

Sending a campaign out to your wealth management clients? Add a video from the advisory team!
Cloutly is the most personalised (and most powerful) way to get reviews from your customers, without spamming them with generic review requests.
Unlike other review platforms, Despite being a newcomer, no stone has been left unturned when it comes to appealing to your customers, generating more 5-star reviews and response management.
You can:
Drive 3x more reviews with campaigns of up to 4 messages
Use video to stand out in your customer's inbox
Uncover your biggest customer advocates
Use review widgets
Automate review campaigns with CRM integrations
Get your very own microsite, so leads can find you, see your reviews and call you
There are 3 pricing options, depending on how many locations your business has and how many customers you'll ask for reviews each month.
Cloutly starts at $29 per month, with no lock-in contracts, so it's especially friendly for smaller businesses.
With a free trial, it's a no brainer. Maximise customer satisfaction, show up higher in search engines, build your reputation and turn more browsers into buyers.

#2 Podium - best for collecting payments
Podium is a recognisable online reputation management software. It helps larger organisations:
Manage reviews
Generate leads
Communicate with customers
Collect payments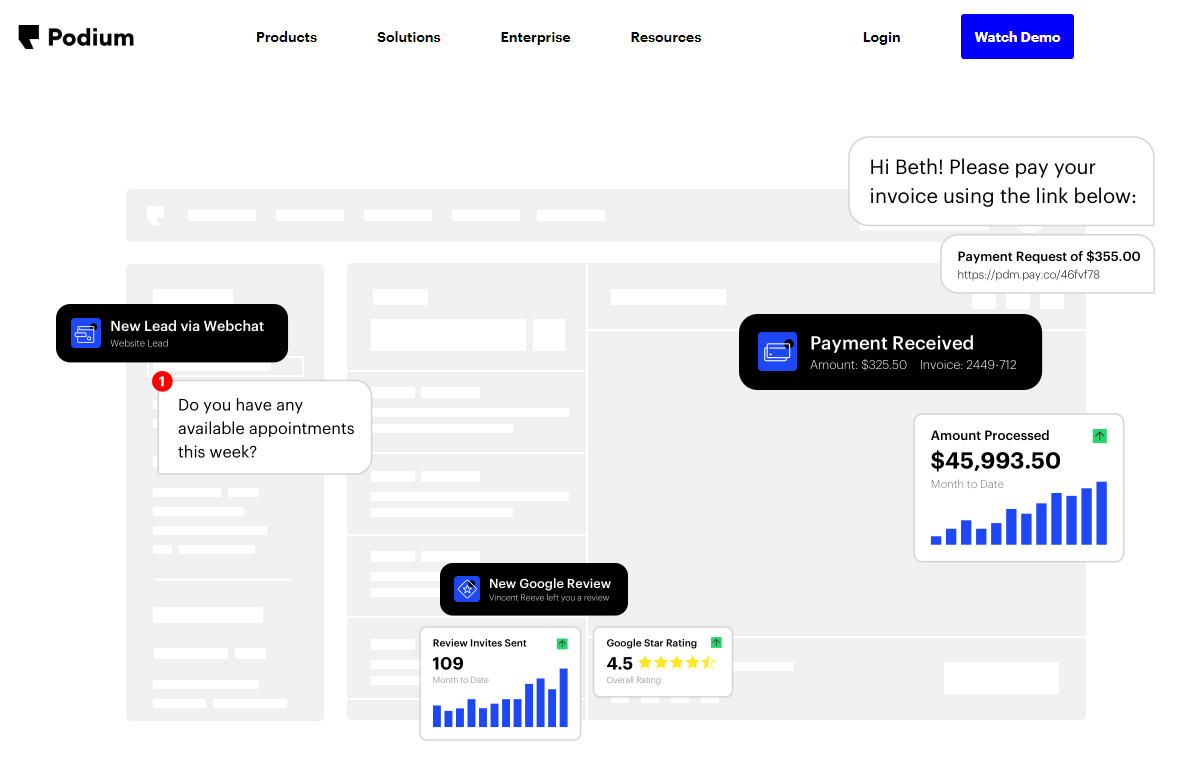 The payment feature is what is highly desired with this reputation management software - especially as it means you can have an all-encompassing tool. Its payment processing means you don't need to invest in another payment software.
Podium is a great app, but with enterprise pricing starting at USD$289 per month, per location, it's not very friendly for small businesses. There's also a $449 set-up fee for new users.
Depending on which region you're in, Podium can also be quite discrete with pricing. For example, you won't find pricing stipulated on the Australian website. Instead, you're asked to jump onto a sales call which can be a bit off-putting.
If you're spending upwards of USD$289 a month on Podium, your budgets for other areas of your business such as hiring, expanding and marketing might be affected.
Weigh up what you can afford to spend money on, without impacting other vital aspects of your business as this will effectively affect the quality of those reviews. The general feedback is that it's extremely expensive but the payment processing keeps customers on board.
If you're solely looking for review management and reputation management software, then there are much more affordable options.
#3 Birdeye - best for large enterprises
Birdeye is a Podium competitor that helps larger businesses manage their online reputation. With Birdeye, you can:
Ask customers to review you with once-off invites
See and respond to customer surveys and reviews
Check your listing information uniformity across sites like Foursquare, Yelp etc
Handle support tickets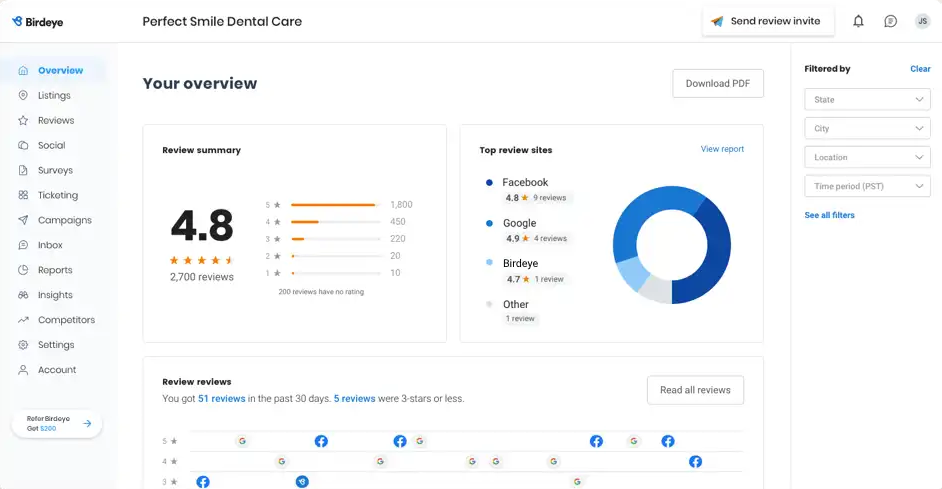 Reputation management software helps you stand out against your competitors. Showing up on local search engines, upping your social proof on your social media accounts and embedding real customer feedback on your website.
Birdeye lets you see all of your reviews from Google, Facebook and many other review sites all in the one workspace. It also allows you to respond quickly and efficiently. The main downside is its pricing, though. While Birdeye has lots of great features, at $399/mo per location, their plans are extremely expensive, hurting the hip pocket of everyday small businesses.
#4 NiceJob - best for home services
NiceJob is a Canadian-based review management platform that primarily helps home services businesses (like power washers) get reviews.
With NiceJob, you can:
Ask customers for reviews
See and respond to feedback from Google and Facebook
Create a microsite for your business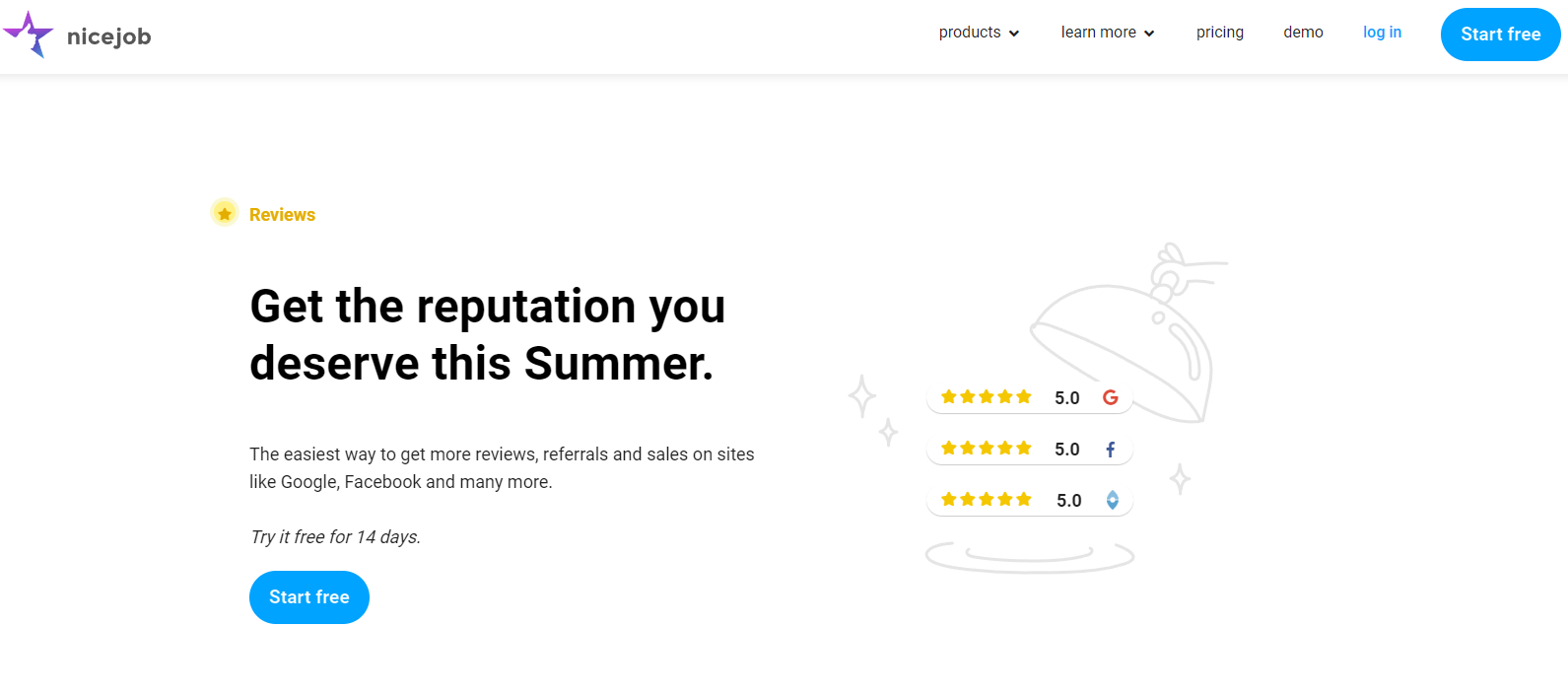 NiceJob's pricing is more competitive than others on this list, starting at $75 per month.
They don't however, integrate with as many review sites as Cloutly or Podium, though. This means you can miss out on some valuable reviews!
#5 Trustpilot - best for getting started, free
Founded in 2007, Trustpilot's aim was to create a platform that heralded complete transparency for businesses and consumers. It's a review platform that helps consumers make great choices and encourages businesses to improve and learn from its feedback.
As a third-party review site, you can use it to:
Collect reviews
Display reviews
Improve conversions with social proof
It's easily recognised as many businesses already embed their positive reviews from Trustpilot on their website. There's a free version available, but if you want to use Trustpilot actively, plans start at $149 per month.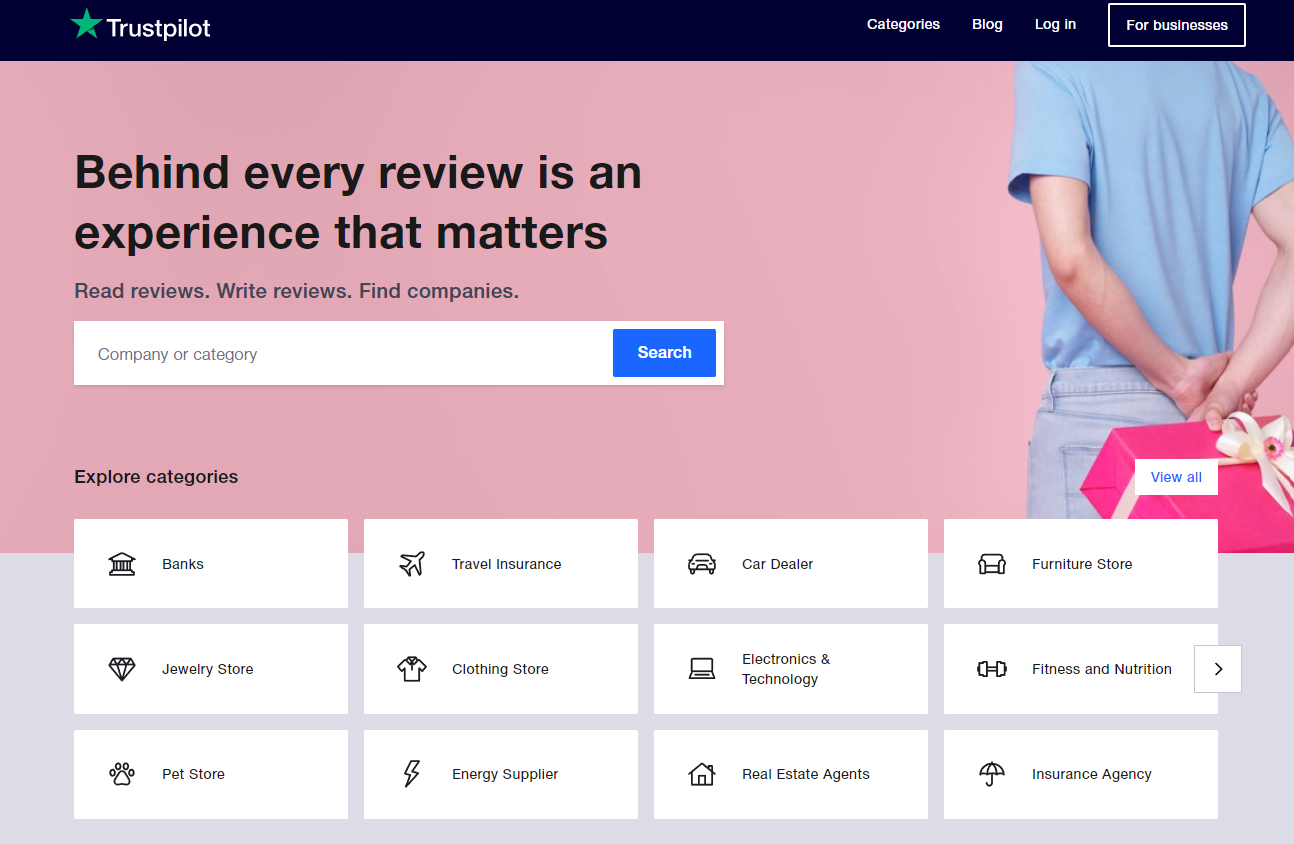 Trustpilot users do often talk about having trouble reconciling fake reviews, and feel like Trustpilot's communication is consistently poor. Trustpilot customers are quick to point out that, as a big business, when there's a problem, they're often handed off to different customer support agents or teams, and feel like they're not listened to.
What can reviews do for your business and its reputation?
Positive reviews on review sites can boost your:
Revenue
Leads
Credibility
Influence
It can also save your business time and money on other forms of marketing. Social proof is one of the most effective ways to transform a potential customer into a long-standing consumer.
There's also a place for negative reviews (you can't always be perfect). With negative reviews, you can:
Learn how to improve your product or service
Gain insight into how your business operates and how it is received by the public
Speak directly to your customer
Resolve an issue quickly
That's why you need the best reputation management software to manage your online reviews which, in turn, manages your online reputation.
Review generation can be a fiddly and time-consuming task without tech. As most companies use a CRM, you will want your review management software to integrate with your current system to save you any more hassle.
Where should I get my reviews from?
Many people prioritise Facebook and Google reviews, as they're the most recognisable platforms. Most people have a Google or Facebook account, and it makes it easy for your customer to review you there.
Google reviews also help you boost your SEO as Google Maps shows up on the first page of the search engine. The more 5-star reviews you have, the more chances you'll have of being listed as number one. Better visibility means better revenue.
Dependent on what industry you're in, you'll want to set up a business listing on most review sites. For example, if you're in the hospitality industry, Tripadvisor or OpenTable are great ones to list on. There are plenty to consider:
Google
Facebook
Amazon
Booking.com
Capterra
Hotels.com
Indeed
SoftwareAdvice
Zomato
And many more.
This is another thing to consider when selecting your review management software - which review sites does it integrate with?
Customer relationship management - can these tools help?
CRMs are pretty important, especially if you have many customers and many employees. It helps you track engagement but it doesn't help you get reviews through review requests.
You can use your CRM to generate reports, provide customer insights and monitor customer reviews but not to request them in engaging campaigns. You also can't use your CRM to host your reviews. That's why a CRM is best used in conjunction with top reputation management software or review management software.
Social media monitoring - does this fall under review management?
Social media monitoring across a business's social media platforms is a key feature of the best reputation management software.
Review sites such as Facebook are great places for review monitoring, especially as many people have social media accounts. With your reputation management software, you'll want to get a notification each time a review pops up - even on your social media accounts.
Make sure you choose a tool that has this feature - Facebook has a big pull in the world of reviews, and it's not even really known as a review site!
Review management software - what's available?
Reputation management software and review management software save you the hassle of time and work to increase your reviews. There are many options to choose from.
The key features you should be looking for are:
Does it integrate with your existing CRM?
How much does it cost?
Does it generate more reviews?
Does it help with my review responses?
Can I send out campaigns? How many?
Is it easy to use?
Review management software helps you focus on responding to your reviews and existing customers - it handles the entire process from start to finish. But to find a reputation management solution that works for you, you have to figure out your budget and how much you want to invest in your review management.
Wrapping up
Is review management and reputation management important to your business? Chances are, yes. So now you need to figure out exactly what you want and need from your software, and define your budget.
When it comes to your online reputation and online review management, you'll want an easy-to-use reputation management software that doesn't burn a hole in your pocket.
Customers love Cloutly for its personalised approach - our video campaign requests and customer video testimonials. Boring review requests are a thing of the past.
Our own reviews speak for themselves, and yours can too.