Our customers often compare us to NiceJob, and that's a compliment! NiceJob, much like Cloutly, is a review management platform that helps businesses - like yours - drive more customer reviews (without the awkwardness of asking, or the headache of following up) using text messages and email campaigns.

That's not speculation: the proof is in the pudding. When you use a platform like NiceJob or Cloutly, you get more reviews. And when you get more reviews, you win more business. It's the smartest thing!

So why are we saying nice things about NiceJob, you might wonder? Aren't we competitors? Well, yes, technically. But being competitors doesn't proclude us from acknowledging each other's good work and happy customers. If you're like me, you often read these 'comparison' pages and find them incredibly one-sided. Usually, whoever publishes the article has an interest in making the other company look bad.

That's not our angle. We - much like NiceJob - believe in creating a fair and reliable trust economy, where you're given the authentic truth about which companies provide great products, great services and great experiences. So with that in mind, let's take a look at NiceJob and try to answer a few of your burning questions about their review management platform.
What is NiceJob?
NiceJob is a Canadian review management platform (based in Vancouver), founded by Lars Kristensen in 2016. Their platform (like Cloutly) helps businesses improve their online reputation by systemising and automating the collection of customer reviews.

You can also see, respond to and share your reviews from multiple social media review sites. And PS: if you're worried about negative reviews, we wrote a guide on how to respond to them (and why they're not so scary).
How does NiceJob help you collect reviews?
Inside your NiceJob account, you can 'enrol' people into review campaigns, where their phone number and/or email address are used to send out review invitations, asking the customer to review your business. NiceJob do a... nice job... of this, giving you full control of the campaign messaging. Thumbs up!
Cloutly has a similar campaigns system, allowing you to customise a multi-step sequence of messages (with review reminders) that are sent out via SMS and email, with the click of a button. Using Cloutly, you can create as many, different campaigns as you want, and add your contacts into them directly to score more online reviews (which turn into evergreen referrals).

If you have multiple products or service verticals in your business that provide a different customer experience - for example, a pool and spa retailer who sells products in-store, but who also provides an in-home pool service - then having multiple campaigns is essential for personalising your review invites to the customer experience. Having someone come to your home to clean your pool is a totally different experience to buying something in a retail store, and as a business, your messaging to the customer should reflect their specific experience.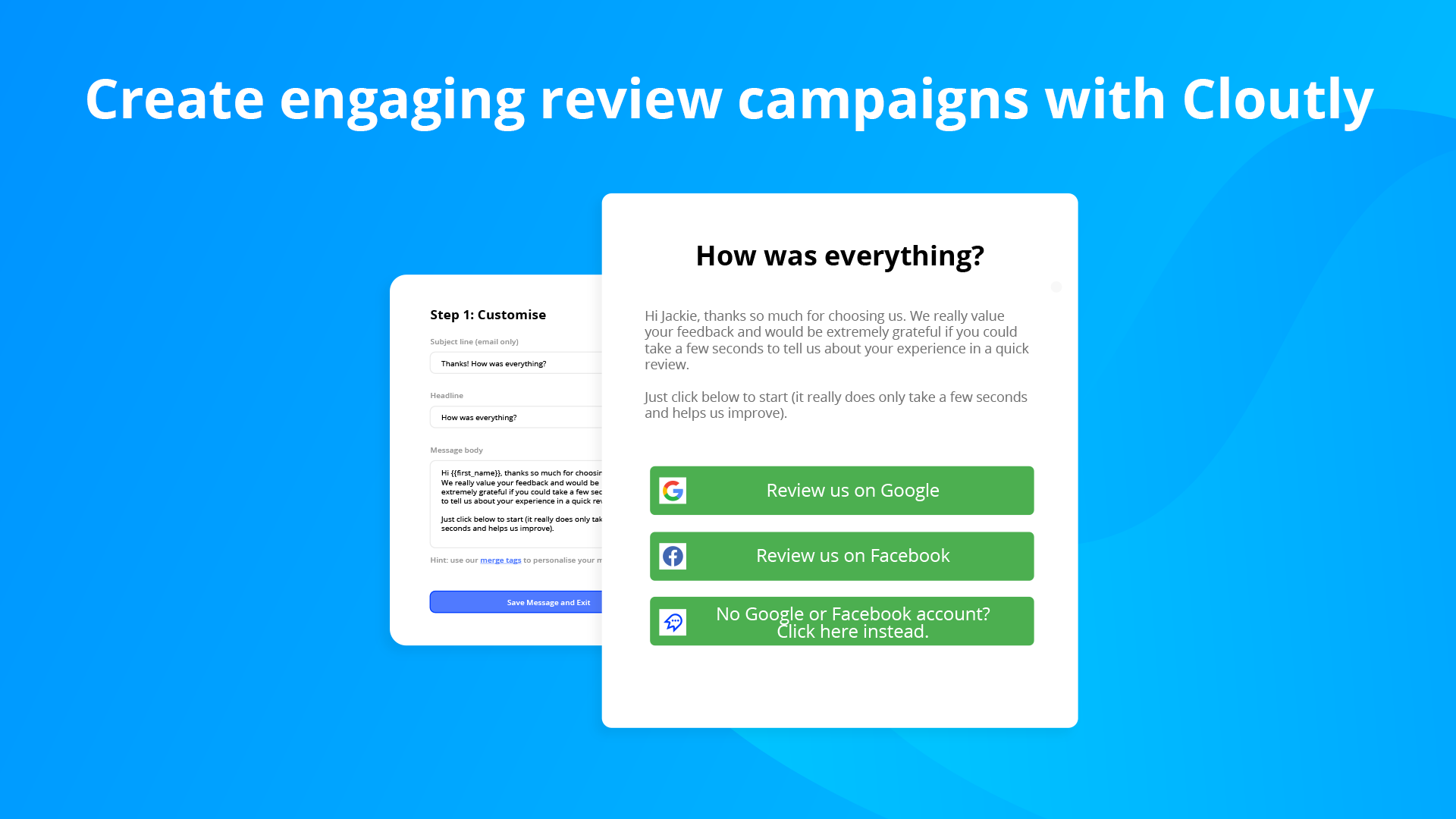 What businesses will benefit from NiceJob?
NiceJob has carved out a niche for itself in the pressure washing and home services category. If you own a pressure washing business in Canada (or you're a salesperson working for one), you've very likely heard of NiceJob, and honestly, they're a fantastic choice for you. In fact, if this is you, we'd heartily recommend giving NiceJob your consideration, because they do great work in this space and have plenty of positive customer stories.

If you're not in the pressure washing business and you'd like to score more customer reviews, the 'decision' of which platform to choose might come down to the following factors:
Price (how much does it cost per month?)
Support and success (am I just a number, or will I get excellent customer service?)
Review sites (can I see and get reviews on sites relevant to my industry?)
Well, let's answer a couple of those questions now.
How much does NiceJob cost?
NiceJob: starts at $75 per location, per month.
Cloutly: starts at $29 per location, per month.
What review sites does NiceJob work with?
NiceJob (at the time of writing) integrate with 12 of the major review sites. Here's how they compare to Cloutly:
| Review Site | NiceJob | Cloutly |
| --- | --- | --- |
| AirBnB | ✖️ | ✅ |
| Amazon Web (US) | ✖️ | ✅ |
| Apple AppStore | ✖️ | ✅ |
| Better Business Bureau | ✅ | ✅ |
| Booking.com | ✖️ | ✅ |
| Capterra | ✅ | ✅ |
| CitySearch | ✅ | ✅ |
| DealerRater | ✖️ | ✅ |
| Facebook | ✅ | ✅ |
| Foursquare | ✖️ | ✅ |
| G2 Crowd | ✅ | ✅ |
| Glassdoor | ✖️ | ✅ |
| Google My Business | ✅ | ✅ |
| Google Play Store | ✖️ | ✅ |
| HomeAdvisor | ✅ | ✅ |
| Homestars | ✅ | ✅ |
| Hotels.com | ✖️ | ✅ |
| Houzz | ✖️ | ✅ |
| OpenRice | ✖️ | ✅ |
| OpenTable | ✖️ | ✅ |
| Product Hunt | ✖️ | ✅ |
| ProductReview.com.au | ✖️ | ✅ |
| RateMDs | ✖️ | ✅ |
| Sitejabber | ✖️ | ✅ |
| SoftwareAdvice | ✖️ | ✅ |
| TripAdvisor | ✅ | ✅ |
| TrustPilot | ✖️ | ✅ |
| Yelp* | ✅ | ✖️ |
| Yellow Pages | ✅ | ✅ |
| Zillow | ✅ | ✅ |
| ZocDoc | ✖️ | ✅ |
*We've marked Yelp with an asterisk, because Cloutly does allow you to montior Yelp reviews, however asking for reviews on Yelp is actually a breach of their terms of service, and will get your account banned. We don't recommend you do this.
Final thoughts
Even though we offer a similar review platform to NiceJob, we love their story, their team and their approach. After all, we're both in this to help small businesses win and grow their online presence. If you run a small business yourself, and you could choose any reviews platform except Cloutly to do business with, we'd refer you to NiceJob.
Are some businesses more suited to Cloutly? Absolutely. While NiceJob are geared toward providing a stellar product for home services businesses in Canada, Cloutly is a more expansive, more afforable and more flexible reviews platform that excels in helping these types of businesses drive more customer reviews:
Medical and allied health
Dealerships
Hotels, accomodation and tourist operators
Cleaning businesses
Trades (electricians, plumbers etc)
Multi-location retailers
Gyms and fitness centres
Real estate agents (and property managers)
SaaS companies
and more...
Cloutly is the easiest way to systematically drive new customer reviews on the sites that matter most (like Google, Facebook, TripAdvisor and TrustPilot) straight from your point of sale, CRM or mobile device. By scoring more reviews, you'll improve your search engine rankings (SEO ranking) in Google, increase your average star rating, start building trust with customers and win new business.

You can try Cloutly free for 14 days here.