Review gating has been a point of contention for years amongst marketers, small businesses and review platforms like Google, Yelp and TripAdvisor. With more people than ever looking to online reviews as a source of consumer truth before making a buying decision, the integrity of those reviews is important.
Buying 'fake' reviews on Google or other sites is nothing new. It's an old-school black-hat tactic that was (and still is) used by businesses who wanted to get an artificial 'leg-up' on their competition. Review gating isn't that nefarious, however it does bring about some controversy. Google, Yelp, TripAdvisor and others regularly update their review content guidelines, and have in the last couple of years, enforced a stronger stance on review gating, warning businesses not to selectively gate reviews.
They say: "Either invite all of your customers to review you, or none of them".
What is review gating?
While review gating isn't as dubious as fake reviews, some still consider it unethical and bad practice. But is that fair?
Review gating refers to the process of selectively soliciting reviews from 'good' reviewers only. Think of it like a door guard at a nightclub, only letting the attractive people come inside.
With a review gate in place, customers are filtered through different channels depending on the rating they've given you (or the experience they've had). For example, if your customer has a positive experience and rates you 5 stars, the review gate will prompt them to write a review for you. Conversely, if your customer has a negative experience and rates you 1 star, the review gate would instead not ask the customer for a review, and would instead collect feedback from them privately. As a result, only the most favourable reviews tend to appear online, while the bad ones aren't explicitly given the same opportunity.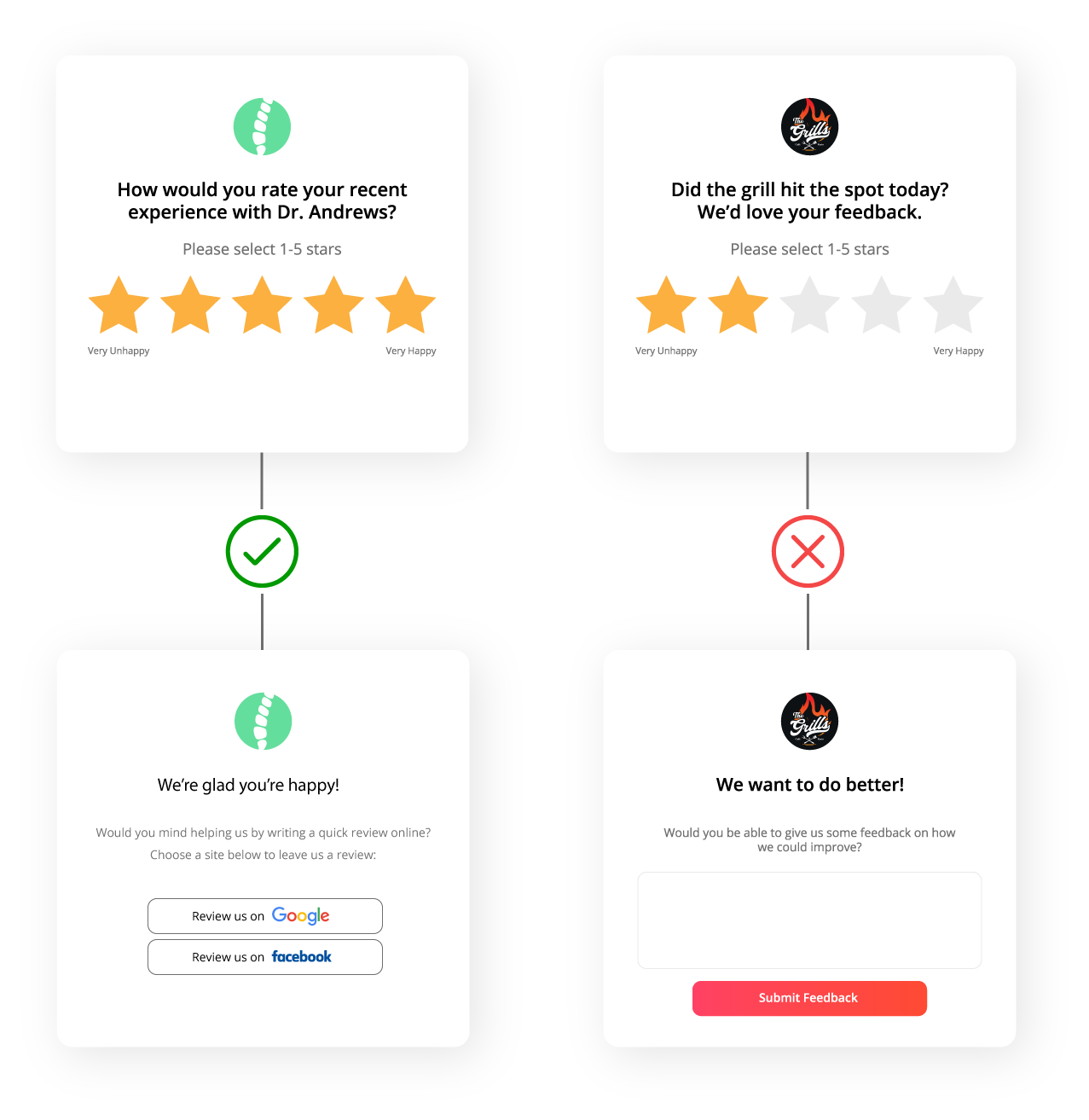 It's worth noting, review gating isn't just something that happens inside review software. It happens all the time in the real world; particularly in service-based businesses too.

Take this real-world interaction, for example:

CLEANER: "Were you happy with how the carpets came up after our clean?"

CUSTOMER: "Yes, they're fantastic!"

CLEANER: "Then we'd love if you could leave us a review on Google."
See that? Google would potentially view this as review gating, since the cleaner only asked for the review predicated on the customer's happy experience. It's murky, I know. Instead of trying to navigate the hazardous waters yourself, we wrote a guide on how to get more Google reviews here.
Why is review gating bad?
Review gating has been a controversial concept for many years, and people tend to take one of two sides:
For: Review gating saves small businesses from unfair negative reviews, and allows businesses to make reparations with unhappy customers, before any dirty laundry is aired online. It's like settling outside of court, rather than going to trial.
Against: Review gating artificially boosts reviews and ratings, creating a synthetic market where it's impossible to truly determine whether or not a business is trustworthy.
The reality: For most businesses, review gating has very little real-world impact on average online ratings.
How does Google detect review gating?
Google's user content policy explicitly states that businesses should not discourage or prohibit negative reviews, or selectively solicit positive reviews from customers. There are two primary ways review gating can be detected:
Review gating may be detected by Google's algorithm. It's not clear 'how' exactly, however, it's safe to assume that consistent streams of suspicious, 5-star only reviews would be a red flag.
Reviews may be reported by other users. Anyone can report a review to Google for investigation, and although it's unlikely, manual flagging of your reviews from multiple users could turn some heads towards your activity.
What is Yelp's policy for review gating?
Yelp doesn't mess around. They've been extremely clear in their messaging that review gating, and even asking for reviews on their platform is a big no-no. In their words, Yelp is "designed to highlight reviews from people who want to share their genuine experiences - without being asked or tempted".
Yes, you read that right. Without being asked or tempted. Yelp doesn't agree that collecting reviews proactively (positive or negative) is a good idea, at all.
Yelp's policy outlines things to consider when it comes to soliciting reviews:
Don't ask anyone to review your business. Not customers, subscribers, friends, or family. No-one.
Don't ask staff to collect (or compete for) reviews.
Don't ask for reviews after requesting customer feedback in other places like surveys or contact forms.
Don't offer freebies, discounts, or payment in exchange for reviews.
Yelp wants to ensure an unblemished trust economy, where reviews are a genuine reflection of exceptional customer experiences - good or bad. While their intentions are good and some of these points - like not offering review incentives - do play a part in sustaining an honest, unbiased trust economy, these rules also mean that the only customers who will review your business on Yelp, are those customers who are aware of Yelp, have an account, and seek your business out on the platform to review you.  
Some argue that this is exclusionary in itself, whereby segments of customers who aren't active "Yelpers" aren't represented.
For example, "Karen" might have a bad experience at your cafe and also be active on Yelp, whereas Robin, Joanna and Eric - who are regular customers and often have good experiences - are not active on Yelp. On the cafe's Yelp listing, their views are not represented, only Karen's is. Is this truly a fair representation of the business?
What are the risks of review gating?
If you choose to use review gating to collect reviews on a site that prohibits the use of a review gate, you run the risk of having your reviews removed or your account restricted in some other way. Is it worth it? Probably not. As we alluded to before in an analysis conducted by GatherUp/SearchEngineLand, the benefits of review gating at scale are minimal (and may even be counter-intuitive).

The image below compares an aggregate data set of businesses using a review gate (left) and after removing it (right). As you can see, once the review gate was removed, these businesses generated close to a 70% increase in review volume, at the expense of 0.1 stars.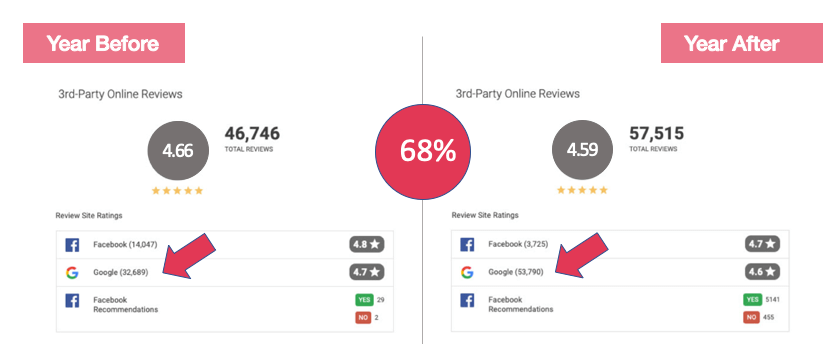 Why are negative reviews good?
Ultimately, an authentic trust economy is best for everyone. When you search for a restaurant to dine at, an accountant to file your returns or a plumber to fix a leak, you want to ensure their reviews are a genuine representation of their business - and this means seeing the good with the bad.
Bad reviews aren't always bad for business. In fact, if you think about your own browsing behaviour, you might find that you actually seek out negative reviews first.
Why is that?
According to Spiegel Research Center's 2018 Power Reviews study which surveyed and analysed 1,041 American consumers, negative reviews establish trust. In fact, according to the research, 85% of shoppers actively sought out negative reviews to make informed buying decisions based on authenticity and transparency. They found that purchase probability is at its highest when a product/business's average rating is between 4.2 and 4.5 stars, and that a perfect 5-star rating is perceived as "too good to be true".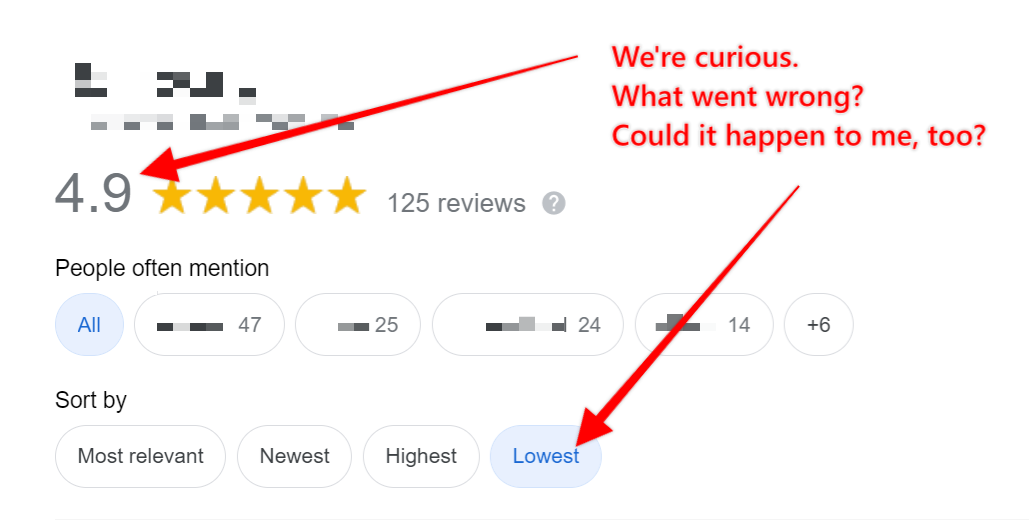 Many prospective customers will look at the way you handle and respond to negative feedback when determining whether or not to do business with you.
When you get a negative review, your response isn't just for the benefit of the reviewer, but for the benefit of the next 5000 people who come across it (even on Maps).
We wrote an article on negative reviews, how you should handle them, and how to get them removed which you can read here.
Which review sites prohibit review gating?
To help you make an informed decision about review gating and its risks, we've put together a compliance table below for a number of popular review sites (as of July, 2021).
| Review Site | Review Gating Stance | Policy/Guidelines |
| --- | --- | --- |
| Google | Prohibited | Link |
| Yelp | Prohibited | Link |
| Facebook | No Explicit Stance | |
| ProductReview | No Explicit Stance | |
| TrustPilot | Prohibited | Link |
| TripAdvisor | Prohibited | Link |
How to drive authentic customer reviews
Yelp excluded, proactively asking your customers to review you online is one of the most effective growth levers you can pull in your business. In the trust economy, you shouldn't leave your reputation to chance, or at the mercy and whim of infrequent, unhappy customers alone. Get all your customers singing your praises!
Using a tool like Cloutly, you can drive new reviews from all your customers and improve your rating, ranking and visibility on review sites like Google, TrustPilot and TripAdvisor.
Try Cloutly free for 14 days and start getting more reviews, in less time.