Tripadvisor: #1 way to respond to reviews (foolproof guide)
Quick! 'Tripadvisor respond to reviews' cheat guide can help you win more 5-star guests.
Table of Contents
If you're listed on Tripadvisor, you will be able to see how much your reviews impact other travellers' decisions.
You don't just want to leave your reviews unanswered, though. That's rude! You can actually use your review response as a way to further inform potential guests of your facility, whilst defining your brand. The way you communicate speaks volumes.
As a business owner, it's important that you respond to Tripadvisor reviews regularly. To the good and the bad.
How do you respond?
It doesn't have to be a time consuming task, although if you're getting reviews from other review sites, you might want to streamline your review management with a tool like Cloutly.
You can get a notification with each new review, and respond in minutes!
But, for Tripadvisor you can also:
Head to your company's profile (make sure you've claimed your Tripadvisor listing)
Log in to your account
At the top of the page, click on Reviews
From the drop down menu, choose Review Response
Choose the review you'd like to respond to, making sure you write your display name and role
A white text box will appear where you can write your review response
Tripadvisor review responses will take up to 48-hours to show and they need to meet their guidelines.
What should your responses look like?
Your responses shouldn't be essays, unless you really need to justify something for a negative review. Keep it short and sweet.
Your hotel's online reputation can be managed, to a degree, with your Tripadvisor responses but mixed reviews calls for personalised responses. People will see through generic responses which could be copied and pasted.
Tripadvisor's guidelines for responses are as follows:
Original responses - make sure you're not plagiarising. A personal tone goes a long way.
Relevance - is your response actually relevant to the review?
Non-promotional - you can't use your review response to advertise anything
Non-confidential - don't reveal any personal information about your guests or yourself
Well-written - make sure they're well written so prospective guests can actually understand it
Tripadvisor wants your response, for all your reviews, to be professional and courteous. It isn't a platform to attack or be defensive - this also won't attract any future guests.
Make sure your management response is a thoughtful response, even to your bad Tripadvisor reviews. You need to be the bigger person and focus on improving the guest experience all-round.
Another thing to remember is to take time with your initial response; you don't want to leave the review unanswered for too long, but if it is a negative review, you should take care with how you address it.
We get that it's your business under fire, but nothing will impact other guests more than a frantic management response.
Who should write your review responses?
If you run a smaller business in the travel industry, it might be more effective for the business owner to write the response to the guest reviews. As a business owner embodies the brand in many ways, the fault or the applause effectively lies with them.
Although, if a review specifically compliments your hotel receptionist or the driver of a tour, it would be great if this person could handle the review response. Positive comments go a long way for morale, so make sure your team knows about all of your glowing reviews and let them write the Tripadvisor response where relevant.
If you need to respond to Tripadvisor reviews, you will have a different approach for the negative reviews and the positive feedback. The best way to show this is through real life examples - see below!
Responding to positive reviews
Your professional response to positive feedback should always be courteous and thankful. But not overly thankful...that can seem a bit much.
As you've already made a positive impression on your guests, your general manager or other company representative can write a personalised responses.
Your positive review response should be:
Cordial and gracious - always thank the reviewer for taking the time to leave guest feedback and for their kind words.
Short and sweet - you don't need to leave an essay if it's a positive review. A concise response is all that's needed.
Personalised - mention their name (not their full name, though) to add that personal touch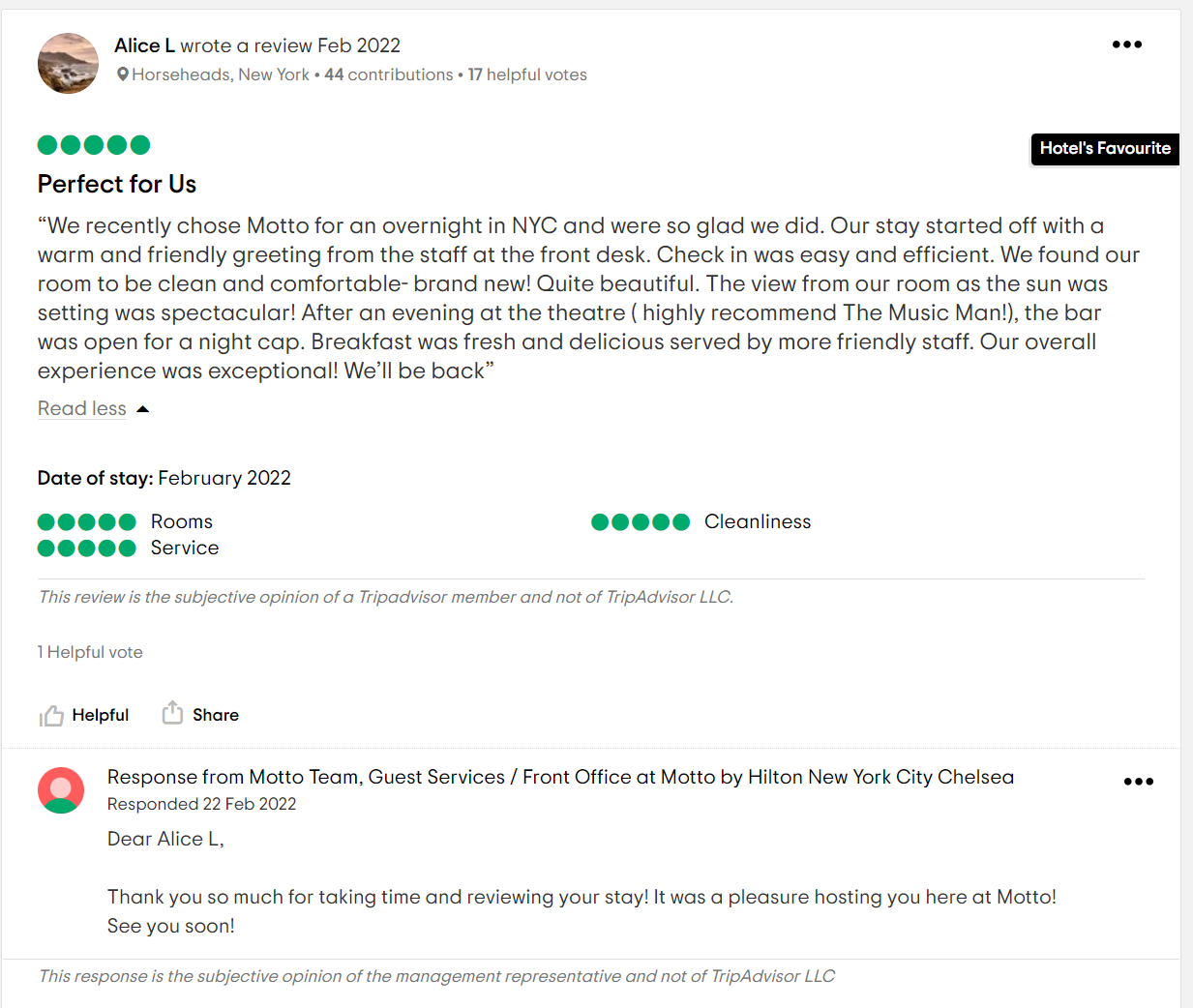 Responding to negative reviews
Of course, responding to online reviews which are positive might sound like an easier task, but if you're systematic with your negative reviews and their responses - you'll be a pro in no time!
Your hotel management response to negative feedback should be as follows:
Show appreciation - thank the reviewer for taking the time to provide constructive criticism. Let them know that you will implement changes accordingly to fix the issues raised
Apologise - even if you feel that this reviewer is in the wrong, apologise to them and express empathy that they didn't have the best time with you
Take your time - once you've seen the review, see if you can corroborate their complaints and reply accordingly in a calm manner
Be a problem-solver - if you can solve the problem by offering a discount
Take the issue offline - speaking to your customer directly, out of an open forum, will not only help to improve your reputation, but it means you can hope to rectify the complaint more quickly
If you can solve an issue through responding, then the user might even edit their original review.
Wrapping up
Bad Tripadvisor reviews don't have to get you down once you've mastered your review responses.
Negative reviews and positive feedback are vital for your business in the hospitality industry but it can be hard to keep track of them. You'll need to use a tool like Cloutly to:
Get notifications when a review comes in (from most review sites - not just Tripadvisor)
Host them all in one place
Get your own landing page (and save money on building a website)
Send review requests (to get more 5-star reviews than ever) in personalised formats such as video, email or text
Managing your reputation doesn't need to be a headache. Join Cloutly free today!

---