Funniest Yelp reviews (5 best ones)
All business owners need a chuckle, even if it's at their expense. Read the funniest Yelp reviews we've seen and don't despair if you've received worse.
Table of Contents
Yelp might be more than a decade old, but customers still visit the site to choose a business to use.
Most Yelp reviews are straightforward and formal. However, we still have Yelp users out there who are practising their wit - or are unintentionally hilarious.
If it's positive humour,  then it's good for your reputation. But, some negative reviews are so hilariously bad that they could undo your entire reputation in a couple of days. You might want to master your review responses for these ones.
These Yelp reviews might offer a good laugh, but they can provide constructive feedback for your business. And, customers will almost always look at your  reviews before visiting you.
If they find sarcastic narrations of bad experiences about your business, they will most likely not visit. On the other hand, if they find love poems about your great product or services, they will want to try your brand out.
There's a way to respond to even the worse Yelp reviews, but you might want to let yourself have a laugh first.
When you can't delete your Yelp reviews, you might want to laugh instead. Behold, here are some of the funniest Yelp reviews.
1) Does McDonald's even need reviews?
McDonald's is an established business, globally. It doesn't really need reviews, but that hasn't stopped people complaining or singing their praises.
This reviewer is proud of McDonald's? For seemingly plaguing this earth with unhealthy food - it made us laugh!

It's a 5-star review and it's got major Star Wars vibes - although the subtext is about the nutritional value of the food, it still manages to paint the business in a good light.
2) The 'Honest Plumber' might want to consider a name change
Sometimes, when you have so many bad reviews, you need to shake up your business. You're clearly doing something wrong.
This reviewer had a bone to pick with this plumbing business - and their name was the major talking point!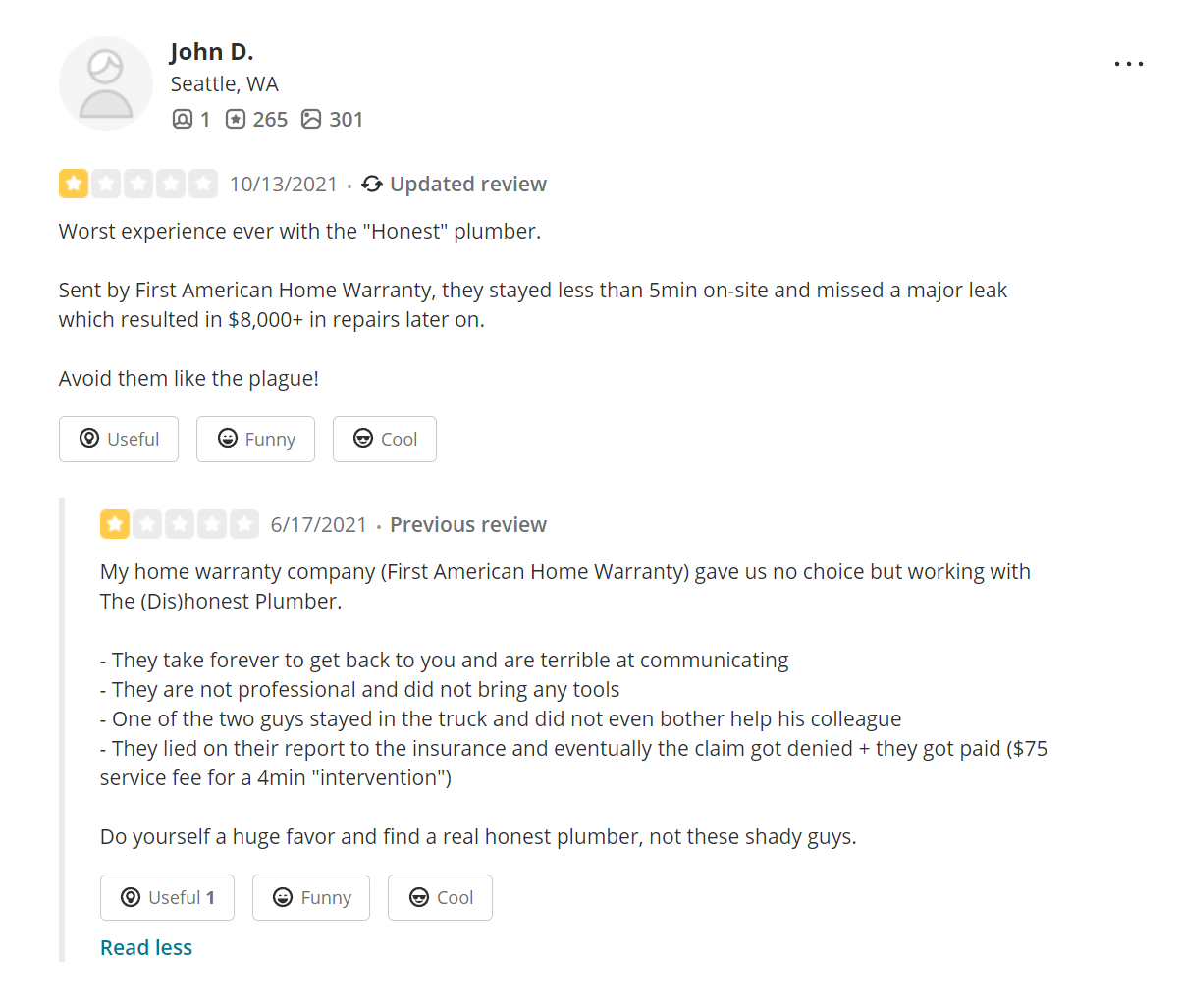 "Worst experience ever" says it all really. No one wants that as a review, and there's not really a way out of this except a massive apology.
So after this reviewer suggested a name change to The (Dis)honest Plumber, it's likely that many people who see this review will be turning the other way.
3) Taco-bout disappointing
Mmm, Mexican food. Ewwww...this Mexican food.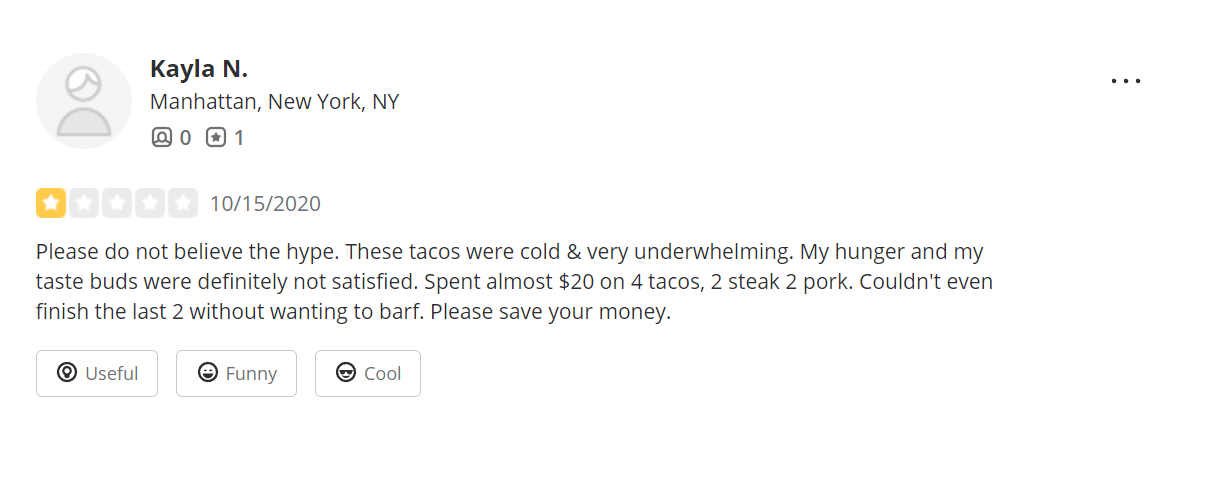 If food that you've paid for makes you want "to barf", potential customers seeing this review will avoid at all costs.
4) Restrooms - should we really be praising them for being clean?!
As with all public spaces, they can get dirty. It can be gross.
We want to expect that if you're stopping for fuel, maybe grabbing a snack and using the bathroom on a long road trip, you're not going to be greeted with a feral sight.
Now, while we know that's not always the case - is it really necessary to congratulate a business on their bathroom cleanliness? Turns out, yes!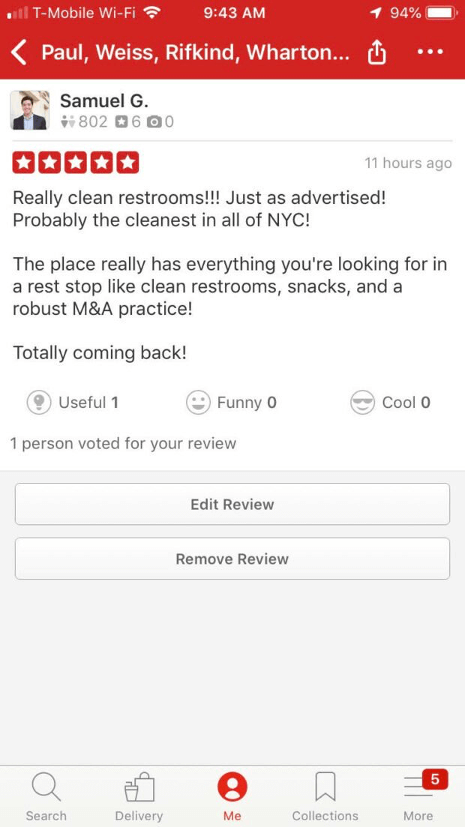 We're glad they were clean - and we bet other customers will be too.
5) Teeth pulled out - like a boss!
A trip to the dentist is never one that you'll take skipping. It can be painful and expensive but with a review like this one, you might be intrigued about your visit.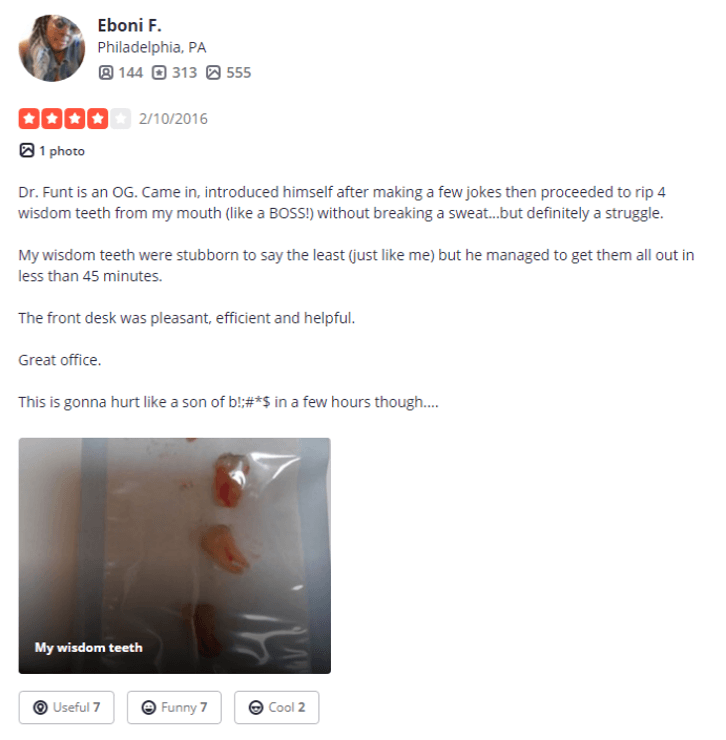 This reviewer seemed to have a whale of a time - maybe the pain meds were still in action when he wrote this review. They have also shared a photo of their wisdom teeth. Thanks, I guess?
All in all, this review might make a trip to Dr Funt less daunting so it's definitely good for business.
Stay on top of your reputation with automated review management
You can't always stop the bad Yelp reviews. But you can try to make amends when these reviews crop up. Fortunately, an automated review platform makes it easy to stay on top of your reputation on review sites.
A platform like Cloutly sends you review notifications immediately, so you can respond or make amends after negative reviews.
Cloutly also makes it easy to run a review request campaign through emails and SMS in a fun video format - goodbye, boring old review requests.
In addition, you can host all your reviews across platforms like Yelp, Facebook, Google, and Tripadvisor in one central dashboard for easier management.
Try out Cloutly today, and start simplifying your business's review management on different review sites.
---