Asking for online reviews can feel like a drag (especially Google reviews, right?) Finding ways to make "the ask" feel organic and natural is often the trickiest part. That's why we've compiled our top 5 clever ways to ask for reviews in this article!
When it comes to customer relationships and collecting more reviews, you don't want to come on too strong, spam your customers and end up attracting negative reviews instead. But you also don't want to be forgotten. Asking for feedback on the review sites your customers rely on is vital for your business' growth, reputation management and revenue.
So when is the right time to ask for Google reviews? How do you maximise your chance of scoring positive feedback? What review platform should you drive traffic to? And how do you create a review request template that your customers actually respond to?
Sit back, buckle in and relax. We've got you covered in this guide, where we pull back the curtains on the most effective methods to ask for reviews (whilst avoiding negative feedback).
Check out our review request email template below.
1) Video review requests
Want a review template that lands with a bang every time? Try a video review request! Sending a video campaign (using a tool like Cloutly) is one of the most effective ways to cut through the clutter, engage your customers, get a response (or a Google review) and leave a lasting impression that'll get people talking.
When you ask for reviews via video, it's easier to convey authentic intentions (without things being skipped over or misinterpreted). Who said email had to be boring? At Cloutly, we've seen video make a marked improvement in review success rates (anywhere from 14-20% compared to a measly 7% with a standard NPS or CSAT-style email).
The trick? Be authentic, be energetic, be grateful and keep it brief. Satisfied customers are more than happy to review you - sometimes, they just need a little nudge, and for you to make their life easier.
This is where Cloutly can supercharge your business' reputation. Our video campaigns are the most powerful way to ask for reviews and win positive feedback, in a way that's novel, engaging and highly interactive for your customers.
You can create a fully-scalable, yet unique, video review campaign for each segment of customer, service or staff member in your business. For example, a legal services firm might have three totally unique offerings: wills and estates, criminal law and commercial litigation.
Instead of sending one, single, cookie-cutter review invite to ALL clients, Cloutly allows you to set up personalised campaigns for each of these different parts of your business, and then add your many customers to them! The result? Review requests that actually make sense to the customer's actual experience (and your business model).
It's the most engaging way to build customer relationships, collect social proof and rapidly win more online reviews so potential customers see you, call you and choose you first.
Even better? You're not just limited to collecting feedback on review sites like Google; you can also ask for customer video testimonials inside the same, simple workflow. It's never been easier to identify a truly satisfied customer, ask for a review and earn authentic video testimonials from them in return.
(Try it free for 14 days here and join over 1000+ businesses scoring thousands of customer testimonials)
2) Send a handwritten note
Y'know when old fashion trends come back in style? Amidst a digital minefield, old-school handwritten notes have made a comeback in a big way! Nothing says personal like a truly personalised, 1-to-1 letter. It's a great way to ask for reviews, and an additional opportunity to direct your customers to a review site or one of your social media platforms.
When should you write one? Consider the customer experience. For example, if you're a high-end service business or online store that values customer loyalty and repeat purchases (or if you know your customers by name), a personal thank-you note can be the perfect accompaniment to a recent order, service or purchase experience.
In it, thank the customer for their patronage and go the extra mile. We find that outright asking for a review here can be a bit pushy, but it's definitely OK to include a link or QR to your review page (even if you don't directly ask). Make it easy for your customers and let your heartfelt words do the persuading needed to encourage them to leave you a positive review.
Check out some inspired Etsy sellers and their success with using notes to ask for reviews: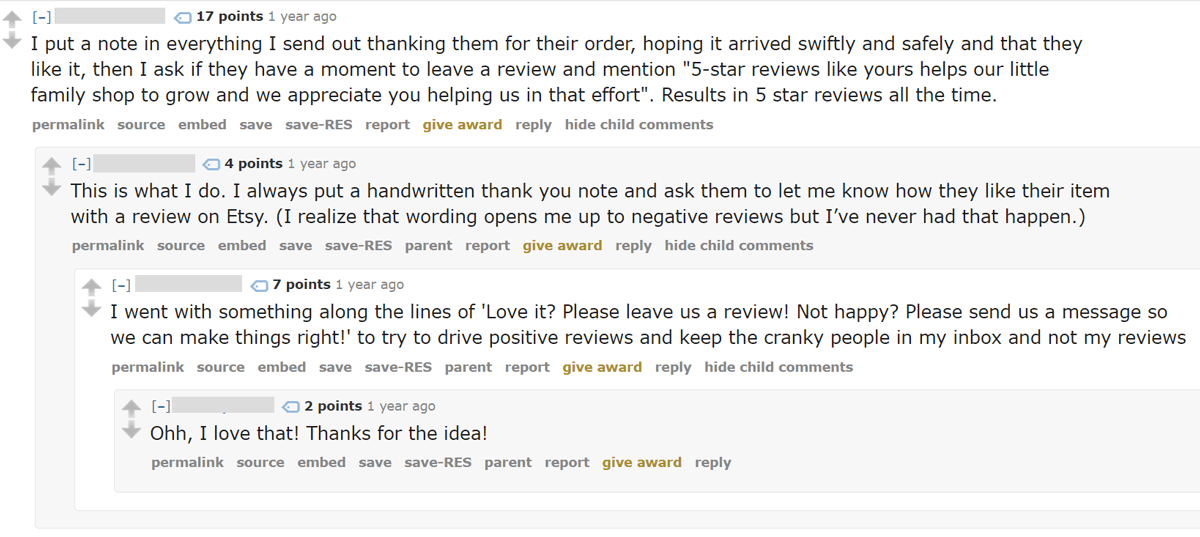 3) Grow your social media platforms
Depending on your business, consider working on building your brand presence online - whether that's on Facebook, YouTube, Instagram, TikTok or other social media channels. Some of the fastest-growing direct-to-consumer (D2C) brands of the last decade have dominated social media by building and rallying a community to support them. It's an extremely demanding, but highly rewarding way to uncover customer feedback (reviews) and quickly pick up traction.
How? I hear you cry.
Think about this - you're making great, creative and engaging content that resonates with your audience. People get talking about you, your products (or those who advertise them) begin trending, and conversations start to flow. Your biggest fans, your vocal customers (and your haters) won't be shy to tell you what they think.
HiSmile is an Aussie company with global recognition (and has knocked this strategy out of the park). After beginning with $20k of savings and a few products sitting on their dining room table, founders Nik Mirkovic and Alex Tomic grew the business to $200M in revenue in under 6 years. One of their biggest growth secrets? Influencer marketing on social media.
Check out this promo from Kendall Jenner, a cornerstone influencer that (allegedly) massively catalyzed HiSmile's sales:
Now, not every business can afford to shell out thousands of dollars (or hundreds of thousands... or millions?) like HiSmile, but there are proven methods you can use to galvanise your community around your brand.
You can:
Run competitions and giveaways through your socials
Ask your customers to tag you in their product posts, which you can then re-share (people love their chance in the spotlight, especially if you have a big following)
Ask for feedback and specific reviews on your products/services via direct message
Build a Facebook group around your product/service and help people achieve their goals
Let your customers know that you care about their opinions and give them an opportunity to weigh in on your product roadmap (or the future of your business).
Many businesses sleep on the power of social media (or can't be bothered trying), but for those who embrace it, it can put you in the fast lane to growth and prove to be an easy way for customers to leave a review
4) Phone call
Did that send shivers down your spine? Although a phone call might sound like your worst nightmare, calling your customers to check in can be an extremely effective way of building relationships, fostering advocacy and avoiding a negative review (by catching issues before they boil over).
Let them know to expect a review invite from you (or your company name) after the call if all goes well. You can then send a follow-up email or text with an easy way for them to leave reviews (or provide you with some handy user-generated content, like a video testimonial!)
5) Use QR codes for reviews
We all got well-acquainted with QR codes during the pandemic, which is great news for earning good reviews!
With Cloutly, you can actually create review QR codes for your business - directing people to leave positive reviews on the review sites that matter most to your business, like Google, Tripadvisor, your Facebook page etc.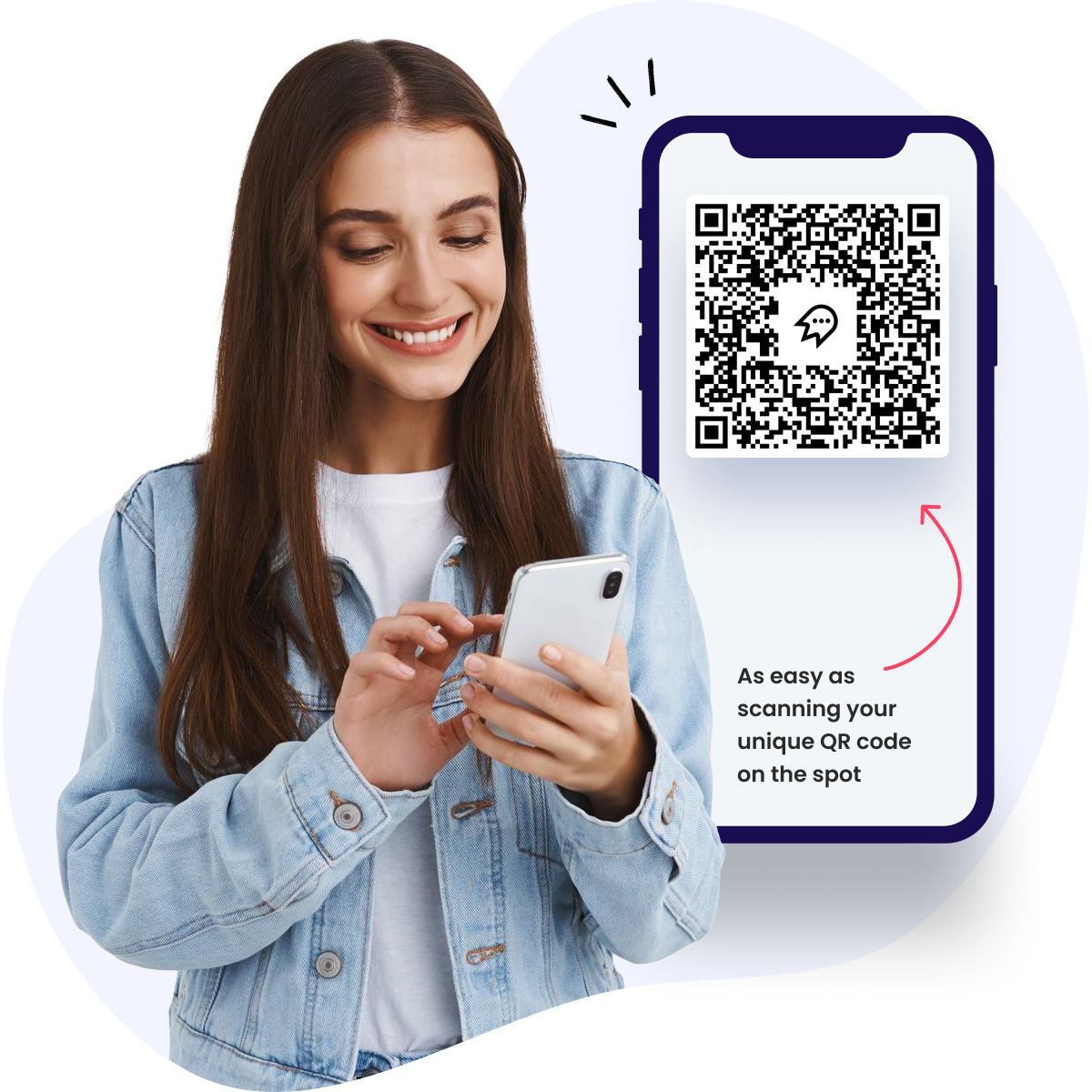 So... why a QR code?
Well, not all businesses have access to customer data. Restaurant? Hotel? Catering? Events? What about walk-ins? When it comes time to check off that 'review box', a QR code is a simple and effective way to ask for a review from your registered customer (or a prospective customer), even if you don't have their email address or phone number. As far as clever ways to ask for reviews goes, this method ranks highly.
Inside Cloutly, you can create as many QR codes as you like. One for each location, for each event, or for each salesperson at your company to uniquely enable reviews to be collected. It's a great way for a business owner or digital marketer to diversify the way they score reviews from more customers.
Beyond viewing the menu or looking at promotions, QR codes are a neat and novel way to encourage customers specifically to leave a review. It's also often a less invasive way to ask for reviews; your customer feedback can be generated just by proxy of your happy customers.
Why reviews?
It might seem like an arduous task but finding clever ways to ask for reviews is the only way to add a bit of humanity to the online reviews process.
Reviews are vital for your business' growth and continued success (oh, and revenue). People need to see that you're a credible, legitimate business and they need to know what your customers think about you.
Positive reviews and negative online reviews lead people to conclusions about your brand, giving a sense of thoughtfulness to their buying decisions. People don't want to risk it by buying a product or using a service without genuine feedback, which is why if you don't collect (or have any) customer reviews, other customers won't know if they can trust you.. and they simply won't buy from you.
Online review sites are a place where happy customers (or even not-so-happy customers) get their say; where you collect customer reviews.
Review platforms, whether that's on your business Facebook page or your Google My Business listing, are there for satisfied customers (and unhappy customers) to leave reviews to let you know how your product or service was (and for new customers to get a sense of how trustworthy you are).
While yes, reviews will help with your local search engine optimization, they're an equal opportunity for you to learn and listen to customer feedback; to engage with your customers even after they've visited your business, and turn negative reviews into positive experiences as a means of building social proof.
Whether you're looking for clever ways to collect a product review, collect video reviews, collect brand reviews or video testimonials for your marketing materials, we hope this guide has been a helpful inspiration. It's not always easy to ask your customers to leave a review, but in our experience, a happy customer is usually more than willing to help - so long as you make it easy for them.
If you're looking for ways to generate more positive reviews than you ever thought possible, try Cloutly. It's free for 14 days. Get started here.