Negative online reviews can be your worst enemy as a business - especially if you don't know how to handle them.
Receiving negative feedback from an unhappy customer can hurt. Online reviews can feel like a punch in the stomach but it's not all bad. And hey, some of the bad reviews that you can find online are enough to make you spit out your tea in laughter.
One bad review (or ten) doesn't mean it's the end of the world though. Your online reputation can be defended with your review responses and your other positive reviews.
Negative online reviews are something to get used to if you've set up a Google My Business account or Facebook Business Page  (or asked for customer feedback). It's not always going to be something you want to hear, but there's a way to deal with them so that potential customers aren't put off from trying your products or services.
As a business owner, you can learn a lot from your negative online reviews and monitoring them and responding to bad reviews should be an integral part of your reputation management strategy.
And, there are some very comical negative customer reviews out there waiting to be responded to (and laughed at).
When you can't always guarantee positive reviews, it's good to know what to expect with negative online reviews. It helps to see that other businesses get their fair share of negative online reviews, too. You're not alone!
Let's look at how to deal with bad reviews with some hilarious examples.
Negative online reviews that will make you cry-laugh
Receiving negative reviews for your business is a fact of business growth.
As a business owner, you need to develop a tough skin for customer feedback as it's very important. Whilst you need to respond to negative reviews, unless they're fake reviews (go ahead and report those), you can still have a giggle at some of the more leftfield ones that might come your way.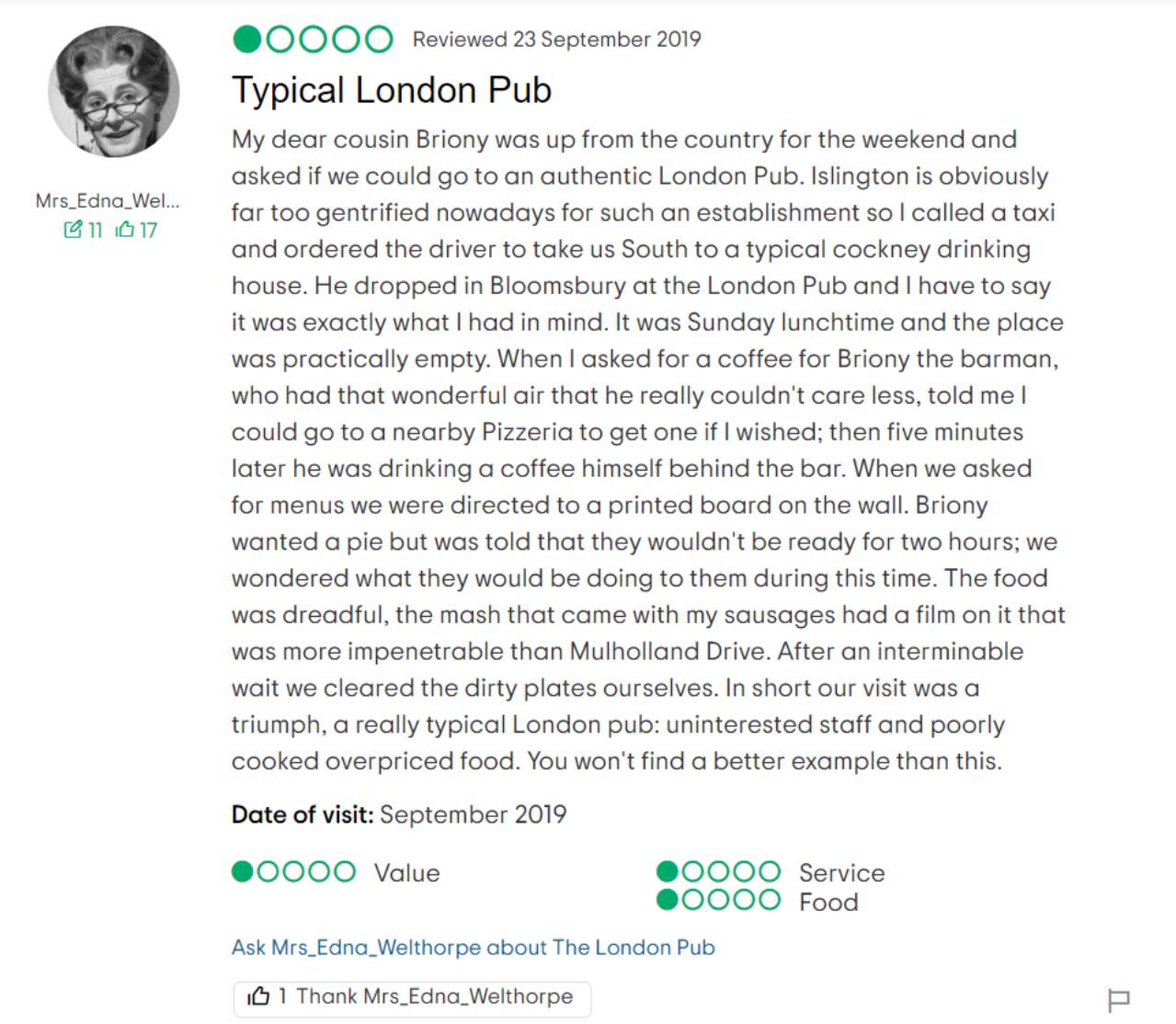 Pros of negative reviews
Negative online reviews are very important for your business's growth and the establishment of your online reputation. If a customer had a negative experience at your business, then a bad review will point out what exactly was wrong with it and give you time to improve this.
Similarly, it's a chance to connect with your negative reviewer - they leave a review for a reason, so it's best not to just ignore it. Respond publicly and then with a direct message if you can (to take the conversation offline). Let them know that you're sorry to hear they had a bad experience and that you would like to resolve the issue head on.
It's part of your reputation management strategy - you can exemplify your company's values in your negative review response and show a bit of personality.
Okay, so how should you respond to negative reviews?
Responding to negative reviews should follow a systematic approach - let's call it a 5-parter.
Respond in a timely manner (people leave a review to be heard, so respond sooner rather than later to show that you care)
Respond in a professional manner that is also human
Listen to your customer complaints and don't apply a cookie-cutter response - each response needs to be personalised
Thank the customer for taking the time to leave a review (despite it being a negative review)
Take the conversation offline if you can by requesting their direct details. This will resolve the issue head on in a more private manner
At the end of the day, if someone has a bad experience with your business, your review response is an attempt to dilute the situation, remove the issue or at least give the reviewer an open ear to express their woes to.
Let's look at some negative review response examples: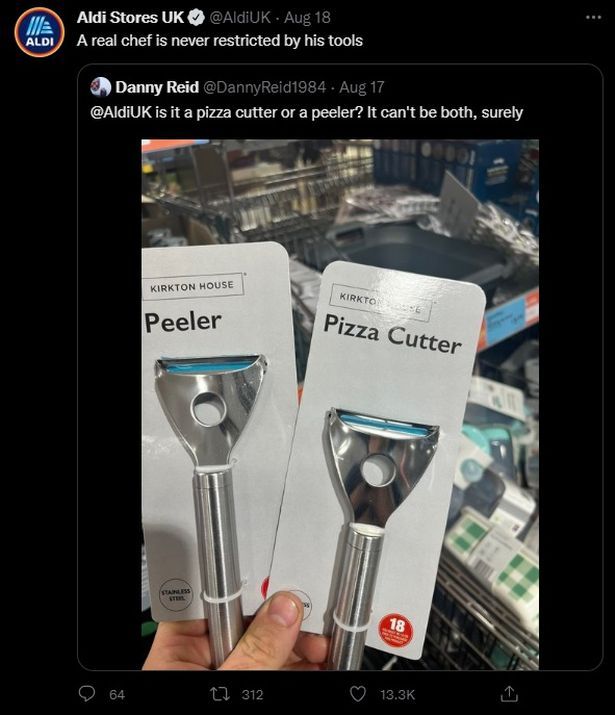 ALDI, UK (Supermarket chain) - So, this isn't exactly a typical review response, but Aldi is known for its quick wit online. Any scepticism or complaints are met with a dry, comical response. That's one way to handle your bad reviews.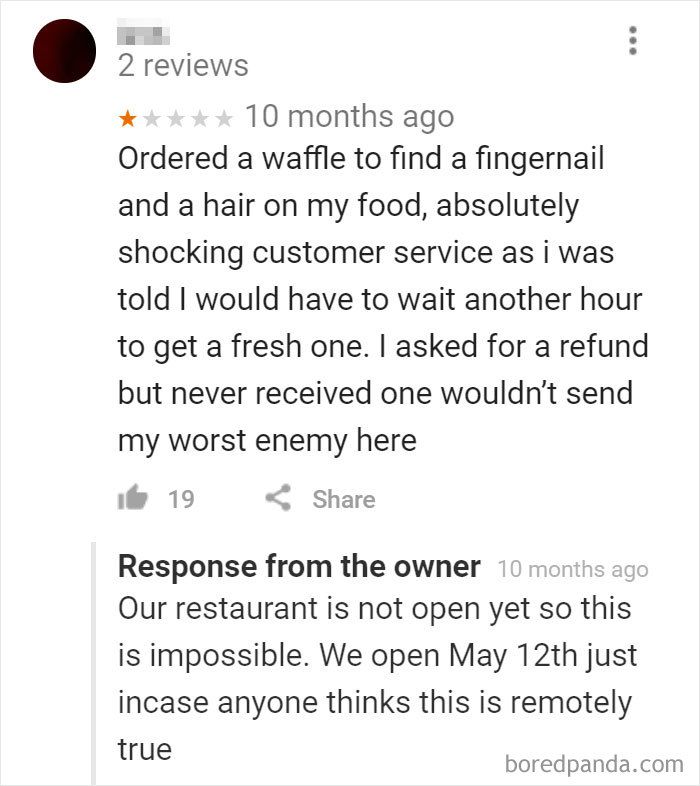 This undisclosed restaurant went for the humorous response rather than going straight to the report button. Sometimes you have to take matters into your own hands.
You can have fun with your negative review responses, especially if that's your type of branding, but follow our formulaic approach above if you're struggling with what to say. And if you're extra stuck for ideas, you could even try Chat GPT unblocked and prompt a few responses to use.
We hope you enjoyed these negative review response examples and have figured out how to respond to even the worst reviews. Check out our other guide on bad Yelp reviews here if you'd like to learn more about how to handle your reviews.
At Cloutly, we're all about mastering your review management. Bad reviews don't need to mean the end of the world when you're a pro at requesting reviews and receiving a good pile of 5-star Google reviews each month. Using a tool like Cloutly can streamline your reputation management and supercharge your social proof.