Updated February 2023
What changed? Google My Business is now called Google Business Profiles; we update this guide with the most recent way to find your Google reviews.
Google is like the holy grail of business listings, and you definitely want to have your business listed there. But did you know that Google reviews can also make or break your business? Yep, you heard it right. They can be the ultimate deciding factor for your potential customers. So, now more than ever, we gotta' know how to see my Google reviews?!

Since most of your potential customers use Google to search for businesses like yours, showing up first can be a massive growth lever. Reviews can place you at the top of the search on Google Maps, so it pays - literally - to be proactive about collecting reviews here.
Google reviews play a vital role in the success of a local business. They increase your visibility and help you win more sales.
If you're struggling to see your reviews, though, there might be a few reasons why. We don't want you screaming, "where are my Google reviews?" So, bear with us - we'll tell you how to get set up on Google My Business and get reviews.
Where to start: see Google reviews by me
You want your business to show up on Google Maps, but it's not as easy as waving a wand and shouting, "Abracadabra!" You have to put in some work to make sure you're listed and have a Google Business Profile. But don't worry, we'll guide you through the process so you can benefit from current and past Google reviews.
Before you can start raking in those five-star ratings, you need to register and claim your Google Business Profile. This is like your storefront on the internet and a place where customers can find your business info, hours of operation, and photos.
But wait, there's more! Registering and claiming your profile also helps boost your local search engine optimization (SEO) by ensuring that Google recognizes you as a legitimate business. This means you're more likely to show up in search results when people look for businesses like yours in their area.
To get started, follow these easy steps:
1) From your web browser
Head to the Google Business Profile webpage
In the top right corner of the browser, click Sign in or Manage now
You will then need to sign in using your Google account (if you don't have one, click on Create account)
Once signed in, you'll be directed to the Google Business Profile Manager
Type your business name into the search box (or if it already exists, you can select it here instead of creating duplicate listings)
Fill out all the relevant details such as business name, business category, location, phone number, website
Click Finish and you're done!
2) Through the Google Maps app (3 easy methods)
For the record, Google maps reviews and Google reviews are the same thing, linking to the same business listing. Google maps is just another, linked portal that allows customers to write reviews for your business (instead of using Google search).
Enter your business's location in the search bar and then click Add a missing place to Google Maps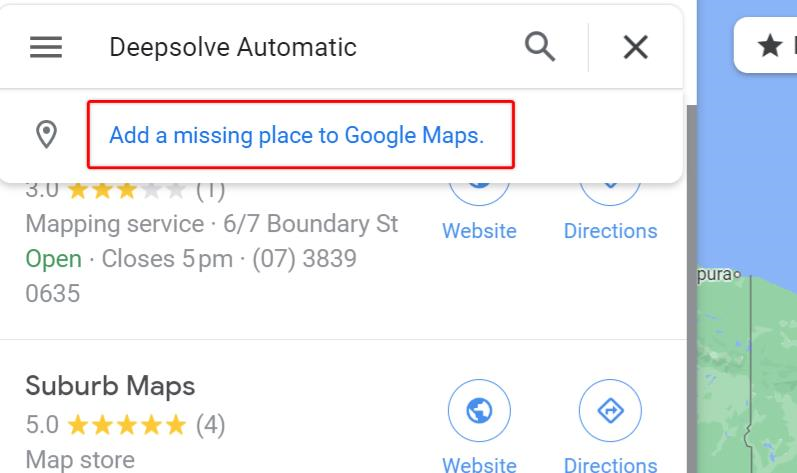 Right-click on Google Maps, then choose Add your business
On the top left, click Menu then Add your business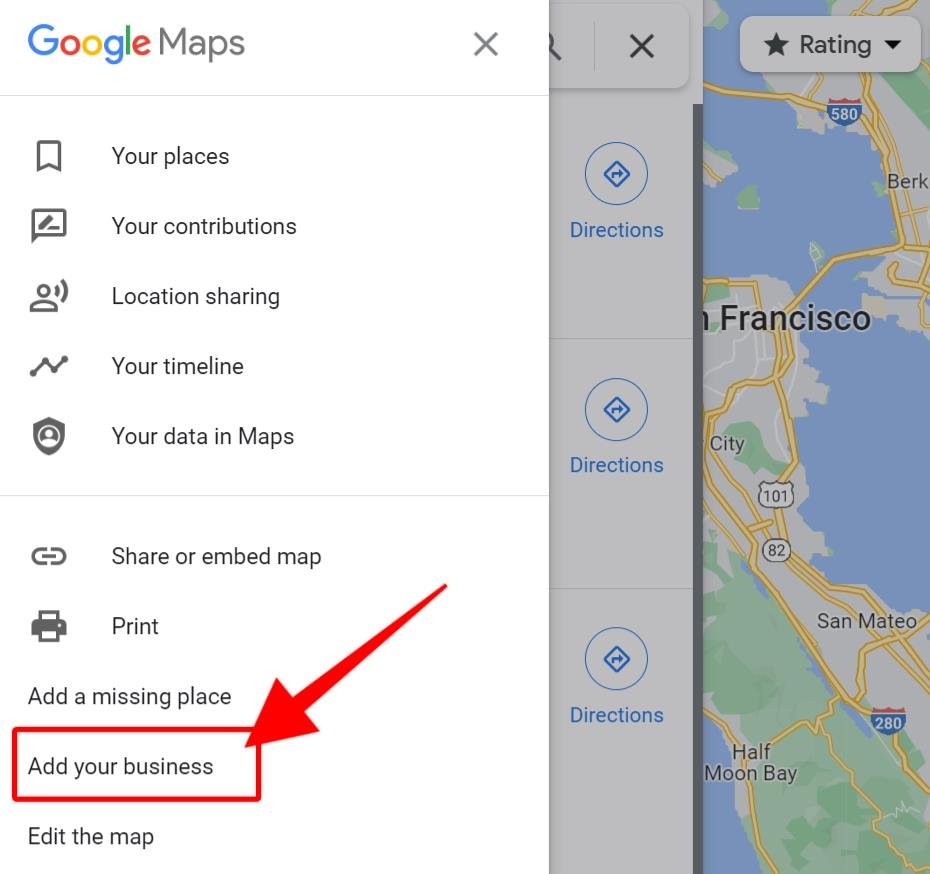 Help! Someone's claimed by business!
If you run a physical or online business and someone has already claimed your Google listing, you can then request ownership and prove that you in fact are the business owner. It might just be that the previous owner hasn't gotten around to it yet. That, or some strange person somewhere felt like stealing your business online!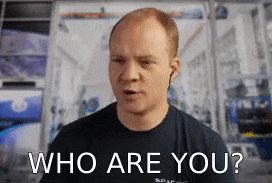 For a verified Google Business Profile (or Google My Business listing, as they used to be called), you can request ownership from the current profile owner (or whoever set up the page initially).
First, head to business.google.com/add
Find your business in the search results after typing in the name and location
After clicking Continue, a message will show stating that someone has already verified the listing (meaning they've used their contact details to manage it)
You can choose Request access and complete the form
Once you choose Submit, the person who is linked to the business account will get an email from the Google reviews team asking them to confirm the request. You'll also receive an email confirming this. Fingers crossed, you'll be back in and able to see all your reviews soon.
How to see my Google reviews now my listing is live?
Now that you know your way around the Google My Business dashboard and you have a business profile, you'll be able to start getting Google reviews!
The more reviews you have (and the higher your rating), the better chances you'll have of showing up first on Google Maps when customers search for businesses like yours.
It's important to focus on getting more and more Google reviews, but there are four things to consider.
1. Ask customers for reviews
Unfortunately, not many customers will write you a review of their own accord. You may need to remind them, make it easy for them to do, and emphasise how important they are for future customers checking you out.
The easiest way to get Google reviews is to use a reviews platform Cloutly. It takes the headache out of review collecting by handling all the follow-ups and reminders for you, making it easy to get reviews. Cloutly also integrates with dozens of review sites - not just Google. You'll be getting reviews from all over and you can show them off on your website.
2. Respond to every Google review
Once the reviews start rolling in,  it's tempting to ignore negative reviews and focus only on the positive ones. Some businesses dread negative reviews... however, responding to both positive and negative reviews helps reassure customers (present and future) that you actively care about the customer experience.
3. Monitor your reviews
Google's content policy does a fairly good job at protecting you from fake reviews, offensive reviews or spam reviews, but they don't always get it right.
If you see a fake review, you'll want to report it and get it removed instantly.
If you're noticing your reviews aren't showing up on Google, there might be something else going on. Read our in-depth guide here to see what might be happening (and how to fix it).
4. Ensure your listing details are correct
Regularly confirm your business listing details to check they're up to date. Avoid duplicate content, too, even if you have multiple business locations or many business branches.
Correct listing details go a long way to ensure your customers can contact you, keeping Google happy - because after all, their job is to show the most accurate search results to users.
Final thoughts
Consumers trust online reviews, so it's important you know where to find them! Collecting Google reviews can increase your search engine rankings, making your business more visible to future customers. The upside in being proactive about your Google reviews is massive.
And if you're not using a tool to automate your customer reviews, consider using a platform like Cloutly. It helps you collect, monitor, and respond to your online reviews from Google, Facebook and dozens of other review sites in one place. By centralising and automating your reviews, you'll win more customers (plus, it just makes it easier to track of what people are saying about you online).