You've seen all those business listings on the first page of Google, right? They're in the cool club; the Google 3-pack, or Map Pack, depending on who you talk to.
When you type something in the Google search bar, you're met with the first page of results and Google Maps. Alongside the map image, you'll see 3 businesses AT THE TOP OF THE FIRST PAGE OF GOOGLE. Who doesn't want that?
By listing on Google My Business, you gain more visibility. And, it's simple to add your business to Google Maps and get in front of more customers than ever.
Do you want to add your business to Google Maps? We'll tell you how to do so in our quick guide then. We've even got a trick to increase your chances of getting in the 3-pack.
First things first - set up your Google My Business account
Unfortunately, you won't just magically appear on Google without setting up your business account. For this, you'll need a Google account and then a Google My Business account. This will allow you to list on Google and then Google Maps. Voilà!
For a Google Maps listing, you'll need to create an account with your:
Business address (you can list your service areas if you don't have a physical address for customers to come to)
Business location or business locations (where you serve customers)
Business details such as opening hours
Business description/business category (what type of business is it?)
Contact details
Business name
Link to your business page (website or social account)
Verification option
Then you have your Google My Business listing which will then automatically appear on Google Maps. If you run into an issue such as discovering that there already was a Google My Business listing for your company, then you will need to claim that business and reverify it. You can verify this with a verification code, so it shouldn't take too long.
Now what?
Well, your business listing is live and it should be 'searchable' on Google Maps. If you're in a very small town, you might even already be showing up in the Map Pack. But, there are ways to boost your local SEO and show up in Google Maps for the masses, without them searching specifically for you.
You need to optimise your Google My Business listing to increase your chances of showing in the 3-Pack. We've written a whole guide on this here, but we'll let you in on a very important aspect of optimising your listing: reviews.
That's right. The more reviews you have the better. Let's take a look.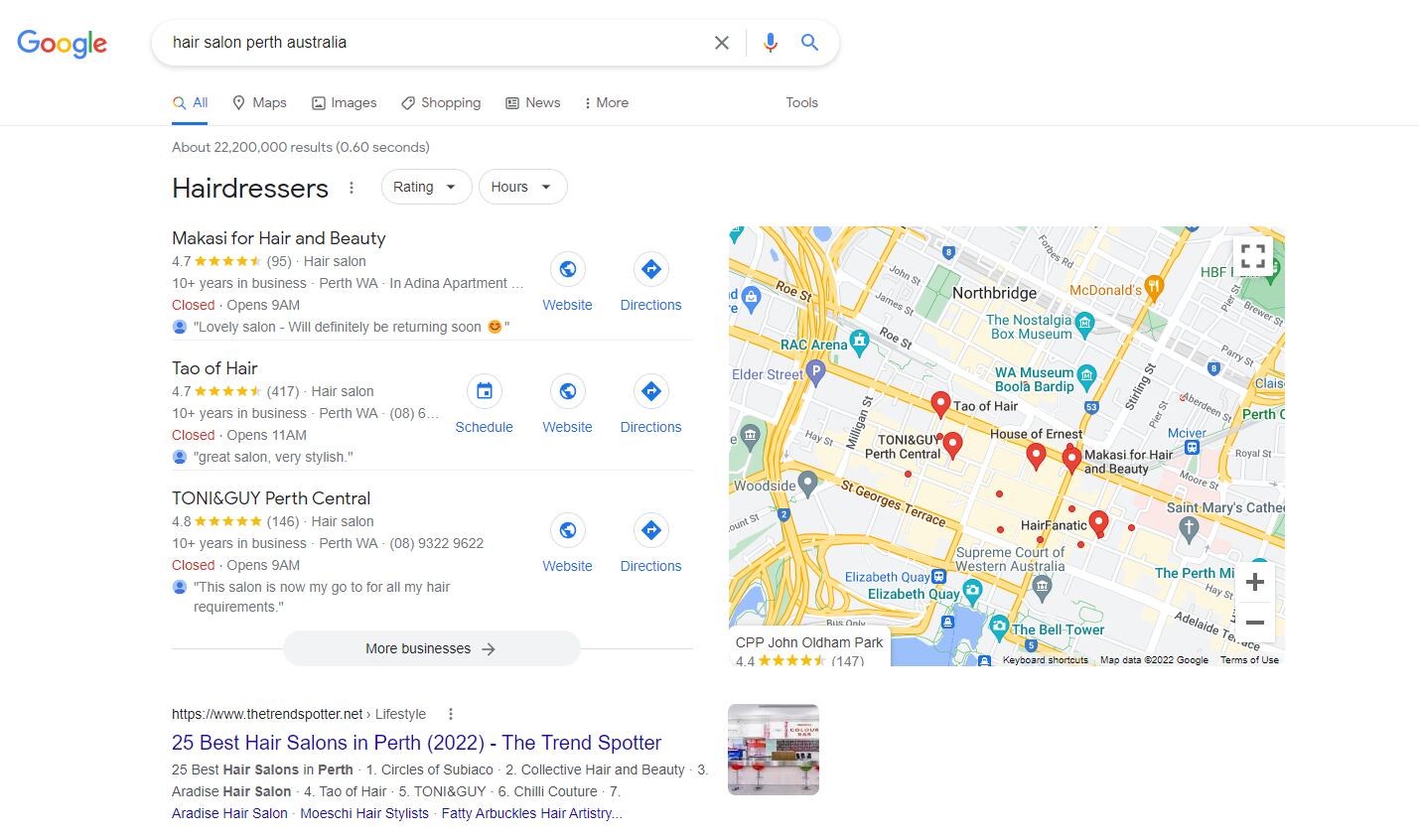 These business listings all have plenty of reviews, and the ones that don't, aren't appearing in the 3-Pack. That's because Google wants authentic information on their platform. If a business is reviewed, it means they're legit (mostly). It also means the business is active on the Google My Business dashboard and following the steps to increase its visibility. So, in a way, Google is rewarding those who are putting in the effort.
It's time, then, to focus on your review management as soon as you have your Google My Business listing set up and you're showing up on Google Maps. The best way to do this is by using a tool like Cloutly. With Cloutly, you can send out personalised, smart-step review campaigns to your cherished customers. You can even request video testimonials which can be shared across your website and social account.
People want to see social proof, especially if you're a new business. Not only will your 5-star reviews on Google increase the chances of landing in the 3-Pack, but they will also increase your credibility.
There are so many benefits of Google My Business, and it's a free tool! Make sure you optimise and verify your business listing, drive reviews and jump into the Google Map-Pack. You'll never look back.