With every business, it's good to have a marketing plan and strategy. Real estate can be especially tricky in an ever-shifting environment, so a real estate marketing plan can help keep you focused.
Your marketing efforts need to be worthwhile. A shot in the dark might work only occasionally and it's best to be prepared, especially if you want to come out on top in a highly competitive industry. And, no, your marketing plan doesn't just consist of putting up pretty pictures on Zillow.
Here's how to up your real estate marketing game - win more leads, score more positive reviews and convert potential clients into repeat business.
Where to begin?
Whether you're a new agent or part of an established agency, your marketing efforts need to be adapted to an varying real estate industry. Things can change rapidly.
The first thing you need to do is outline your business goals. If you don't know what you're wanting to achieve in your career in the real estate industry, then you're marketing plan won't have any focus. Your entire marketing plan needs to be based around your one main goal, not around twenty.
A successful business looks different to many in the real estate world:
Consistent leads across different marketing channels
Being number 1 in your location at virtual tours (a life-saver during COVID)
Personalised ads across every bench and billboard in your nearest city (even in toilet cubicles - hey, why not?)
Property listings coming out of your ears
High value listing
Your real estate marketing plan is part of the creative process and analysis of marketing tactics for future success.
Let's break it down into 6 steps.
1) Write out your business goals
Once you've fully confirmed what you want to achieve in your real estate business, then you need to verbalise it or write it down. It should be clear for you and for others in your agency. If you're all on the same page, the better chance you will have of executing your real estate marketing plan.
Real estate professionals can niche down, so although it's a crowded industry, you have the capacity to stand out.
To achieve the above success options, your goals might include:
Excellent communication with other real estate agents and clients
Effective guidance through renting, buying and selling process
Advertising that charms and works
High monthly income
To sit on top of the search engine with epic realtor reviews (we can also help with that at Cloutly)
Grow your agency
Again it varies from one real estate agent to the next. Some business goals might seem more tangible than others, but goals are goals. If you aim for the stars, you have the right attitude (as long as you commit to excellent service and your real estate marketing plan).
2) Define your budget
Yeah, this is the boring bit but marketing efforts can cost an arm and a leg. You can be super-savvy with it in the hopes of scoring a viral video but really, those things aren't guaranteed.
Your budget will help guide you and you can figure out whether you can afford to hire creative talent such as a Content Specialist.
If you know how much you have to spend on your marketing efforts, then it will allow you to know what form of marketing to invest in for your real estate marketing strategy.
3) Outline your target market/audience
Knowing your target audience in the real estate market is vital. If you don't know who you're selling to, then your real estate marketing efforts will be all over the place with minimal results. To get to know the ins-and-outs of your target audience, you can:
Carry out client interviews
Look into industry trends
Check out your competitors
Create buyer personas
Figure out who is not in your target audience
If you know where your target audience is, who they are, and what appeals to them, you're onto a winner.
4) What is your USP?
Your unique selling proposition needs to be 'attacked' in your marketing plan, so everyone's will look slightly different.
For a unique selling proposition, you need to make it:
Appeal to your target audience
Contain results
For example, it could be: sell your home within one month or receive 50% off realtor fees.
That's a big claim, but if you can achieve that then you need to shout about it. That will really make you stand out. Your value proposition needs to excite then convert potential buyers.
5) How will you reach your audience?
Once you've established your budget and your audience, now it's about figuring out what content marketing approach you're gonna use.
For your marketing strategy, you can use:
A daily blogpost to drive you higher on the search engine, pulling people to your real estate website
Social media ads/social media posts
Email marketing campaign
Define your social media presence with organic content such as informative reels
Google ads and other forms of digital marketing
It really is a whole world of content opportunities out there. You just need to tap into it (and tap into the right one for your real estate brand).
You could even use a real estate coach for marketing tips - if they know what works, it will save you some time.
A marketing calendar can also streamline your marketing projects. If you write out all of your themes, content ideas and content pitches month-to-month, you'll be consistent. As with many things, your real estate marketing plan is only effective if you stick to it.
6) Invest in an SEO marketing strategy
One of the most effective ways to boost your credibility, trust, revenue and show up high on the local search engine is to build up your online reviews.
While there are a few SEO agencies out there, they can be pretty expensive. If you focus on your review management strategy (and invest in reputation management software), you can climb the search engine quickly with authentic social proof. You can also re-use this social proof in other aspects of your marketing plan. It's sort of a no-brainer.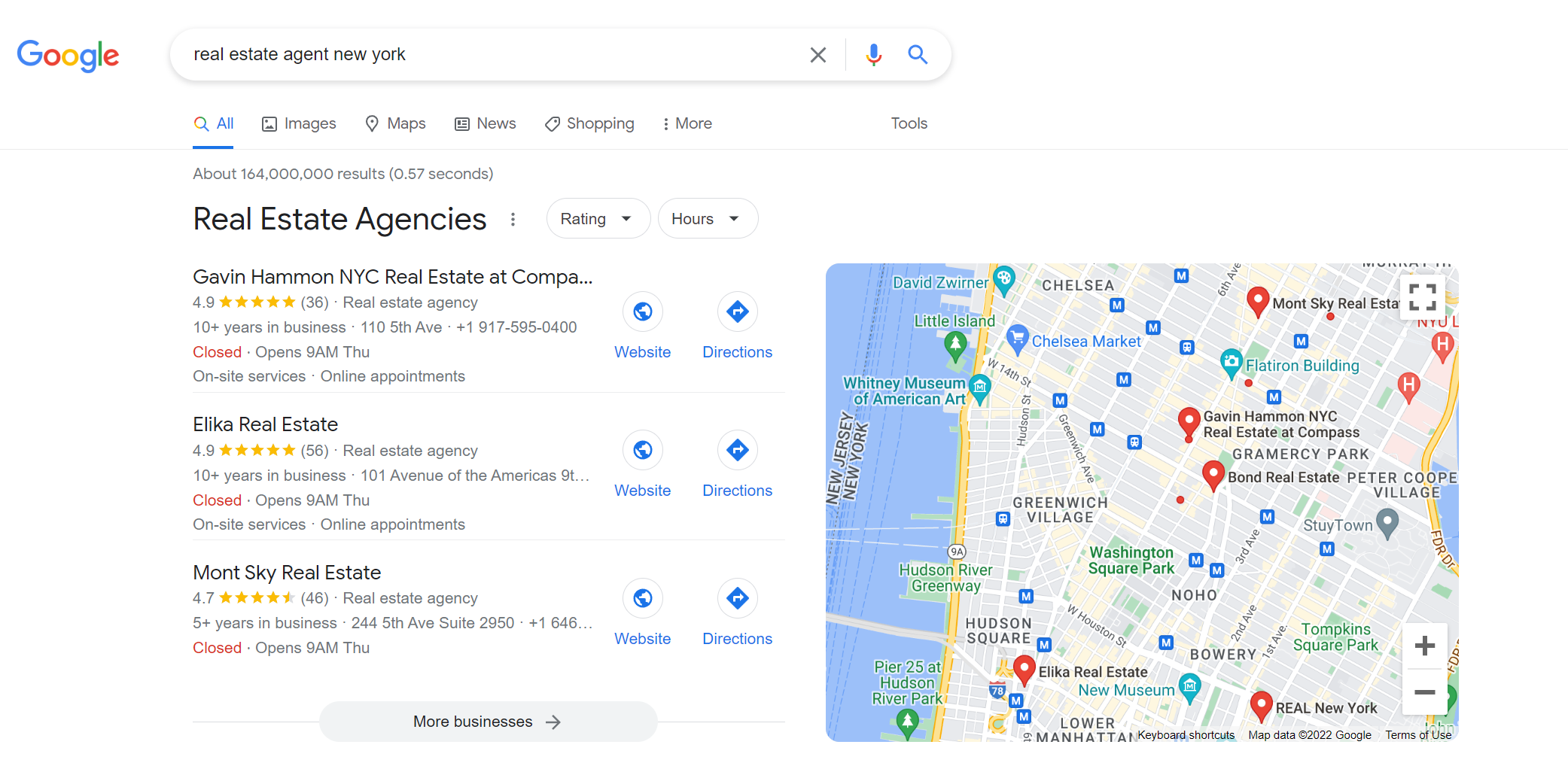 Through asking for reviews from your happy clients, your Google My Business listing will climb to the top of Google Maps which is on the first page of the search. By listing on the many review sites like Facebook, Zillow and Google, you can generate many reviews and show them all off on your landing page.
It's one of the most authentic marketing strategies with fast results.
You can even request video testimonials with Cloutly which you can then embed on your website, use on your social media ads and show potential customers real-life social proof, with results.
Final thoughts
Marketing ideas can be placed in a variety of content, you just need to decipher your:
Marketing goals
Marketing budget
Marketing messages
Marketing medium
Your real estate business plan and a successful marketing plan go hand in hand. If you're not getting in front of your customers, then you won't be able to grow.
Knowing your target audience is key for your content marketing plan. For example, if you sell condos to those over 85, perhaps creating an engaging social media presence isn't the best route. Try direct mail.
Potential clients want to be charmed by real results and clean campaigns. If you have positive reviews to support your claims, then you're more likely to appeal to potential buyers. Use Cloutly to boost your search engine performance and come out on top with your real estate marketing plan.