It's important to keep up with your marketing strategies for your gym or health club (even if it's hard to cut through the noise of an extremely saturated industry).
Your fitness club needs a steady flow of new gym members, especially when you'll have a few on your list who only show their faces once in a blue moon (or when it's January 1st).
You need to be consistently inspiring others to dip their toe into the fitness industry. But how do you do that?
Outside of offering promotions such as the first month free or a free workout session when you sign up for a pack of personal trainer sessions, you might be struggling to think of marketing strategies.
The good news is, you can think outside of the box, you just might need some of our tips to help you along the way.
Let's get into it.
Email marketing strategies for gyms
As far as gym marketing ideas go, email marketing can be truly influential.
When running a fitness club, you'll have access to a lot of people's personal information. More so than other companies, for example, would a cafe take down a person's BMI? Don't think so. And if they did, that'd certainly be a cafe I wouldn't visit...But with this, you're also going to have a fully-stacked email list.
You'll have first names, last names, email addresses and dates of birth. This means that you're already way ahead for your fitness marketing as you can approach your target audience directly through a trusted form of communication: emails.
Emails are a direct route to your existing gym members as well as any potential customers who might have scanned a QR code or signed up for newsletters and fitness tips (more on that later). So, while you have your target audience there, ready and waiting for communication, creating a gym marketing strategy with your emails will leave those gym-goers wanting to know more.
For your email marketing strategies, try:
Planning your email marketing campaigns
Outline the objective for every campaign i.e. new sign-ups or use of a new promotional code
Confirm how many aspects will be in your welcoming email marketing sequence
Outline how you'll segment your email marketing lists
Figure out the best time to send emails
Name your campaigns
Develop compelling copy (including for the subject line) and use epic graphics that show up on a smartphone as well as tablet and laptop
Remember to use an email marketing service that can measure the success of your email campaigns. If you don't know how many people opened your email, you're not going to know whether it 'worked' or not.
SMS marketing
Much like email marketing strategies, SMS communication can work well for your fitness club.
In many ways, texting your client base is a much quicker route than email. It's instant; a phone, somewhere, will buzz and the contact will instantly see a message from their fitness studio or the gym owner.
The key is to make the message enticing. You don't want to harass your clients so that they text back "NO" to stop receiving correspondence - we've all been there - you want them to act from the minute their phone plays its chime or vibrates in their pocket.
Use SMS as the medium for your fitness marketing campaign such as:
General information about the gym or fitness club
Membership renewal campaign
A promotional message with exclusive personal trainer offers
Checking in messages to see how someone's getting on with their gym membership
Information about a referral program
Text messages can get quick responses and command a higher engagement rate.
In 2020, 61% of assessed businesses increased their SMS marketing budgets with 41% seeing an increase in opt-in rates.
SMS marketing strategies can boost revenue, increase conversions, have a higher ROI and improve your click-through and open rates. This means texting your clients could be one of the most effective gym marketing ideas to try today.
Gym advertising with Google Ads and Facebook Ads
Sometimes you want quick results, instead of focusing solely on lead nurturing.
Paid ads can be a great way to get directly in front of your target audience. Google Ads and Facebook Ads are perfect for boosting your gym marketing strategy as they can guarantee supreme visibility, easy-to-track metrics and control of your investment. Google lets you pay only when someone clicks your ad; how good is that for a fitness marketing strategy?
It's about being creative if you're going to invest in paid adverts on these mammoth platforms. Don't just use your logo or say where you're located, explore what sets you apart from the rest of the gyms.
Try:
Using video adverts to advertise discounts
Implementing video testimonials from gym members (Cloutly can help with that!)
Showcasing your team of personal trainers
Promoting a free personal training session for a sign-up in that month
Inspiring gym members to work out - do you have the latest equipment? What classes do you run? Show it all
Outlining the benefits of your gym membership
Displaying an upcoming fitness challenge with tangible results that a new member could get
As a digital marketing campaign, you need to implement copy that sells your brand and graphics that look crisp. Make the most of your space on the top page of Google or Instagram and Facebook, otherwise, your Facebook ad space is going to go to waste.
Social media marketing for fitness
When everyone is scrolling, getting their fix of blue-light right before they go to bed or during their commute, they're looking to be impressed, entertained and, most importantly, inspired.
Many fitness accounts in the fitness industry focus on the same thing, but the importance lies in having an edge. Identify your target audience and develop a fitness centre marketing plan for your social media channels around that customer persona.
For the many fitness brands out there, how will your social media posts and social media platforms differ from the herd?
There are a few ways to maximise your success with effective social media marketing strategies. Let's look at the below gym promotion ideas:
Engage with fitness industry leaders for effective influencer marketing. People will trust your brand if you connect with big names and people with, you guessed it, influence. Make them brand ambassadors and encourage the promotion of your fitness program on their social media platforms
Social broadcasting is one for top engagement as many viewers prefer watching live content. Speak directly to your followers and let them know about your new personal trainers or updates to your fitness studios
Promote inclusivity on your social media channels. Long gone are the days when gyms would win by excluding certain body types. Now it's all about empowering everybody to move their body so create social media posts that capitalise on every body type and equality for all
Social media marketing doesn't need to be tricky. Make sure you have fun with it and keep up to date with all the latest trends so that you're on top of your social media marketing strategy.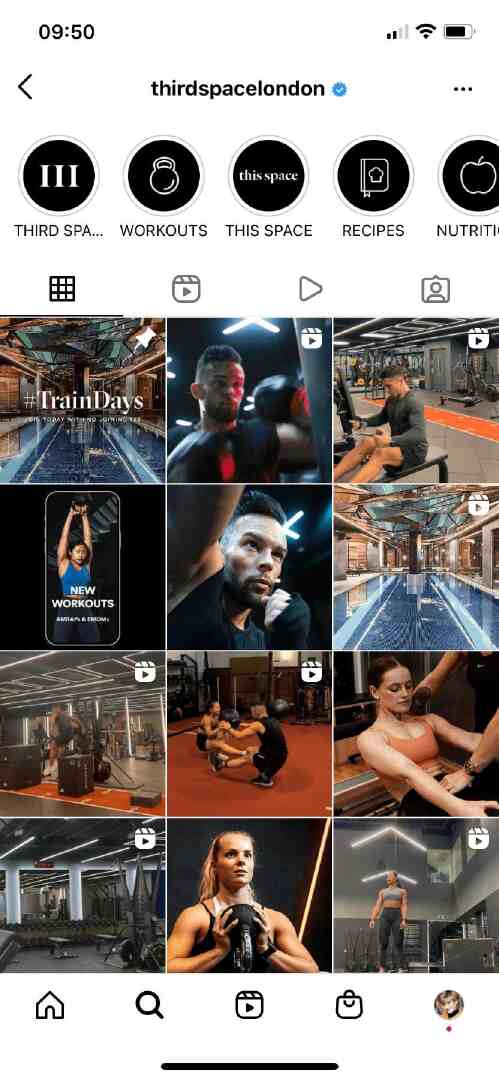 Third Space's entire social aesthetic is clean and distinguishable.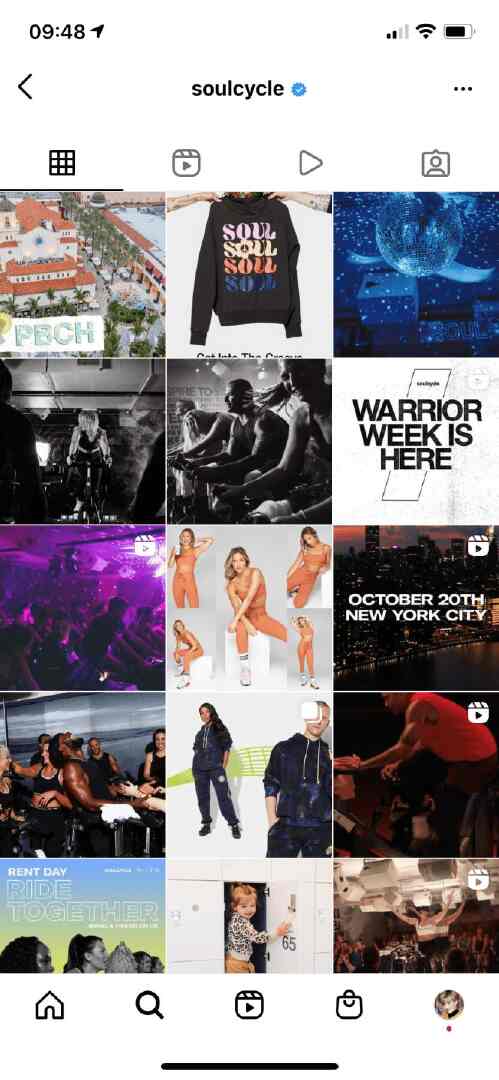 SoulCycle uses a mix of videos and fitness challenges to boost its social presence.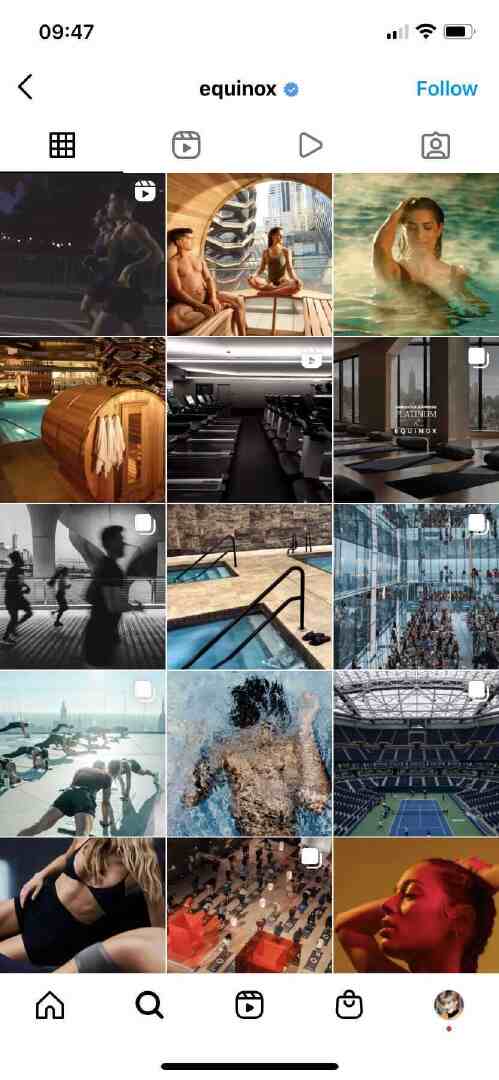 Equinox is all about the aesthetic which is why it relies on artful photography to showcase its spaces around the globe and fitness models.
Take inspiration from these top fitness brands and find your own style.
Other fitness marketing ideas
An effective marketing strategy can come from a hard workout session or a big brainstorming session.
It's about focusing on a few ideas and trying a few things out - even if it's the first time you're tipping your toe into the gym promotion ideas phase of your fitness marketing strategy.
When talking about fitness marketing, one thing that we need to consider is aesthetics. Now, we're not just talking about fitness aesthetics, we're talking about branding. You want people to recognise your gym business from the get-go. Whether it's your logo, your font, your social posts or your content marketing initiatives (fitness blog), you want to stand out.
It's all about how you build brand awareness and focusing on your gym website is a great way to entice gym members to extend their membership or try a new promotion.
The best way to bring prospective customers to your user friendly website is to implement local SEO. This means boosting your visibility on Google Search and focusing on search engine optimization with keywords, up-to-date business information, reviews and active engagement on your Google My Business Profile.
If you're active online and have an easy-to-navigate gym website, your website traffic will increase tenfold. One of the easiest ways to please the Google Gods is to engage directly with your audience. This means requesting and responding to reviews.
Reviews will populate your business listing online and prove your legitimacy and credibility. Through this, Google will then prioritise your fitness business on the first page of Google Search (in the Map Pack).
It's a simple and effective marketing strategy that relies on local SEO and business-to-client communication. You might want to invest in review software to streamline the entire process to see even faster results and get more people to your user friendly website. Search engine optimization can do wonders for your online reputation and your visibility.
Another idea for your gym marketing plan is to use QR codes. Put them up around your fitness clubs, on brochures or in cafes and get people to scan their phone for a promotional code, meet the personal trainers in the health club or view an updated class timetable.
It's an effective and modern way to share information but the great thing is, you can take down data of those who might not be members yet. For example, if someone sees a sign for your gym or health club with a QR code that they scan, you will now have access to their email address and name meaning you're opening up a direct way to communicate with them and persuade them with your fitness marketing techniques which you've learnt from this guide.
Try our free QR code generator and see how you can generate leads without even thinking about it.
Wrapping up
When it comes to gym marketing ideas, it can feel hard to think outside of the box.
It's a competitive field but there are ways to get in front of your target audience and create content in the fitness industry that will see a spike in revenue, gym participation and engagement.
With Cloutly, you can supercharge your fitness marketing strategies with authentic social proof and a means to connect with your customer base further. Fitness marketing
Use our video testimonial feature to request user-generated content that can then be implemented across your fitness marketing efforts. Videos have a higher retention rate and are a great way to spread authentic social proof about your brand from real customers.
Video content and text reviews are great for all of your fitness marketing initiatives. Don't believe us? Try it for yourself today.