You might have seen our spa quotes guide where we discuss the power of inspirational quotes in your marketing efforts. Well, the same goes for hair salons.
Using inspirational quotes like, "good hair is the difference between a good day and an amazing day", can set the tone and allows you to have a bit of fun with your hair salon marketing.
Quotes about hair and beauty salon quotes can help revive your salon marketing strategy. When your content calendar gets a little low on fresh material, use some of these hairdressing quotes to refresh your client's hair and your marketing appeal.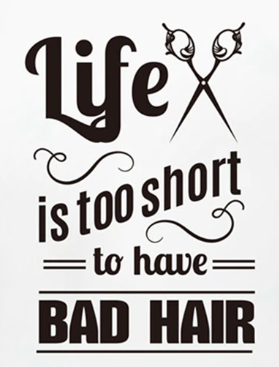 We've found the most inspirational and feel-good hair industry quotes, use them in any of your content today!
Salon marketing - don't get stuck in a rut
Planning your content out for the year can feel exhausting, but it's good to know you have some hairstylist quotes in your arsenal whenever you need them. Copy these and share them across your social media accounts or simply write them straight onto your salon walls.
"I just want to look natural. You know, like a movie star." Anonymous
"To sculpt a head of hair with scissors is an art form. It's in pursuit of art." Vidal Sassoon
"I never dreamed about success. I worked for it." Estee Lauder
"I speak hair. English is my second language." Anonymous
"Beauty comes from the inside. Inside the hair salon." Anonymous
"A woman who cuts her hair is about to change her life." Coco Chanel
"You don't have to be a movie star for me to do your hair, when you sit in my chair you're my movie star." Vincent Roppatte
"I hope your day is as nice as your hair." Anonymous
"The hair is the richest ornament of women." Martin Luther
"Do it with passion or not at all." Anonymous
"Hairdressers are a wonderful breed. You work one on one with another human being, and the object is to make them feel so much better, and to look at themselves with a twinkle in their eye." Vidal Sassoon
"Success is when I see my client smile." Anonymous
"Beauty to me is being comfortable in your own skin… That, or kick-ass red lipstick." Gwyneth Paltrow
"The only place where success comes before work is the dictionary." Vidal Sassoon
"If I weren't performing, I'd be a beauty editor or a therapist. I love creativity, but I also love to help others. My mother was a hairstylist, and they listen to everyone's problems like a beauty therapist!" Beyoncé
"Everything feels better after a haircut!" Anonymous
"Your hair is 90% of your selfie." Anonymous
"As a stylist, I have a new boss every 30 minutes and that is who I'm trying to please and my all is given to them." Sherri Jones
"People will stare. Make it worth their while." Harry Winston
"Life isn't perfect but your hair can be." Anonymous
"Success is liking yourself, liking what you do, and liking how you do it." Maya Angelou
"Whoever said money can't buy happiness hasn't found the right beauty salon." Anonymous
"Contrary to popular belief men have hair too. And barbers are the ones that style it in a way that makes men ooze with confidence." Anonymous
"If you don't look good, we don't look good."  Vidal Sassoon
"I just want to look natural. You know, like a movie star." Anonymous
These hairdresser quotes and motivational hair quotes are sure to get your followers to book their next appointment.
Setting trends
It's no surprise that you'd want a few Vidal Sassoon salon hair quotes in your marketing displays - he even did the Queen's hair! Any beauty salon can benefit from good hair quotes; hairdressing quotes and sayings can excite your clients, and set them up for the day. And, there really is something about leaving the salon with great hair - it makes you feel amazing.
Finding a good hairstylist can be one of life's trickier tasks and once they find you, you need to set the tone with your beauty salon quotes. It brings a human element to your salon marketing and it's great for when you're struggling to come up with new content for your social media marketing.
If you're a salon owner and you're lacking a bit of inspiration, let's refer to The Greats: Harry Winston, Vidal Sassoon and Coco Chanel. Implement these good hair quotes in your salon marketing to empower the masses.