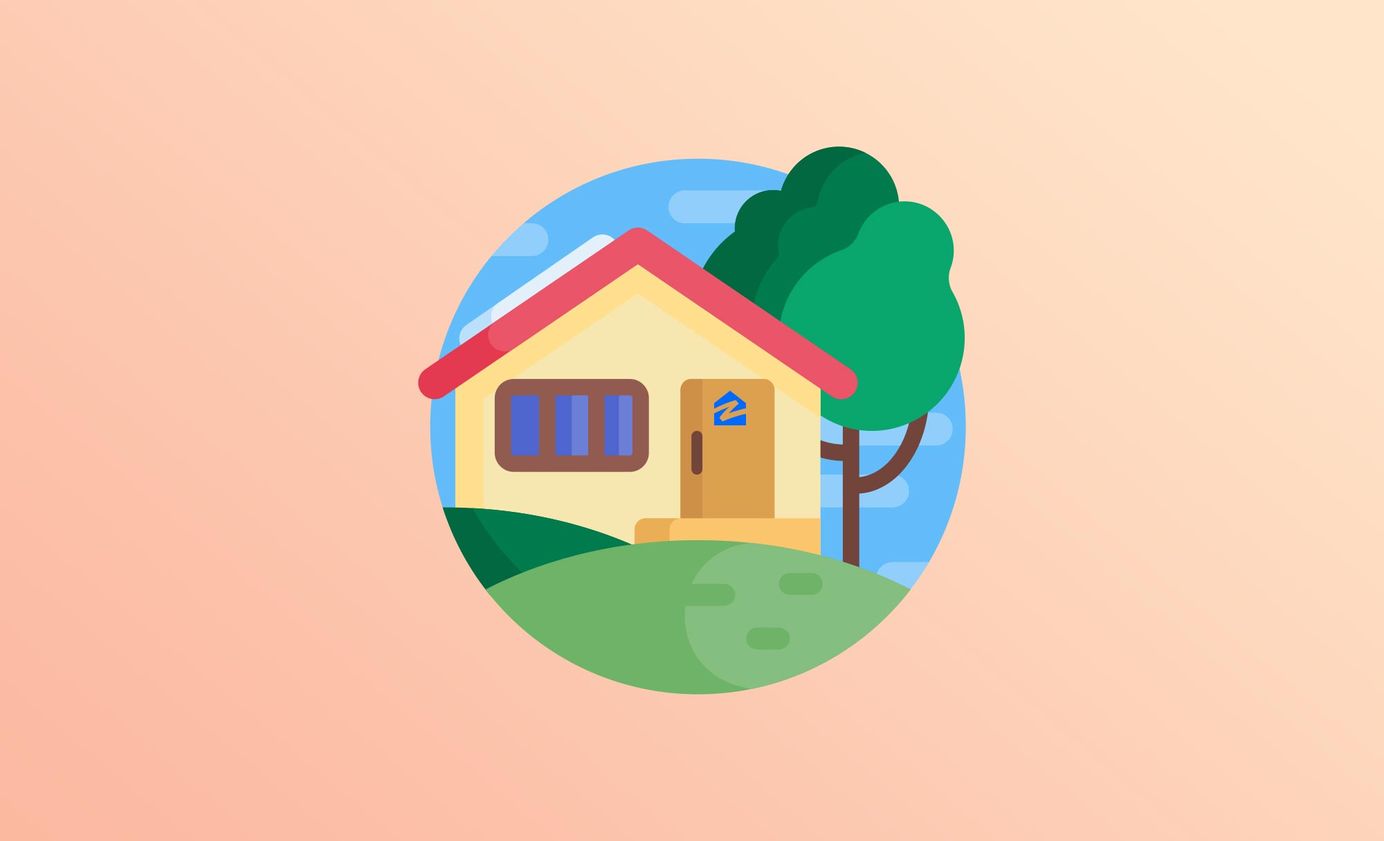 How to delete Zillow account (fastest method!)
Looking to delete your Zillow account? Follow our step-by-step guide.
Table of Contents
Your profile information on many platforms contains personal details that you may not want so easily accessible to others.
It's good to be mindful of how many websites have personal details stored, and if there's no use for these websites anymore then the easiest thing to do is 'delete account'.
Real estate platforms like Zillow require quite a few details from you to set up but if you have sold your house, you might not need your Zillow account anymore.
Similarly, if you're a real estate agent on Zillow and you're running into problems with the platform, for example, spam communication, it might just be better to 'delete account'.
Just remember, some of your details will be permanently lost (unless you download the information from Zillow). If you're truly wanting it all gone, though, then read our helpful guide.
Delete your Zillow account with these 5 easy steps
With just a click of a few buttons, you can get rid of your Zillow account.
Step 1: Log into your account
Zillow will require you to provide your email address and password to confirm your identity. Just head to the profile icon and log in.
Step 2: Find your settings
Once you're logged in, select Account Settings in the upper corner of the page.
This is where you can change some settings in your account, for example, how often you receive emails or what type of notifications you'd like to receive.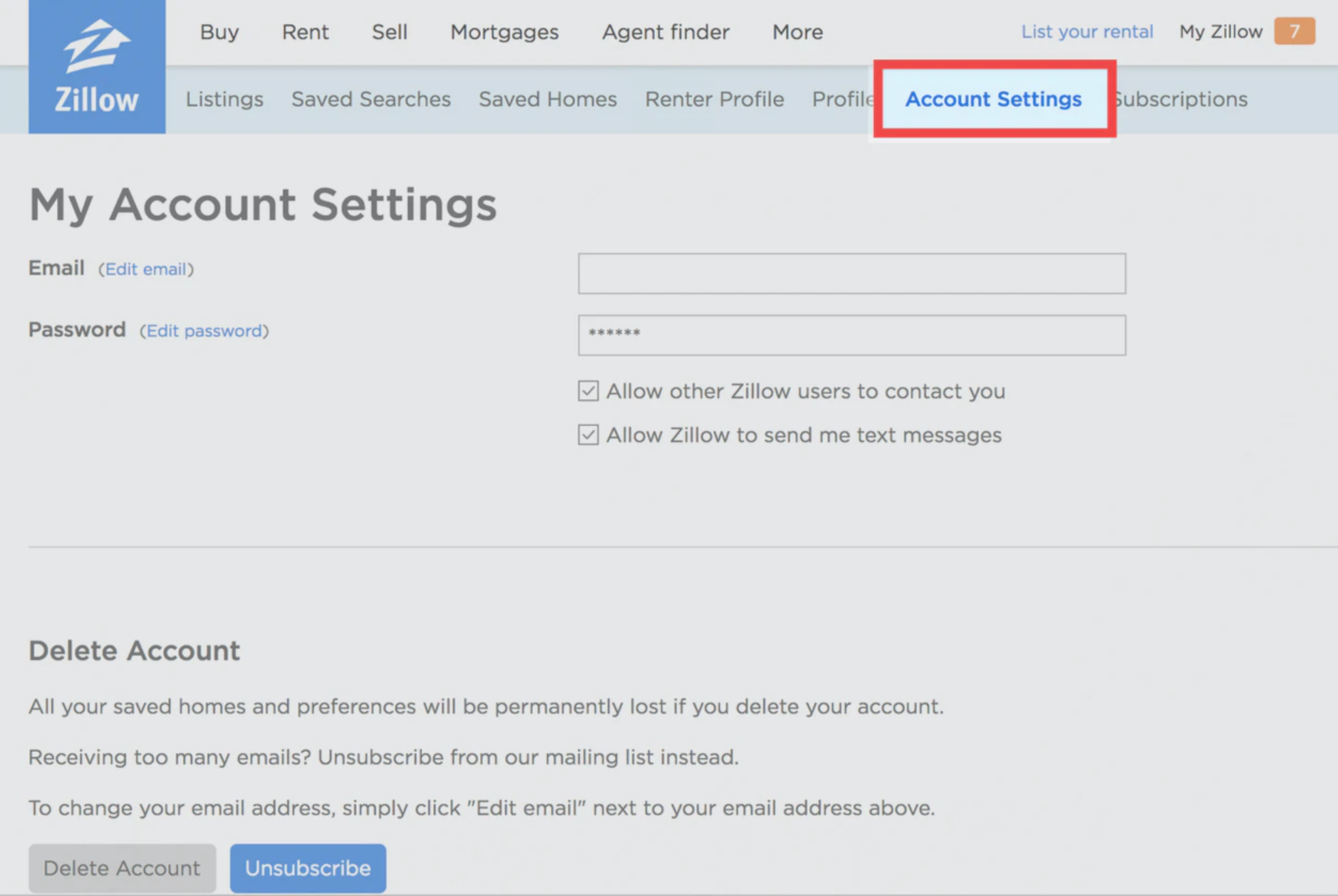 Step 3: Remove your personal information
Scroll down until you see a section titled 'Delete My Account'.
Click Delete Account and this button will automatically close your account.
Step 4: Confirm your decision
After choosing to delete your profile, you'll be taken back to the Zillow homepage.
At this point, you won't have access to any information on your property including photos and ratings.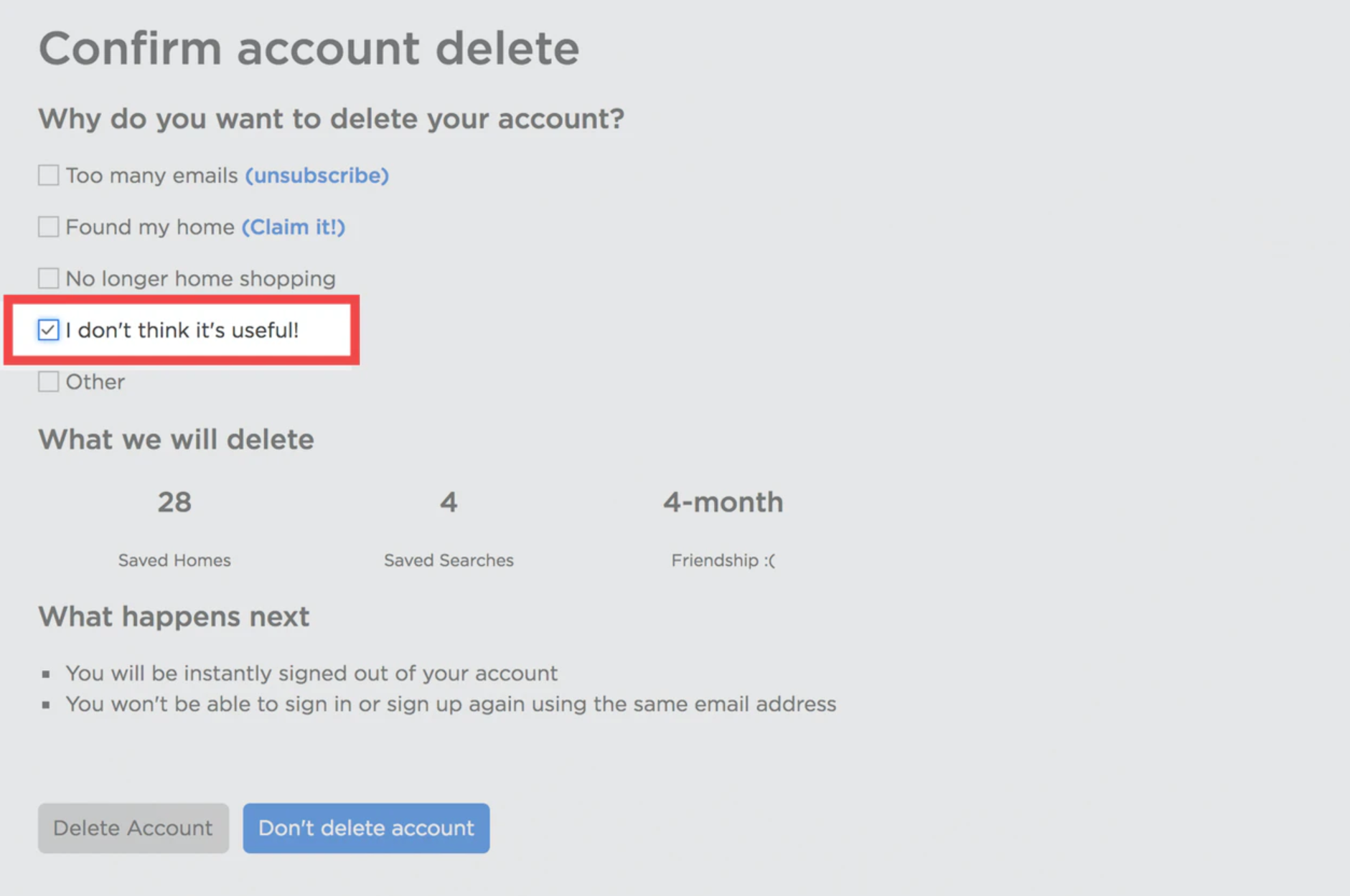 However, you might want to hold onto this information, but save it to a different platform or your Google Drive. In that case, you can still download copies of all the information you stored in your account by selecting the Download All Information link located under the header.
Step 5: Delete everything else
After deleting your account, you might notice that there are still other items linked to your Zillow profile. For instance, to remove photos from Zillow, simply follow the same process as above. That is:
Log into your Zillow profile
Find your property page, select 'photo files stored' and select 'edit photos' from the 'more' drop-down menu
Select the photo, then click 'remove photo'
Then, click 'save' when all the individual photos or all photos are removed
What happens to my account once it's deleted?
When you delete your account, all your personal information is removed from Zillow.com. The only thing left behind is your public listing history.
That means that anyone who searches for your address will no longer be able to view your listing.
However, if you decide to re-list your home on a future date, you can easily add your previous listing history to your new one.
Simply visit the Listings tab, select Edit Profile, then choose Add Public History.
It's also worth noting that once you do click Delete Account, you can never use the same email to create another Zillow account. So, it's a decision that you don't want to rush, especially if you plan on selling your home again someday.
With this mind, an excellent alternative to deleting your profile is unsubscribing from Zillow's email alerts. If it's just the notifications you receive from Zillow that has made you want to delete you account, then you can manage your communication preferences instead.
You can follow the unsubscribe link in any of Zillow's correspondence with you and you can choose to stop receiving specific email alerts such as Saved Homes and Home Recommendations.

Zillow lender profile: what is it, and how can I delete it?
If you've ever applied for a loan through Zillow, you may already know that lenders sometimes ask you to fill out a Lender Application form. In addition to providing basic contact information on the Lender Profile page, this form asks you to list the names of all homeowners with whom you share your address, along with their corresponding contact information.
If you realise you've made any mistake in the details, you can always correct your Zillow information hassle-free.
This information helps lenders determine whether they should extend credit to you. For example, if you live in a neighbourhood with many homes listed at $1 million or more, it could indicate that you're likely to buy a house soon and need a large mortgage.
On the flip side, if you live in an area where most homes are valued at less than $500,000, it could mean that you're not planning on buying anything anytime soon and don't need a big mortgage.
While lenders often request this information, you don't have to provide it. If you'd prefer to remain anonymous when applying for a loan, you can opt-out of sharing your profile by following these steps:
Step 1: Go to your Settings page. Click on the Account Settings button near the top right corner of the screen. This will take you to your Account Settings page.
Step 2: Scroll down until you see the Loan Applications section.
Step 3: Select the box next to I would like to keep my lender profile private.
That's it! Your profile will now be hidden from lenders. However, it'll still appear on Zillow.com. This means that potential buyers can still learn about your financial situation and other details.
To remove your profile entirely, follow the instructions above to change your notification settings. Then scroll back up and uncheck the box next to Loan applications.
What happens to my reviews on Zillow if I delete my account?
If you've been reviewing properties on Zillow, you might wonder what happens to those reviews after you delete your account. The short answer is that nothing changes.
Reviews are stored indefinitely, even after you delete your account, so there's no reason to worry about losing them.
---