When asking for customer testimonial videos or employee testimonial videos, you might want to give some prompts.
Customer testimonial videos are a new and effective way to boost your credibility, have visual and audible social proof and can be used for your marketing. Asking your loyal customers for honest, positive feedback will that attract prospective customers - they will trust your business.
Asking satisfied customers for a video testimonial can feel like a daunting task - but there's a way to do it - and, you can ease the pressure by providing testimonial questions as a guide. Your customer could focus on their pain points before discovering your business, but they might need reminding to mention those.
Sometimes the best testimonial video script is one that is natural and authentic, but we can suggest some pointers on what to include so that your target audience will be banging on the door of your business. We'll even show you some great examples of brands that are doing it right.
What does a great customer video testimonial look like?
A great customer testimonial video is natural. If it's genuine, it's more believable and people will see through a thorough script.
Although customer video testimonials can be used for marketing, it shouldn't feel like a choreographed advert and if your customer leaves a movie-quality review with graphics, it may feel like a scam or something your business paid for. That's why Cloutly works. Your customer can record a quick video from their phone and send it back in less time than it takes to make a nice coffee.
If you have a customer listing all the features of your product or service, it might feel too rehearsed or staged. A great example would be a customer using their own words and explaining how they found your business and why they love you!
If you run a small business
Perhaps your video testimonials will be shot on someone's phone camera - simple but super effective. A human talking directly to the camera about your business? You don't need to jazz it up with editing or a full-on prompting script.
It could even be someone screaming "AHHHHHH I LOVE THIS MATTRESS, I LOVE IT MORE THAN MY HUSBAND AND DOG PUT TOGETHER". How persuasive is that for social proof?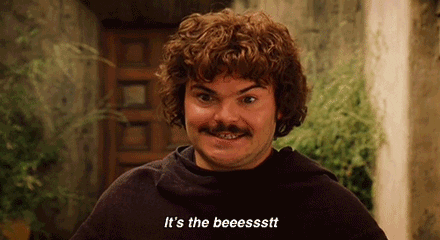 If you own a big enterprise
Have heaps of Google reviews, but want to spice up your marketing with video social proof? You could invest in inviting customers to try a new product, or get a customer to come in and share their thoughts under high-tech cameras.
We get it, if you're a luxury brand and want to up your marketing game, then you can definitely invest in the filming and editing, but just make sure it is a genuine customer with a genuine testimonial.
At the end of the day, though, genuine feedback is what will stand out so try not to conceal that with something too flashy.
What about a script?
As we said above, a natural video testimonial wins every time. At the end of the day, it's your customer - the average Joe - leaving you a video review. But, to help your customer with their testimonial video, you could suggest some questions or a story focus.
Arguably, some text reviews might be more in depth, due to how long you can spend writing them - but a short video will be enough to build trust with prospective customers. With a genuine video, there may be long pauses or extra footage that you might want to trim down to embed on your website or share on your socials.
So, for a script, you'll want questions that you can ask your happy customers such as:
Why do you love our product or service so much?
How did you discover us?
Would you recommend us to a friend?
How long have you been a loyal customer?
Did our product or service solve your pain points?
Problems that the business solves?
Simple questions will start the story off and allow your customer to respond naturally and genuinely. Remember, they're questions that you'll use to prompt your customers, not statements. No one is holding a gun to someone's head to deliver specific lines.
Is there a specific industry that video testimonials work best for?
Just like text reviews, video testimonials work for any industry.
Motor industry
Healthcare
Real estate
Food and beverage
Clothing and beauty
Hospitality
Tourism
Trades
Brands rely on authentic customer feedback to improve their business and their reviews can also double up as marketing tools. With customer video testimonials, you can easily share them on your landing page or on your social platforms to reach your target audience.
What testimonial video examples are there?
These 3 brands have used video testimonials in their marketing - let's see why they worked.
Software
These videos, recorded by their customers, are used as paid ads on Instagram and Facebook. Using real customers to display their before and after camera shots when they started to use their personalised skincare is a sure-fire way to build trust with new customers.
As a company, they prioritised social proof for adverts rather than just pushing what their products could do for you. Real life evidence with real life people - it's a charmer!
They even use customer videos, showing before and after videos, on their reels.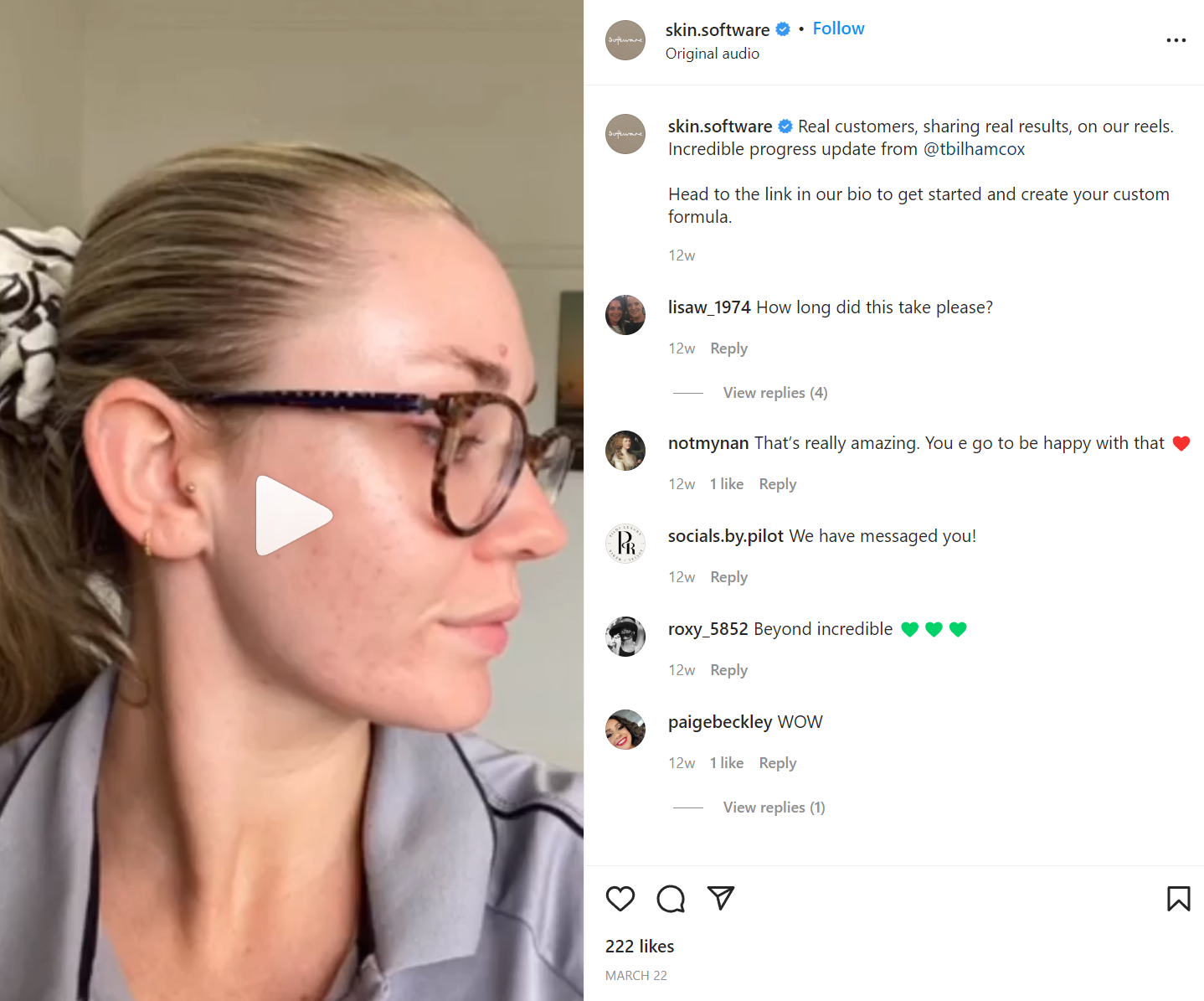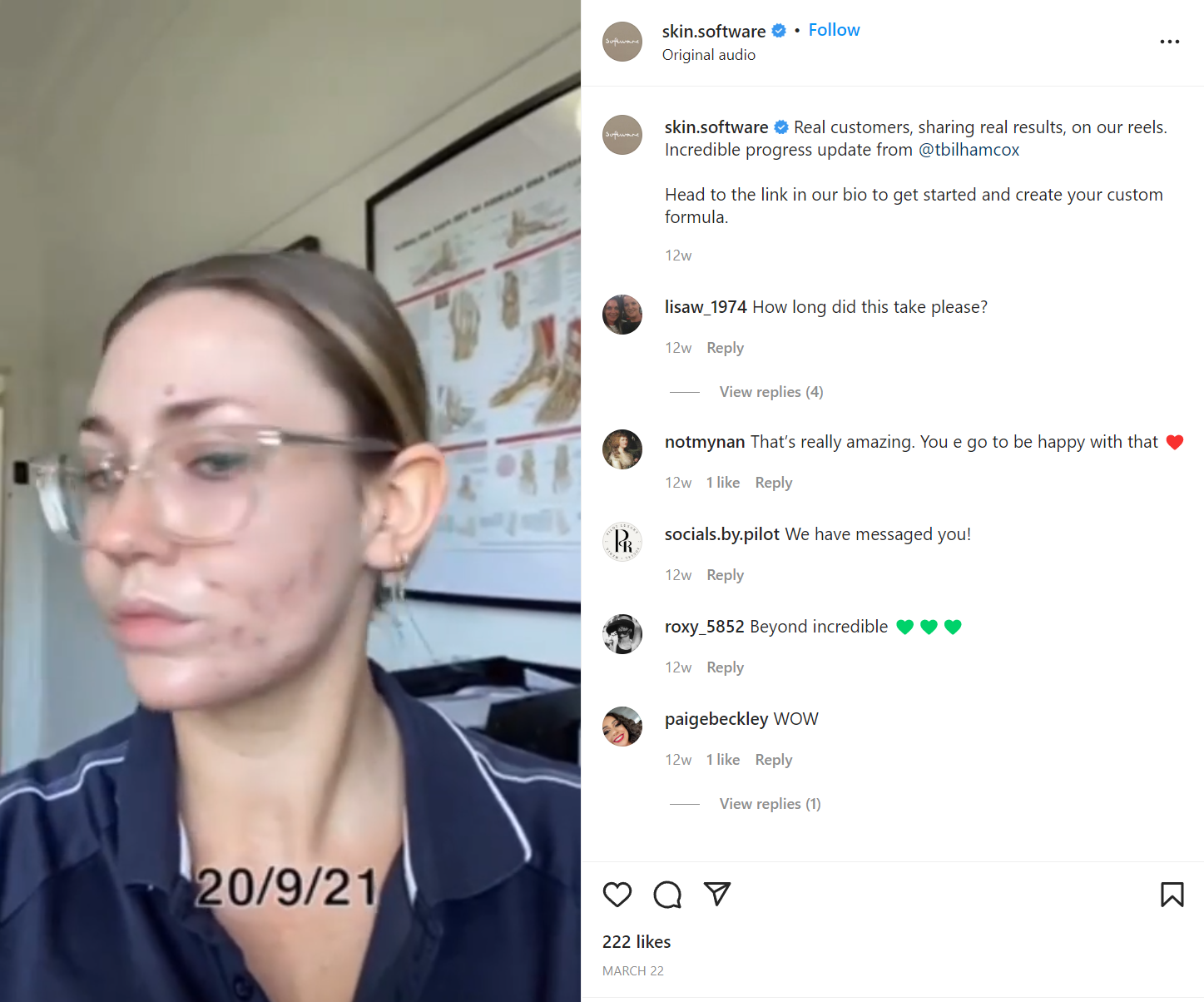 Using video testimonials in their brand helped them reach out to a wider audience in a very competitive field. As far as video marketing goes - it seems to be genuine feedback of what the products have done for their skin and confidence. Script-free.
Koala
No, we're not talking about the cute, native Australian teddy-bear. We're talking about Australian-mega brand, Koala - specialising in great quality mattresses and epic customer service.
Now, this example is a little different than a direct customer testimonial video that you would get with Cloutly. This is a more thorough video review and it's likely that Koala sent them a bed for free to test and then review. This could encourage a biased response - BUT - let's view it as a way to learn how to prompt questions and how a company can succeed with video reviews.
The reviewer is a specialist, as a Chiropractor, he's here to give an expert opinion on Koala's claims for a great mattress. His questions would revolve around how the mattress supports your body when you sleep, rather than, 'Does it look good?'
Stories work when creating a video testimonial and this one works:
A new mum who needs her sleep can really put the mattress to the test! It's relatable.
Love Yer Dog
This customer testimonial video features a human and a dog! Customers come in all shapes and sizes, and this one goes into great detail of potential pain points for the business's target audience.
It shows how effective the shampoo is in a cute (yet itchy) story.
This product solves the issue of itchy and painful skin - with a real life example in a cute dog. The oldest trick in the book: put something adorable before your eyes and you'll reach for your credit card.
It's simplistic with some minor edits for a longer video that's used for marketing on YouTube - but it works and is genuine. They even show the before and after shots - if you needed any more convincing.
Final thoughts
Any type of review, whether it's a written review or a video testimonial works as effective social proof to promote your company. Online stores especially rely on customer feedback to share to potential customers to easily establish trust when you're many miles away - without being able to try before you buy!
There is something about video testimonials, though. They're more engaging than a block of text and you can be creative with it. Remember, a script is there to prompt and guide, not dictate.
If you don't know how to ask for a video testimonial then view our other blog. Cloutly is all about the video testimonials - you can send a video request to your customer and they can reply instantly with a video review! How cool is that?
Try Cloutly's video campaign feature today and let us know what epic video responses you get sent.