Tripadvisor has been the go-to online travel company for recommendations for years. With its mobile app and website, it acts as a comparison shopping site for:
Hotels
Restaurants
Experiences
Transport
Its user-generated content means that people trust the recommendations (and the complaints).
Playing an integral role in the hospitality industry, Tripadvisor and its online reviews can impact the booking choices of many potential consumers.
Weekend in Las Vegas or London? Looking for the best vacation rental or tastiest restaurant? No doubt you'll be reading plenty of reviews before making your decision.
Negative reviews are what we don't want, but sometimes that's just part of running a business - especially in the hospitality industry. You won't always be everyone's cup of tea.
Showing up on Tripadvisor with great reviews allows people to plan their trip in a new country with ease. Their trip type might vary but with authentic and detailed reviews, they will be able to make an informed decision about their visit.
If you're a business, you rely on people writing reviews on your Tripadvisor site, so it's good to know the tricks to get more people to write a review.
Why would you want a Tripadvisor review?
It's a jungle out there with hospitality competition - when someone's booking their next trip, they head to review sites to find out which is the best hotel or to find the most affordable but authentic restaurants.
In a big world, Tripadvisor allows users to find what they're looking for in a new country, with personal recommendations and feedback from online reviewers.
Before the global pandemic, 456 million people headed to Tripadvisor each month to plan a trip. So, it makes sense to want plenty of reviews - it will help you stand out.
If someone is in San Francisco for one night, and you're the best hotel there, you'll want your reviews to push you to the top of their list. Someone will choose a great hotel based not only on the price but on the positive reviews.
How to list on Tripadvisor
If you own a hotel or restaurant, it's a good idea to get yourself listed on Tripadvisor.
It's a site where people will be looking for local places to eat, to sleep or when they're planning their holiday. It's a worthwhile platform to be listed on and will save you some money on advertising and streamline your bookings.
Head to the Management Centre and log in (set up an account if you're new)
Click on the Manage Listing tab
Click on the Attraction Details
Fill in your details - make sure you spend time doing this, as this is what will appear on your listing (view the video below for specific prompts to help sell your business)
Submit - you're done!
If you're a tour operator, Tripadvisor is very helpful with things like showing your cancellation policy, offering a full refund (should there be any mistakes), making booking simple and the Tripadvisor team can assist with your business queries.
You will be placed in a category that's relevant to your business. For example:
A restaurant listing - sit down, delivery, bakery, bars and pubs
Hotels - (front desk, check-in hours, private bathroom and minimum stay)
B&Bs and Inns - (on-site management and daily housekeeping)
Speciality lodgings (hostel)
Things to do - (tours, classes, shows, events, museums, nightlife, nature, spas, tours, sights, transport and activities)
Make sure you use high-quality photos to showcase your listing, too.
Being listed on Tripadvisor means that you're helping travellers with the decision making process on their upcoming trip. Now you just need to stand out from the other hotels with your rave reviews!
Does it cost anything to list my business?
Tripadvisor can take between 12-15% in commission per booking and this rate varies depending on how many views your property or experience receives.
Some businesses might say, "absolute thieves!" but you can view the commission as marketing and booking costs, considering Tripadvisor handles these things for you.
Your subscription will also auto-renew every year.
How to get a Tripadvisor review?
There are a few ways to get a Tripadvisor review, 6 ways, to be exact. Do them all or just choose a few - we're not the boss of you!
Tripadvisor stickers
Make sure you put a Tripadvisor sticker up somewhere where everyone can see it. It will prompt people to review you. They're also free!
Consider sticking a few up around your hotel or restaurant to really drive the message home. If you receive a booking through your own website, you can also put a Tripadvisor logo up there too.
And if you'd like to score reviews on Google, too, you can use our free Google Review QR Code Generator to grab yourself a ready-to-go marketing page for your business.
Social media
You can link to your Tripadvisor listing in your bio on Instagram, and link to it on your Facebook business page.
If you can promote that you're on Tripadvisor anywhere on your social media platforms, then you'll be able to not only get more bookings, but you'll be able to point people in the right direction to leave a review.
Send SMS messages
You can send a link to your Tripadvisor business listing asking for a review - just remember to keep it personalised, or it will feel like spam.
Just make sure your customers have consented to them giving you their number for correspondence.
Send emails
Another way to request Tripadvisor reviews is to send an email to your email list.
A simple link and a personalised message (make sure you use a catchy subject line to increase the email open rate).
Review widgets
A review widget is a little pop-up that exists on your website. Not only can it show off your reviews, but it can also ask for or encourage reviews.
Putting the Tripadvisor review widget on your site is free and can help build trust.
Got reviews on Google and other sites too? Don't limit yourself to just displaying Tripadvisor reviews; use Cloutly to bring all your reviews together.  
Tripadvisor Review Express
With Tripadvisor's Review Express, you can:
Grow your business
Send review invitations
Include surveys to help you improve your business with specific questions
Review Express helps you to provide automated review requests to recent guests, but here's the kicker... your customers get these same requests from thousands of customers.
Nothing stands out.
Your customers see it and delete it.
That's where a tool like Cloutly changes the game and helps you get more reviews than ever before.
Using Cloutly, you can send truly personalised review campaigns to your customers to earn reviews on the sites you choose. Tripadvisor, Google, OpenTable and many more. You're in control.
Even better? With Cloutly, you can send video requests on behalf of your business (not possible with Tripadvisor) and you can ask your customers to submit video testimonials (which you then can use on your social media).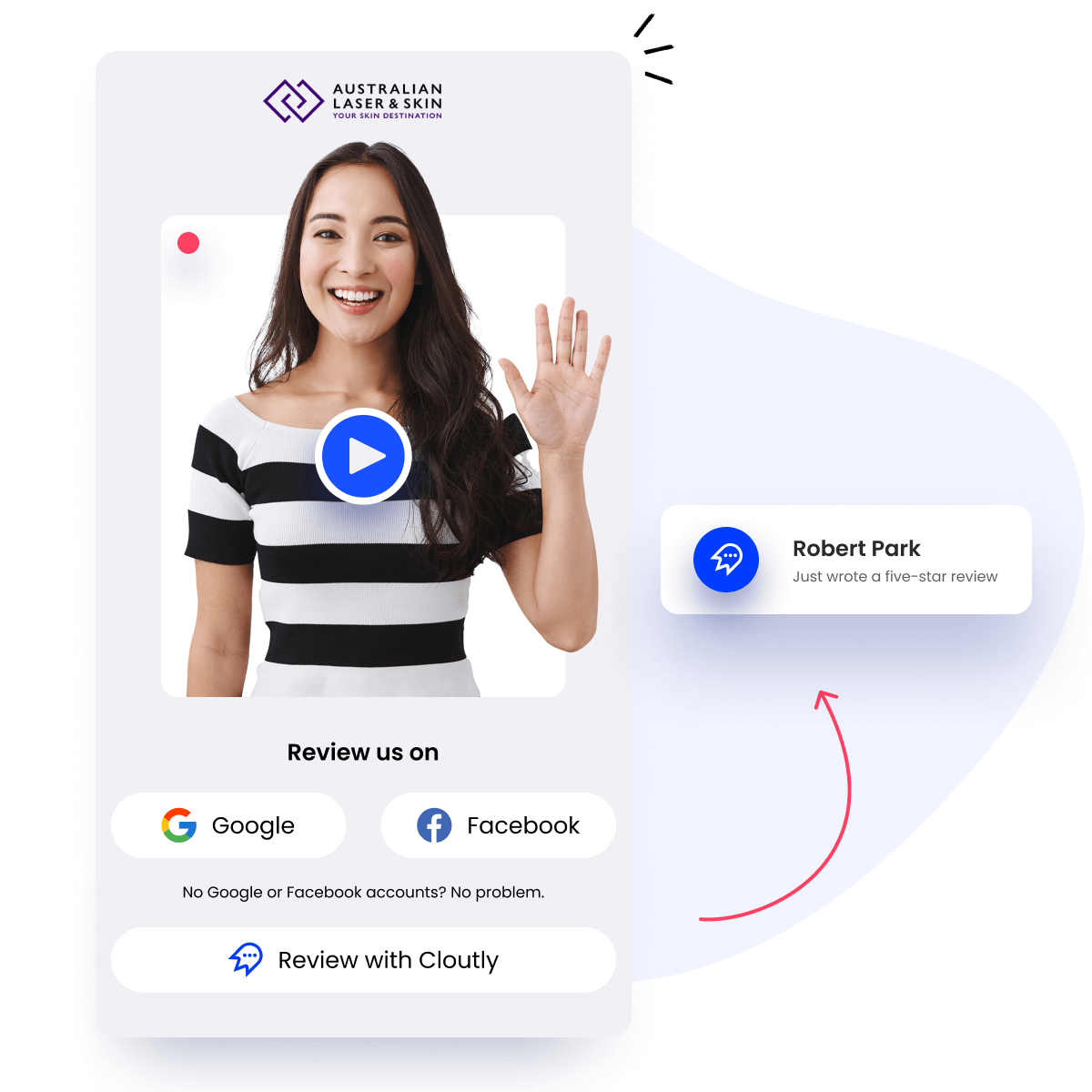 But, not only that, Cloutly brings all your reviews from 40+ sites into one place - and not just reviews from Tripadvisor.

If you want more reviews than ever before, try Cloutly for free.
How to deal with fake reviews or negative reviews
Constructive feedback is what we want when we see a review that's below 4 stars.
We need ALL the details of what could have been better so that we can learn from them and thus, improve the business. Tripadvisor reviews are usually vetted but many can slip through the cracks.
You want your ratings to be based on actual experiences but, unfortunately, there are people out there that find it fun to write reviews that would be 'fake reviews'.
There are fraudulent consumers out there who actually post fake photos and feedback...perhaps they have too much time on their hands, or you treated them badly in a past life?
This can mean that you lose money, score low ratings and ruin your credibility. Fake restaurant and hotel guests can be dealt with in two ways:
Hilarious responses that point out the lies - this shows to other customers that the review is fraudulent and you can handle it with style
Contact Tripadvisor to explain that it is not an authentic review and they can remove it
Negative reviews are a little different if they are written by a person who has experienced your business. You can't please them all but you can handle your guests' feedback with grace.
Your response should be cordial, apologetic if it needs to be and with added value, for example, a discount on their next stay (if they want to give you another chance).
You need to:
Ask them to reach out directly to solve the issue
Offer something (a discount, or a gift) to apologise, get them to come back, and prove that the error was a one-time occurrence
Thank them for offering helpful feedback
Even if the reviewer doesn't respond to your response, others will be able to see how you handled negative reviews. It's about being the bigger person. If a review is posted in malice, there is still hope that your genuine response will encourage them to change their mind (and delete their review!)
Fake reviews and negative reviews don't need to get you down - it's just all about how you handle them.
Are positive reviews always within your control?
When people are travelling the world, they want optimum service for a good price; to see amazing locations; taste unique and delicious food; share new experiences with their family and friends.
But, you can't please everyone. There will be things that impress some and infuriate others - especially if it's a family travelling together or a group of friends with different interests. Things such as:
The location - one member of the family loves the cold, whilst the rest love the heat?!
The service - perhaps it was too fancy for some, or too relaxed for others
The city wasn't what they expected (London can be different to what is presented in movies - the tube is a whole new world of transport)
The food was too different to what they're used to (black pudding? YUCK!)
The hotel didn't have the usual amenities (only a bathtub and no shower?!)
Prices of the country/city - some people don't want to spend much money when they travel whereas others do
Overall, some people travel and expect everything to be the same as back home. You're up against a lot there, so sometimes your Tripadvisor reviews might not be a question of your service or hospitality, but of someone's particular (fixed) taste.
Going to a new city in this big world of ours is exciting to some and stressful for others. You should still handle your responses with grace, though, even if it is outside your control - unfortunately, that's one of the biggest gripes with working in the hospitality industry!
Final thoughts
It can be a daunting prospect to ask for reviews - especially if you're new in your business!
You need to boost your reviews for constructive feedback, but also to boost your credibility. Another way you can do this is to master your review responses. For the most part, people will love to see the business owner responding directly to their reviews and ratings. It gives an even bigger picture of what your business is like.
Tripadvisor is highly respected for its reviews but there are other platforms that carry just as much weight.
As a business, you want people to rave about their recent trip, and the best way to encourage them to do that is to follow our simple steps above.
Tripadvisor reviews are important for your business. Unless you're carrying out shady business practices, there's no reason that you can't be pulling in glowing reviews. The more reviews you have, the more popular and credible your business seems.
The good news is that you don't have to knock on doors or cold call anymore. With tech like Cloutly, you can create truly personalised text or video campaigns to score more reviews than ever before.
Ready to get your Tripadvisor reviews flying in? Sign up to Cloutly for free.