Video testimonials are super impactful when providing an insight into your business.
They're engaging to watch, your customers are more likely to stay tuned rather than reading a block of text in a review and they're fun!
Great employee testimonial videos can also be powerful tools for your business. It's not necessarily about reaching more customers, but it will help your business's staff retention rates, provide an insight into the culture to prospective employees and it's a truer form of social proof.
Glassdoor reviews are anonymous and this can allow the reviewer to use hyperbolic language in their review. With an employee testimonial video, it can make it more authentic and truthful - no one wants to lie on camera, and it puts the keyboard warriors to bed.
Reviews aren't just from your customers - your company's employees have the chance to share their opinion, and it will help you be better (unless they go completely off-script).
Although your target audience is potential employees, your employee testimonial videos can still reach your customers. If they see a well-nurtured and supported team, that will help them with their buying decisions and could increase sales.
Great employee testimonial videos do the hard work for you, so get involved.
Can every business request employee testimonial videos?
If you have more than one employee, then why not? As long as they include relevant information that will help your growth and hire the top talent then it's a great thing to encourage.
A single video is sometimes all you need to share across your socials, especially if you're looking to attract staff.
So, what do employee video testimonials do?
They can attract top-tier job seekers and even potential customers (if you market it well)
Naturally and authentically show off your services and benefits
Engage with your audience
Build trust
Introduce people to the team
How do you make an employee testimonial video?
Some tips for making an employee testimonial video are:
Use some helpful tech that can streamline your review requests and record an epic video (that's where Cloutly comes in)
Suggest prompting questions such as, "why is it a great place to work?"
Use employee stories - everyone likes to know how a business started or how you can fit into the business's mould
You can use a mobile phone or a more advanced filming set-up, but the main thing to focus on is authentic and engaging video content. New employees or potential employees want to learn from these testimonials.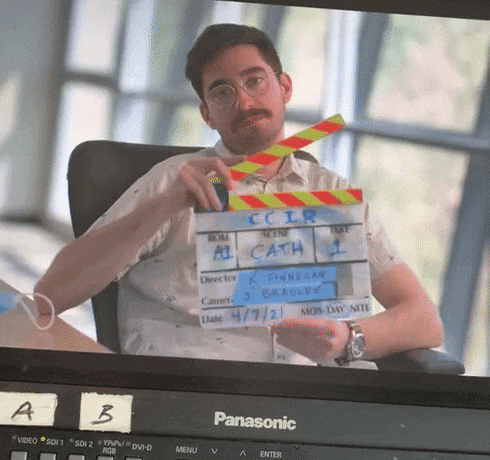 Creating testimonial videos needn't be difficult - at the end of the day, if you dress it up with lights, special effects and a stage crew, it will lose its authenticity. Keep it real and you'll appeal to more people. People can see through the fake.
Make sure the quality is good and with most mobile phones having high-quality cameras, it isn't something to stress about.
What should your employees include in their testimonials?
Current employees can use standard employee testimonial questions or you could be a bit more inventive, as long as it is relevant and useful information.
For example, "Have you tried every snack at our snack bar yet?" - not only does this show that you're a fun business, but it also shows job seekers that you have a snack bar. Who doesn't like snacks?
(Just remember, that a snack bar doesn't define your work culture. It can just show the vibe of your company).
You could also try, "Have you made any friends for life here?" - a company culture that promotes great friendships, as well as working relationships, is one that will attract staff. We spend so much of our time on earth at work, so it's good to know that it can also tick that social box, too.
Include details that prove your business is a great place to work - not just "they pay me enough to pay rent and buy groceries". That's depressing.
We need to up our game with work now, it's about making it make sense to work for you rather than go freelance, for example.
Should you respond with a video response?
When it comes to reviews, your responses are key. It's part of your review management strategy.
Responding to a review shows that you care, want to make amends (if necessary) and that you're grateful for the time the reviewer took to boost your business's credibility.
As your employees have recorded a video testimonial, then it might be a nice idea to respond with a video! Again, it's that humanity and authenticity people are seeking so why not show your face.
When should you ask for an employee testimonial video?
Job seekers want to see genuine reviews of your business, so to do this, you need to ask genuine employees who have been at your company long enough to be able to provide a thorough opinion.
Don't ask someone in an interview or at the end of their first week for video content - that's a bit overbearing and it wouldn't be genuine or valid feedback.
Can you be tactical with who you ask for employee testimonials?
Of course, you'll prefer to request video testimonials from your employees who love working with you. You'll also want a professional person to lead by example with their testimonial videos - silly reviews won't really do anything in terms of finding top-tier talent if they don't actually reveal anything about the business and its company culture.
Be careful not to be too selective though, if you only ask people in the C-Suite for videos, then people will be suspicious. Variety from every job role and every person will make your business stand out as inclusive and supportive.
You want to build trust with others quickly and effectively - this is why video testimonials work.
What can you do with your employee testimonial video?
Share on YouTube, if you have consent, and beat out the competition. LinkedIn would also be a great place to share it and embed it on your website.
Video testimonials are a great way to receive feedback from your employees and your customers. It's a media form that's engaging and unique - have fun with it - and show it off.
If you're looking to grow your staff and show off your company culture, then employee testimonial videos are important. Focus on video testimonials from both employees and customers, and it will be the best form of marketing you ever took the time to think about.
Top-tier talent is just around the corner and using Cloutly will not only streamline your video review requests but it can host all of your reviews in one place.
It's simple. Cloutly isn't about boring review campaigns. It's 2022. Get with the video.