Glassdoor is a platform for employees to have their say in an open forum. It's also a place where businesses can learn from honest feedback.
The name, Glassdoor, points to complete transparency and allows employees at their company to leave reviews of how the business is/was. Future employees can then make a decision based on true, authentic recounts of the people and company as a whole.
Glassdoor reviews are critical to defining the workplace culture by someone who has actually worked at your business - some businesses want to define culture as pizza parties and Friday drinks, but that's not really what it is. Workplace culture is defined by shared beliefs and attitudes, not whether your boss lets you leave early on your birthday or not.
Glassdoor's aim is "to be the most trusted and transparent place for today's candidates to search for jobs and research companies".
Negative Glassdoor reviews are to be predicted if you have a large company - not everyone will feel supported in your workplace culture. For example, some people love WFH whilst others prefer coming into the office, so if you are a remote-first company, you might see a few negative Glassdoor reviews.
If you're struggling with bad reviews, we don't blame you for wanting to delete them but unfortunately, you can't just delete all of your Glassdoor reviews.
A negative Glassdoor review isn't the end of the world, but it can be frustrating. Let's find out how to remove negative Glassdoor reviews, and focus on getting more positive reviews.
How to delete Glassdoor reviews
Reviews are there to guide others and in Glassdoor's case, it is to support job seekers to understand the culture of a company (and whether they should apply for a job at all). You want to manage your online reputation as best you can, and removing a Glassdoor review might be the way to do that.
With this in mind, you cannot delete Glassdoor reviews that you don't like, only ones that go against the community guidelines. Removing reviews is only allowed if the review:
Contains false or inaccurate information
Is made by an individual who has listed more than one review per employer, per review type, per year (for example, one interview review and one review of a company as a whole is okay, but you can't have more than one review of a company within a year as it looks a bit suspicious).
Names individuals who are not C-Suite or above. As the company culture and reputation are driven by 'those at the top', Glassdoor only allows reviews to name public faces of the business, like the CEO. Naming individuals outside of this group will constitute removal.
Contains quoted material such as emails or websites
Has confidential and non-public information
Displays an advertisement or contains an external link
Includes threats, offensive language or profanities
If you see a review that contains any of the above, then you have two options:
To flag questionable content
Take legal action
It's your company's online reputation on the line and a negative review could plant a seed in the minds of current and former employees to reassess their workplace.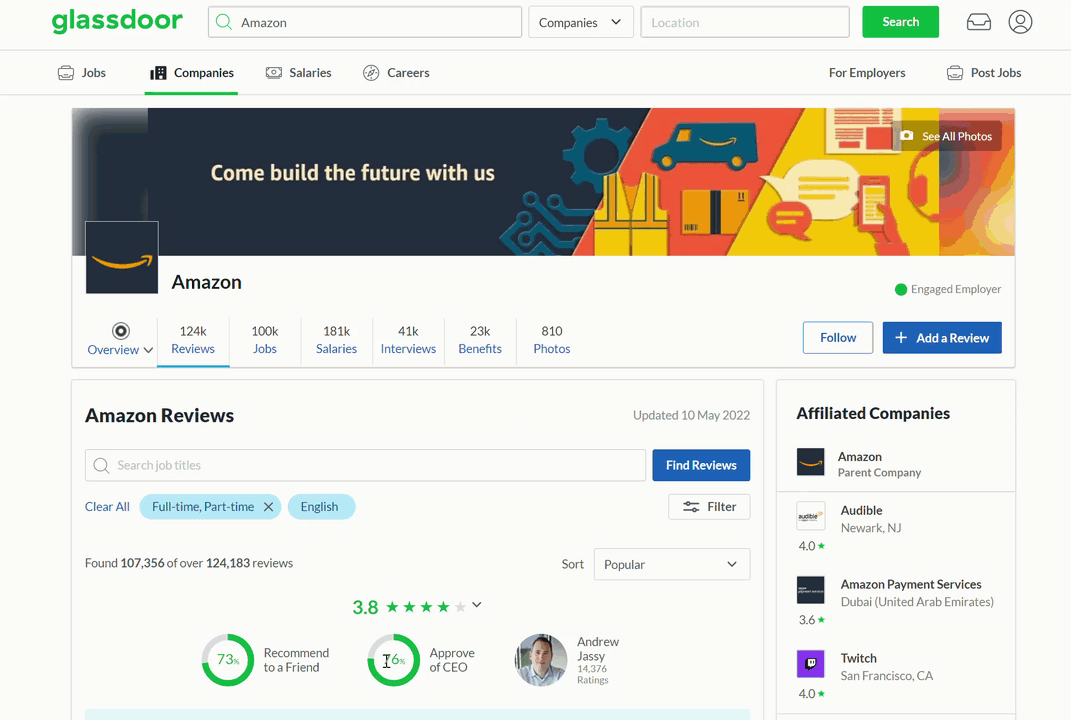 Your misleading reviews could be a legal case, but as some reviews can be anonymous, you might find it difficult. It will also bring bad vibes to the culture...no one wants bad vibes. That's why you're here, reading this article!
Negative reviews on Glassdoor are irritating (and potentially damaging) but taking legal action can also be costly, but we'd recommend flagging the review with Glassdoor first.
How to flag reviews
If you see a defamatory review, false review or a fake review, then you're making the right decision to flag it.
First, head to your company profile
Find the review that goes against Glassdoor's community guidelines
Click the flag on the bottom right of the review
Choose a reason for reporting the review
Now, wait to hear if Glassdoor agrees that the review should be deleted
False Glassdoor reviews don't need to impact your company's reputation - just make sure you monitor your profile and flag one as soon as you see it.
Negative Glassdoor reviews
Glassdoor is all for transparency however, those that leave bad Glassdoor reviews can be anonymous. This means that some bad reviews might not ring true, but it still passes the community guidelines check.
Disgruntled employees get a chance to say their piece and job candidates get an opportunity to see honest feedback.
As you can't always remove negative Glassdoor reviews, you need to focus on your online reputation management from a different angle. Unwanted Glassdoor reviews aren't always the worst thing and there are two ways to tackle them:
1) Respond to all your reviews (even the negative reviews)
You want to present your company's reputation as positive, and responding to your reviews is the best way to do that.
You can sign in to your Glassdoor account, find the review you want to respond to and click into the text box. It's as easy as that.
A negative Glassdoor review might not be what you want to see but you can reach out to the person via the review and thank them for taking the time to express their experience at your company or attendance at an interview. Let them know that their feedback is important and that you will attempt to rectify their bad experience for other employees.
2) Ask your Employees to leave more reviews
Happy employees unfortunately are less likely to leave reviews - Glassdoor reviews seem to be more about addressing flaws in the business culture. A satisfied employee who enjoyed their time at your company might need reminding to leave a review.
Positive reviews from real employees will counteract any bad Glassdoor reviews you have. Job seekers may see a few negative Glassdoor reviews, but if you have multiple reviews that rave about you
Positive Glassdoor reviews
Glassdoor wants honest feedback which is also balanced - pros and cons are helpful for job seekers, as what might have been a con for you, might actually be a pro for them!
If you want to remove Glassdoor reviews for all the wrong reasons, then you're not going to get very far. All of the review sites want honest reviews therefore your company reviews can only be improved if you conduct business well in a happy and supportive culture.
Glassdoor review removal is relatively straightforward if you have a cause to request the removal but that shouldn't be the sole focus. You want to attract potential employees with your reviews so make sure you're prioritising not only an incredible workplace culture but also getting more and more positive reviews from your current employees.
Let's boost your Glassdoor ratings and make your company's profile stand out with glowing reviews.
If you want to improve your company's Glassdoor reputation with one positive review after the other, then consider using a tool like Cloutly to streamline your Glassdoor reviews and keep on the pulse of employee feedback.
We even have video campaigns for review requests to add that personal touch.