Allowing customers to message you via Facebook Messenger means you can speak directly to them, wherever you are.
Before the social media age, contacting companies typically meant waiting on the phone while listening to monotonous music. You might be on hold for hours and then the signal suddenly cuts out and you're back at square one.
We've all been there, right?
Well, Facebook business pages allow customers to contact a business directly through the private message feature without going through all those hurdles.
However, this technological improvement has ushered in new issues that can haunt small businesses: spam messages, overwhelming notifications and unanswered queries.
There are multiple ways to communicate with your customer, so there's no right answer as to whether you need Facebook messenger active on your Facebook page.
If you are experiencing challenges with it, though, then you can switch off private messages until you're ready to handle them.
6 easy steps to turn off Facebook Messenger
If you're looking to turn off Facebook Messenger as well as your Facebook account, then you will need to deactivate both separately.
It's advisable though, that you just disable it instead especially if you're still wanting to use all the features of a business page on Facebook.
The good news is that it's easy to disable messages on your Facebook page. Just follow the steps below:
1. Log in as an admin
You need to have admin privileges to enable/disable Facebook messages. If you're not an admin, just request the current page admin to upgrade your permissions to Administrator. Then, click the dotted cube next to your profile picture at the top right, select "Pages" and choose your business page.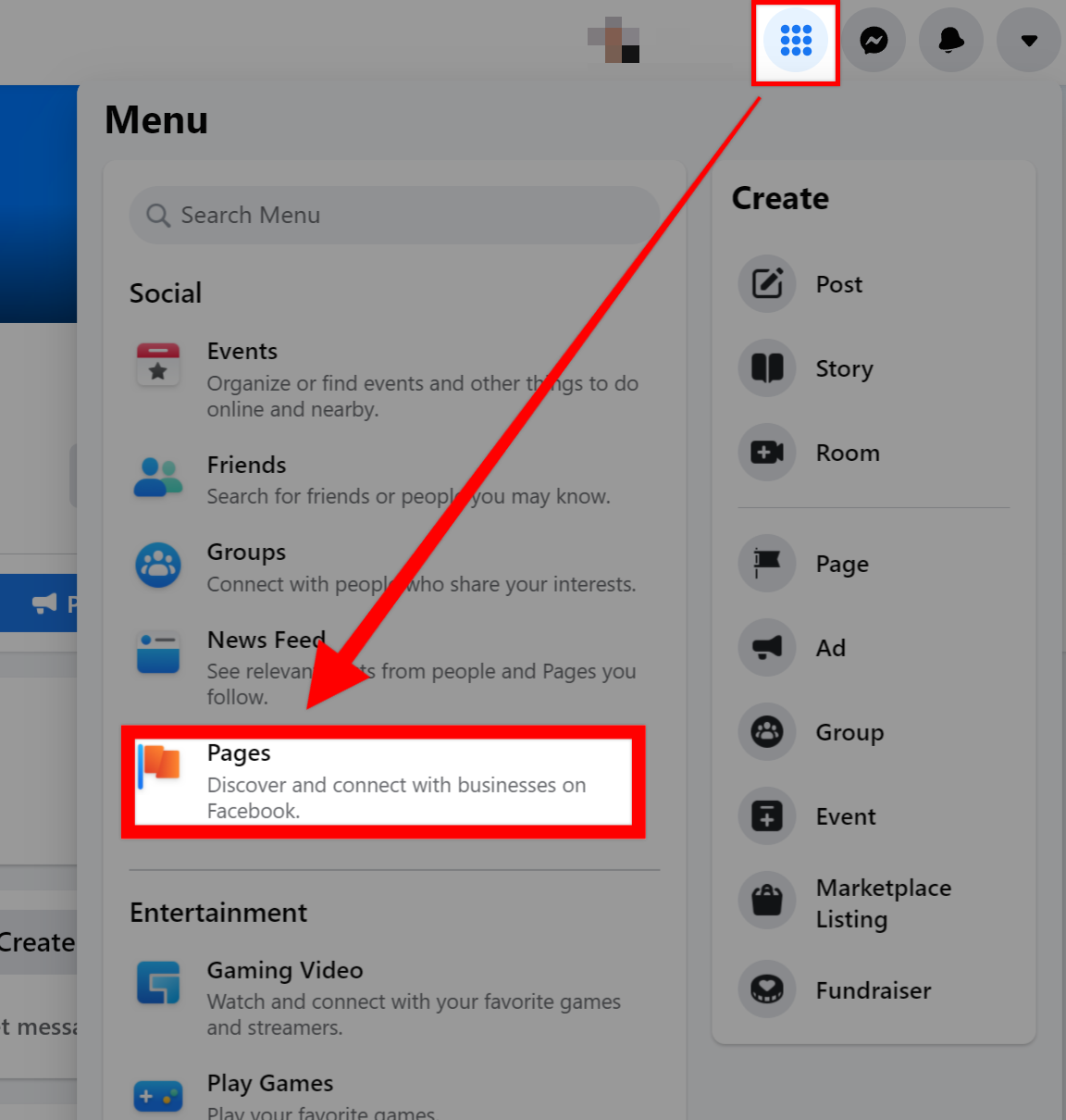 2. Click 'Settings'
After logging in as admin, navigate to the Settings at the bottom left side of the business page.
3. Click 'General'
Once the Settings section opens up, click the General tab in the menu (at the top left side) to take you to the next step.
4. Select 'Messages'
Navigate to the Messages to show your Facebook page's Messenger options.
5. Remove the checkmark
If your Messenger is currently enabled, you'll notice a checkmark next to Allow people to contact my page privately by showing the Message button. To disable Messenger, uncheck the option.

6. Hit 'Save changes'
Once you've unchecked the above option, click Save changes to officially disable Facebook Messenger.
It's as simple as that. You can now refresh your Facebook page and it will stop showing the message button.
Hit a wall when turning off Facebook Messenger?
If you encounter a problem completing the above steps, the issue may be arising from any of the following:
You don't have admin privileges
You must log in as Administrator for the previous steps to work. If you don't have admin privileges, you can either request an existing admin to deactivate Facebook Messenger or ask them to give you 'admin status'.
But, as mentioned above, deactivating Messenger means deactivating your Facebook page which is something you might not want to do.
You've skipped a step
Go through the steps once again to ensure you don't miss anything - you're only human after all!
Your business is listed as a person
If you've listed your business as a person or a personal page, the above steps won't work until you change your Facebook profile into a business page.
Follow these Facebook prompts to transition your profile into a business page.
Why you may want to disable Facebook Messenger
Every year, we see more opportunities for marketing and connecting with customers.
Facebook has created a multifaceted marketing landscape which makes it easy to meet and speak directly to potential and existing customers online.
However, this may lead to clutter, especially if you don't have enough support to manage your communication and marketing. That message button could just be a looming presence that you don't need right now.
Below are some reasons why you might look to disable Messenger:
1. Avoid negative consequences
Around 18% of US online users expect a quick response within an hour of messaging a business on social platforms. Lack of enough support to attend to the increasing Facebook messages may leave customers frustrated.
The results are ugly: negative reviews and comments on your Facebook business page or unfavourable recommendations, it's all bad press. Other users may leave your page in a huff and go to your competitor.
Reputation management is critical - you don't want those consequences. Turning off your Facebook page messenger (until you're able to meet your customers' expectations) can give you a bit more breathing room.
2. Limit the number of messaging channels
If you already have a lot on your plate, overseeing multiple messaging platforms can be a time-consuming and overwhelming task. The trick is to limit the number of channels that customers can get in touch with you.
That way, you can painlessly reply to the customers, collect more actionable data on them, and maintain robust customer privacy. The result is a more streamlined approach and highly-informed marketing decisions.
3. The person responsible for messaging is absent
Perhaps your employee has taken a leave or is on vacation. You may have to disable Facebook Messenger temporarily until they're back.
The disadvantages of turning off Facebook Messenger
Are you swamped with other marketing activities and don't have time to reply to messages in your Facebook Messenger? Turning it off ensures that a customer doesn't wait for a reply.
Your business may be better at answering a ringing phone, rather than a message box on their site.
However, turning off this feature on your Facebook business page also comes with significant disadvantages. 64% of people (from all generations) prefer using messages rather than emails or phone calls meaning Facebook Messenger will always be championed by a large percentage of your customer base.
Switching it off may force your clients to contend with the less-preferred channels, leading to plummeting customer engagement.
We suggest that you use a tool that helps you handle messages and messaging channels under one roof. That way, you can offer comprehensive responses to all messages quickly. Customers can contact you from their preferred channel, boosting your engagement game.
If you want to switch back to Facebook private messages, you can always do that. Just ensure you have the ability to manage the messages and make your users happy.
Can I delete Facebook and keep Messenger?
Yes - although deleting Facebooking might not be the best thing for your business. Especially if this is how you communicate with your customers. They would like to go to your Facebook Business Page to trust that you're a reputable company, rather than just sending messages to a faceless entity.
After you deactivate your account on Facebook, you can continue to use Messenger. And, using Messenger won't reactivate your account.
Alternatives to Facebook Messenger
The Facebook private message button can be a great way for your business to keep in touch with your potential and existing customers. But if you prefer to use another messaging app, there are plenty to choose from:
WhatsApp
Brief
Viber
Telegram
Skype
Signal
It's important to be aware of the issues that would arise with any of the above messaging services. People may feel more brazen and critical when hidden behind a computer screen, so although you can open up your business to direct and fast communication, you could be met with spam or private messages that make you shudder.
It can still feel like an unnatural way to receive feedback or communicate with the customer, as it is not as regimented as a formal review or available for all to see.
Wrapping up
Ideally, your Facebook private messages button should stay enabled since Facebook Messenger is a popular communication channel in today's online world.
Tracking messages in your Facebook Messenger can be a breeze. You will receive instant notifications on your Facebook or Messenger app whenever a message lands in your inbox.
To allow people to contact you easily, and in a preferred method of communication. It presents your business as transparent and breaks the physical distance between business owner and customer, whether you're a larger business or a smaller one.
You want to be helpful should any customers have a query, and need a quick response.
However, you may need to disable your Facebook Messenger completely if the person who usually manages the business page is away or you're receiving spam. It's better to switch off the private messages feature of your Facebook business page altogether than fail to reply at all.
Whichever method of communication works for your business, just make sure you are as responsive as possible. Lack of responsiveness can cause bad reviews which can affect your growth and profits. At least now you know how to delete Messenger and how to deactivate Facebook.
At Cloutly, we know the power of positive feedback and we make it easier for businesses to respond to reviews and showcase them on their site as extra proof that you're the best in town.
Want to know more? Learn more about the review sites that we integrate into one platform here.