For 30 days from late August through September, we ran a controlled marketing experiment alongside Swimart's team and a small group of keen franchisees, integrating our review generation platform (Cloutly) with their point of sale software, Vend.
46% of all Google searches are local, and as a retail-first business, optimising Google My Business was of key importance to Swimart's local SEO strategy. The cornerstone of local SEO: reviews. This is where we come in.
Cloutly now holds an integral place in our local marketing strategy. The immediate impact reviews have had across our stores, plus the ease with which we can now respond to our customers has been significant.
- Nathan Hallahan, National Marketing Manager
Challenges
Boost the online visibility of Swimart's retail stores to acquire more local customers through Google
Find a way for Swimart to efficiently track and respond to reviews from 76+ locations around Australia and New Zealand
Help stakeholders at all levels better measure the customer experience (management, marketing and franchisees/staff)
Solutions
Use Cloutly's review campaigns - integrated with Swimart's point of sale - to automate the process of driving customer reviews
Set up all Swimart's locations inside Cloutly, providing the management team with a high-level overview of their reputation, and the marketing team with one dashboard to see, manage and respond to reviews
Google now gives enormous real estate to local business listings, weighted by three factors: relevance, distance and prominence.
By increasing the volume of reviews you drive for local listings, you improve not only your prominence but your relevance too, as Google crawls review keywords to get a better understanding of the products and services you supply.
Ultimately, we hoped to demonstrate that driving consistent Google reviews using Cloutly (even during a lockdown) could tangibly improve online visibility, searches, calls and maps views (ie: the "near me" search experience) for local businesses.
Results
In 30 days across 5 pilot locations (throughout nationwide lockdowns), Cloutly helped Swimart achieve:
90 new reviews (42 on Google)
Average 52% lift in calls
Average 47% lift in Maps views
Average 41% lift in Search views
Being a seasonal business, it's important (for transparency) to mention that reviews are not the sole contributor to these lifts (September marks the beginning of an upswing in demand each year), but they certainly play an integral role in helping Swimart get found.
If we chart Swimart's Google reviews from 2020 to 2021 for our pilot stores, you'll see an upswing of 350% in like-for-like September months. The difference? Using Cloutly to automate reviews.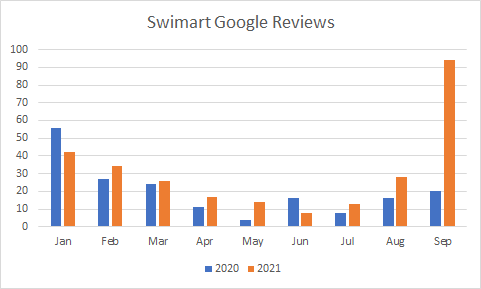 One of the most compelling stores in our case study had a total of 59 Google reviews at launch, which had been collected over 4 years. Using Cloutly, they collected almost 50% of their lifetime total in only 30 days.
Automating review campaigns
Cloutly's review campaigns help Swimart engage with their customers and drive reviews easily, effectively and most importantly, reliably.
When a customer makes a purchase in-store and opts-in to communications, Cloutly's integration enrols them into a multi-step, ultra-personalised review invite campaign, which would reach out to them over time via email/SMS until they successfully leave a review. Each step of a campaign can be fully customised; Swimart can use language that appeals to their customers, whilst also providing a prompt on what they'd like to hear about, specifically.

Campaign results inside Cloutly:

Managing multiple locations from one dashboard
With hundreds of reviews to monitor and respond to across multiple review sites and locations, Swimart needed a simple and easy way for their team to centralise and streamline their time and efforts.
Cloutly's review management dashboard helps Swimart keep its finger on the pulse of customer feedback. They're able to see and respond to all their reviews, plus get notified when a review needs immediate attention.
Responding to customer reviews faster than ever
Using the Reviews Inbox, Swimart's team can breeze through responses using our Smart Response templates, which gauge customer review sentiment (good vs. bad) and offer a range of pre-filled replies for inspiration. These Smart Responses help Swimart save tens of hours each month, while ensuring all customers are responded to, and all responses are on-brand.
Following the success of our 30-day pilot, Swimart has now rolled out Cloutly's review system for the larger franchise network across Australia and New Zealand (76+ stores).
Together with Cloutly as its technology partner, Swimart is blazing a trail in local SEO, building a reputation asset that compounds month-on-month.